Greetings everybody who loves sea adventures.
Today's publication will be unusual - it is larger than previous ones and the interested topic is really critical. This is because today we will talk about the Global War.
First thing you should know about the global war - you will participate in it. It doesn't matter whether you join a random battle for 15 minutes during the lunch or you are the member of the best squadron in the best clan - every fight will directly affect the situation on the global map. Any battle within the game is linked to a certain territory on the front line. The amount of victories and defeats is compared and, on its basis, it is decided which direction the front line will move.
The second important thing in the global war is that the war is won not only by soldiers and commanders, but also manufacturers and economists. Every sunken ship requires the time and resources for replacement and will be a tar baby for your country. Territories provide resources required for fleet construction. Now we will discuss the clan aspect of the global war.
Let's look upon a schematic example of a section of the global map.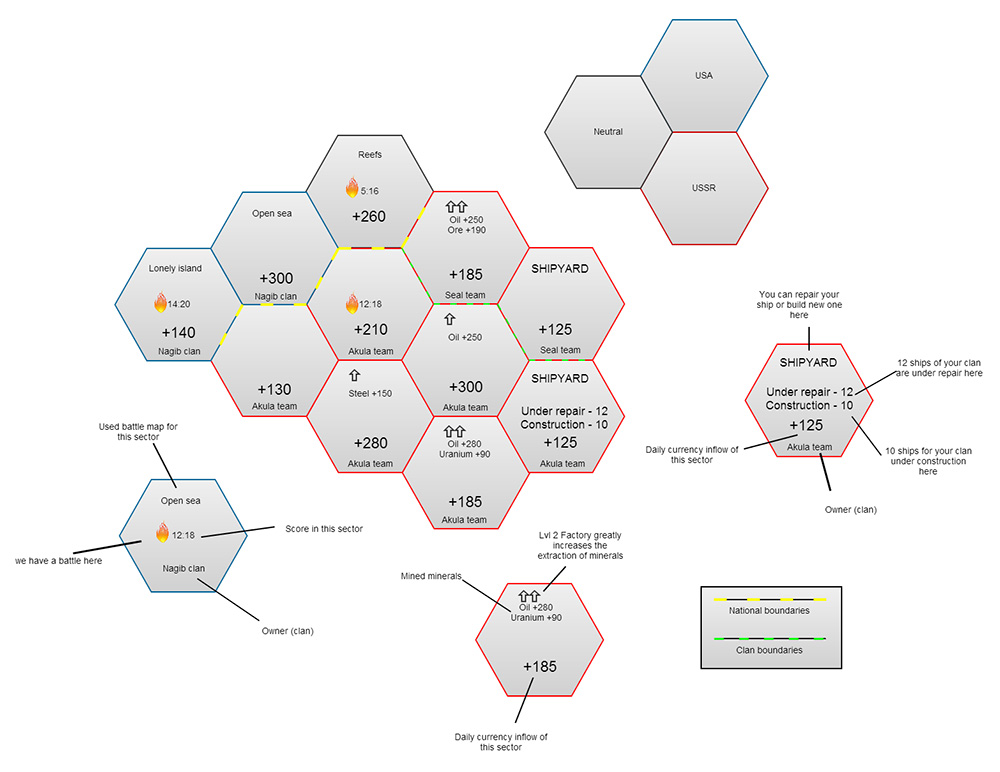 We see the territory of our clan Akula Team neighboring Seal Team territory and having access to two enemy territories occupied by Nagib Team.
Tens and hundreds of battles for 3 disputable territories take place during the day. The major part of these battles is carried out by non-clan players. You can help both to USSR and Akulas if taking part in battles on disputable territories on their part of the front line.
Of course all participating clans are interested in capturing disputable territories and enhancing the borders of all national fleet. For this purpose they will intervene into battles by entering them in groups from one to 16 players.

The goal of the clan is to provide maximum number of victories at minimum cost.An example. The clan has 32 players online now. It is possible to form 2 complete teams of 16 players and win 2 battles at 10-15 minutes. However, it is possible to win 8 battles by splitting the forces into 4 teams. However, you risk to encounter an enemy clan group of larger number when sending the group of 4 vessels into the battle. Of course, 4 clan ships and 12 random players will have less chances against a well-coordinated team of 16 vessels.
The next important element is spending resources for formation of teams. Top-rank ships are very expensive and can be lost irretrievably during the battle. However, some clans may afford building several missle cruisers. Huge giants of steel with numerous guns and missile pads can become a real demonstration of your power. And a desired target for the enemy captain. Repair of such vessel and, moreover, its loss, can affect greatly clan's treasury.
Let's see an example, what means an expensive and powerful fleet.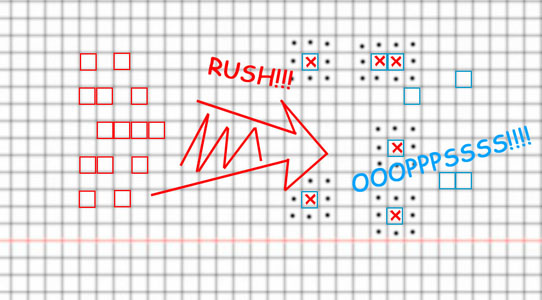 Thus a well-coordinated and powerful fleet engages the battle against random players. It is almost impossible for unfamiliar players to stop the powerful superior war machine (the clan brought a missile cruiser!).
On the first glance the clan provided a strategic victory, but...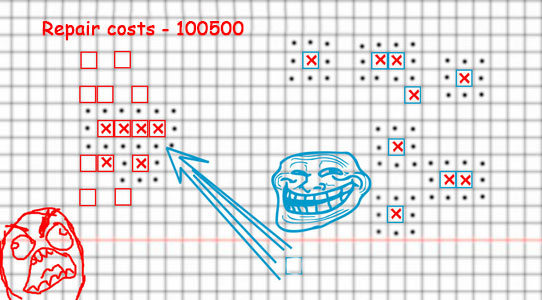 One of the players managed to sink the destroyer and damage the cruiser. Our game is a realistic one, there are no immortal ships. Now the clan's flagship will be moved to docks for a long-time and expensive repair, but it could be sunken together with all resources spent for its constructions. The battle is won. But how many victories can be achieved in such way?
You can always read about the clans and game mechanics on the pages of our weekly magazine. We also gave an interview to the RED multigaming community, but that's only in Russian (don't worry, we'll answer the same questions in the FAQ, which will be published soon).This is all for now. See you soon!