(ENG)I finally created a new intro for my game and used the chance to upload a new version of it with some errors fixed (update-log is at the end).
(DEU)Ich habe es endlich geschafft ein kleines Intro-Video zu erstellen und habe dann auch gleich die Chance genutzt um das Spiel erneut hochzuladen mit ein paar Korrekturen (Auflistung der Verbesserungen weiter unten).
(ENG)In case some of you are still unsure about the icons, I created a map legend. Since I only have two languages right now, it was easy to create ;) .
(DEU)Da es bestimmt einige unter euch gibt, die nichts mit den vielen Icons anfangen können, habe ich eine Kartenlegende erstellt. Zweisprachig. Noch geht es ja ;) .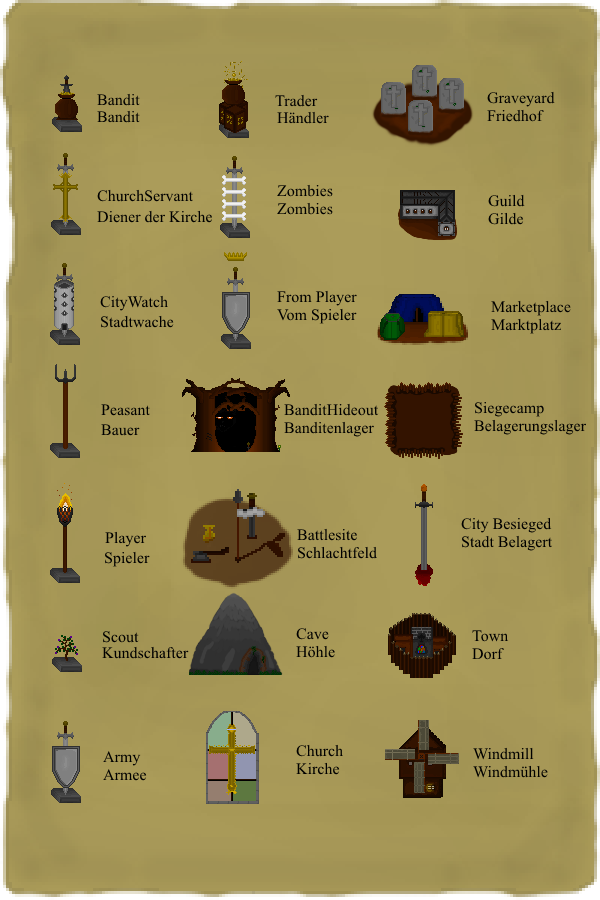 (ENG)I uploaded the game in an almost ready state and noticed, that it would have been better for me to show the steps that lead up to this to garner some attention. Since that is not an option anymore, I need to create some additional content instead of waiting for the bugfixing. Maybe you can help me on what to focus next:
- Add a story?
- Add more buildings?
- Add more differences to the kingdoms?
- Improve the graphics (This one will be done no matter what ;) )
- Add a sprite for the cities?
(DEU)Da ich das Spiel schon in einem recht fertigen Zustand hochgeladen hatte, konnte ich nicht über die Zeit die Aufmerksamkeit dafür erhalten, die ich benötigt hätte. Da ich das nicht mehr rückgängig machen kann, versuche ich noch weitere Inhalte zu schaffen, anstatt darauf zu warten, dass alle Fehler der momentanen Version behoben sind. Vielleicht könnt ihr mir ja dabei helfen die nächsten Schritte zu entscheiden:
- Eine Geschichte hinzufügen? Nicht Hintergrundgeschichte, sondern eher ein Plot, dem man folgt.
- Mehr Gebäude erstellen?
- Mehr Unterschiede zwischen den Königreichen einarbeiten?
- Die Grafiken weiter verbessern (Kein Fragezeichen hier, das wird sowieso geschehen ;) )
- Eine Grafik für die Stadt auf der Weltkarte erstellen?

Newest version is/Neueste Version ist ThirdParty2D1_XXbit
08112016
- (ENG)Player no longer stops when hitting any object, only when hitting the targeted object or under special circumstances
(DEU)Der Spieler hält nicht mehr an, sobald er irgendein Objekt berührt, sondern nur noch, bei seinem Ziel oder speziellen Begebenheiten.
- (ENG)Some sprites where spawned wrong and could not be seen
(DEU)Einige Grafiken wurden falsch angezeigt und konnten nicht gesehen werden
- (ENG)Buildings built now spawn close to their origin (City and Town) but not too close
(DEU)Gebäude werden jetzt nah an Städten/Dörfern erstellt aber nicht überlappend
- (ENG)If in a fight both parties have no soldiers left, the game would crash. Decided to fix it
(DEU)Wenn in einem Kampf am Ende niemand mehr Soldaten hatte, stürzte das Spiel ab. Habe es trotzdem mal behoben
- (ENG)Changed the color of the income text
(DEU)Farbe vom Text fürs Einkommen geändert
- (ENG)Fixed some positioning errors in the loading screen
(DEU)Habe die Positionierung von einigen Elementen im Ladebildschirm angepasst
With regards,
Rackhim