Hey everyone!!!
This time I'd like to tell you about something that happened today. We had a little presentation in our university in front of some students and some profs about weatherman and well, what to say? It was fantastic, astonishing, awesome! First we only did a little introduction about what we do exactly, how we do it etc. but then they have been shown some of the game, live. Afterwards they were able to play the game and they liked it, so did our profs. All in all, a good day and now we're motivated as hell!
For the project itself I gotta tell ya, that it's the last week until it has to be done for university. Stage 4 and 5 are done (including impossible mode), stage 6 (bossfight) is still work in progress. Stage 1,2 and 3 will be done soon and now there's only a few things left: the intro, full sound implementation, the game cover, the booklet and the extras. Don't worry, if we don't finish every aspect of the game for university, it'll still be in the final public version.
I told you something about a bossfight, it's gonna be non-violent and you have to solve puzzles to defeat the enemy. One of his skills: throwing cats at you... :D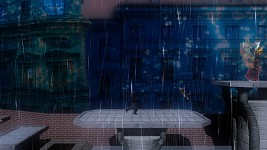 Because as a friend once said: "It's not a good game if there is no cat in it". With that words I wanna say bye until the next time.
Dave