That's right, we've finally decided. Going forward, Homeworld:@ is now Homeworld Fulcrum. As you can likely guess by the time it took, it was not an easy decision. In fact, many of the other candidates, including some that didn't even make it to public voting, are slated to show up in other parts of the mod. But even with how good it's competition was, Fulcrum goes on the banners now. You can extract a good amount of symbolism both for the mod itself and elements of the story from the right point of view but I think that's best left for your imaginations for the time being.
While the winner was not picked by popular vote, the input of the community was very useful, and many of the suggestions for alternative options were quite great. I can also now say with certainty that the community greatly prefers single word titles.
With the name picked there's a fair amount of re-branding work left. Text needs to be hunted down and changed, graphics remade, and so forth. This will be a gradual process, and we'll try not to hold up work on other more substantial things for it. I'm sure that HWAT will linger on in many parts of the documentation and media for a long time, and it'll definitely live on under the hood in code and file names forever. And I'm sure we'll slip up and use hwat still in conversation for a long time, at the very least people should soon be able to find the mod if they google it.
Thanks again to everyone for their patience and input. Now, I want to share some of the things the team has been working on content wise. Keep in mind these things are unfinished, subject to change and possible removal before being released. That said...
Doci and Avatar have put a lot of work into what will likely be our first republic frigate, and as such is going to be something of a style setter. With how fantastic the republic destroyers turned out, I can't wait for it to be finished. Speaking of destroyers...
Based on some concept art by Dark Sentinel, Doci has also been developing this beauty, a destroyer for the Tobari. Ambitiously animated and detailed, it's going to be quite an interesting ship in action. I'll have to make some gifs of it. Already, I have for you a clip of in development custom weapon effects for the Tobari hyper-velocity cannons.
And as if he hasn't got enough going on, Doci has also explored the possibility of updating one of his oldest models, a Czalkir fighter:
What the original looks like, for reference sake: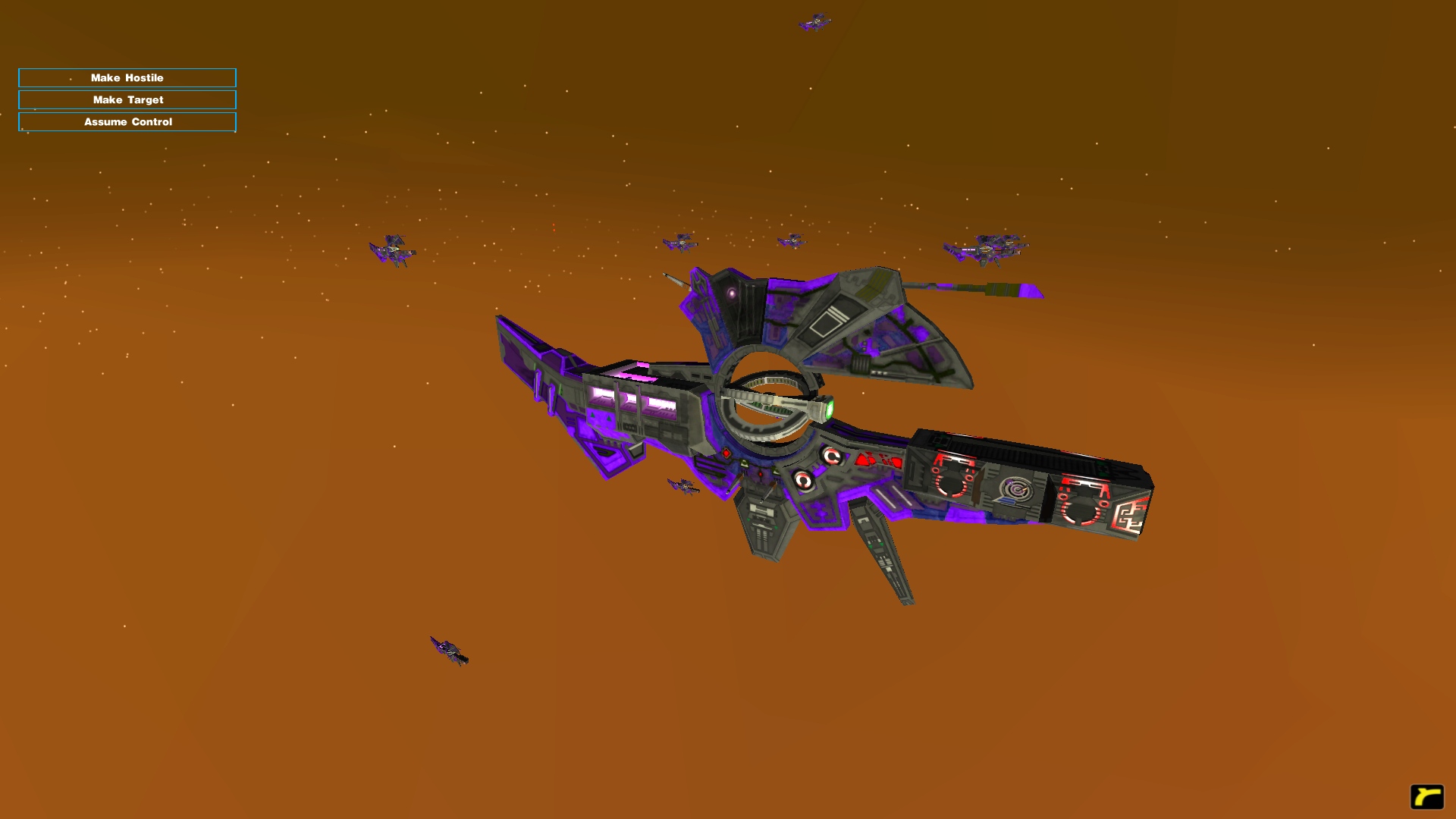 And finally, a tease of my work on getting voice acting and mission logic tidied up.
That's all for now. Hope to bring you more soon!