The development of holonoptic has progressed as far as we have now have most details of the Gesicht software worked out and functioning. The gesicht software is an interface the Glazial Group has developed to control the company, and it will be the primary tool in the upcoming game holonoptic. Its features include
COURSE PLANNER – In order to best all competitors, the Glazial Group seeks to augment all its assets, including your brain. From artificial intelligence research to marketing, the pathways of knowledge are open to you – paid for by the Glazial Group.
EMOTION EVALUATION – We care for our employees on the deepest level. Your emotions guide your actions, which is why we take a great interest in them. Our system measures 8 mental states: aggression, joy, sadness, fear, detachment, focus, curiosity, and love.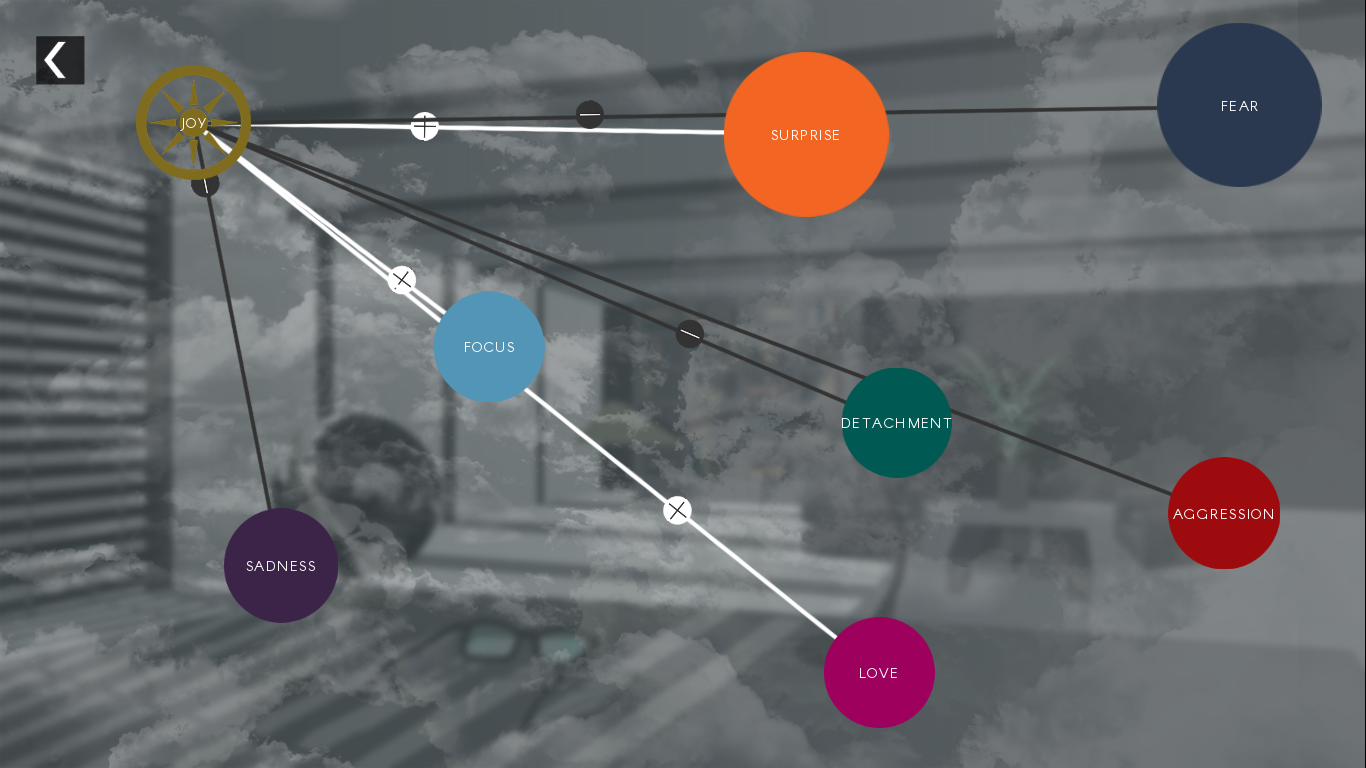 SUBSTANCE CONTROL – Psychoactive substances are great tools to take an active role in your emotion ecology. We at the Glazial Group realize that we cannot stop our employees from using coffee, alcohol or LSD. This is why we encourage sensible use, be it for recreation or performance enhancement.
CALENDAR – Plan every weekly activity and decide how much time you wish to allocate to actual work, courses, or recreational activities such as powernapping, meditation or sex. Each activity is measured for its emotional effects.
CONFERENCE CALL SYSTEM – As CEO of the Glazial Group, you will never have to leave your chair. All human contact you need is transferred to your office, directly analyzing emotional interactions.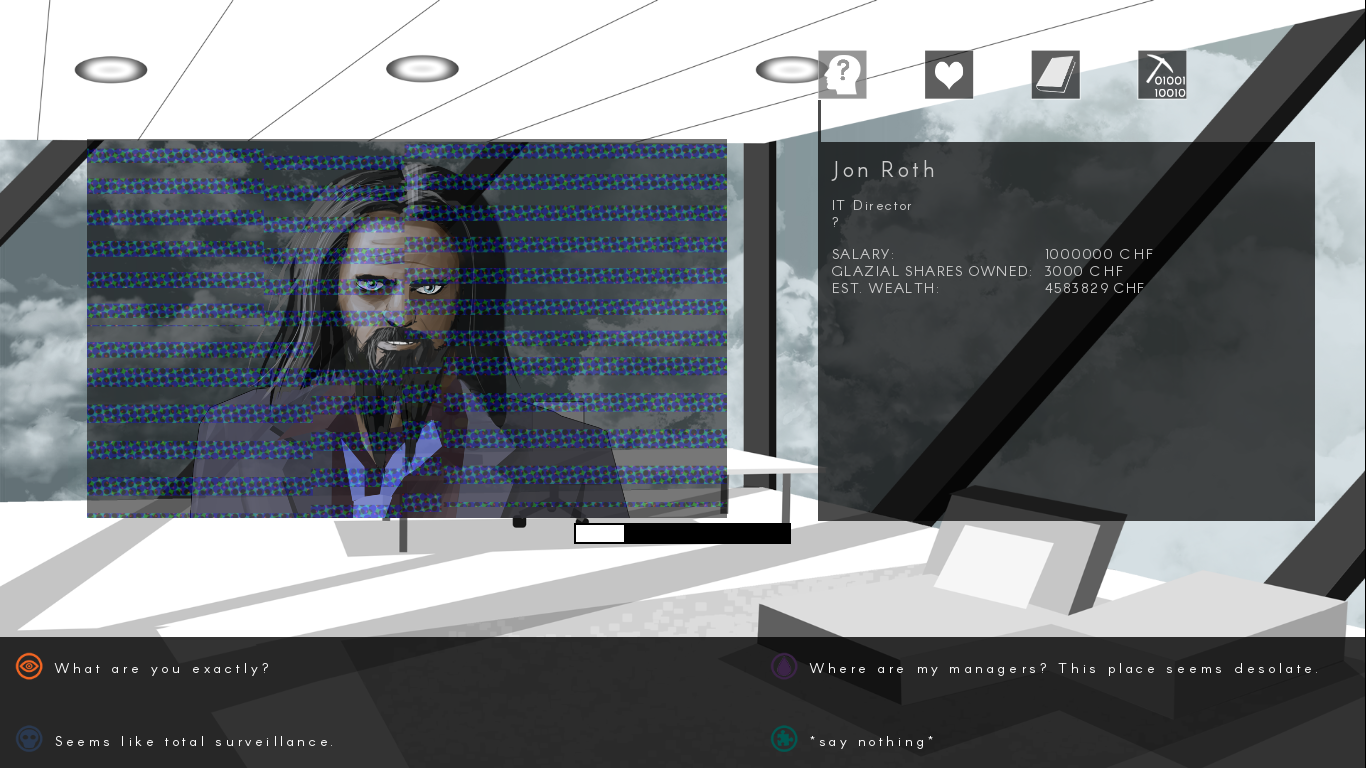 DEADLINE KEEPER – Keep track of your deadlines, from whom they are, and if they conflict with each other.
CORPORATE MAP – See the Glazial conglomerate expand all over Europe, plan acquisition and hostile takeovers, travel between our firms.
COMPANY CONTROL – Manage resources and financials, and keep track of our shareholders.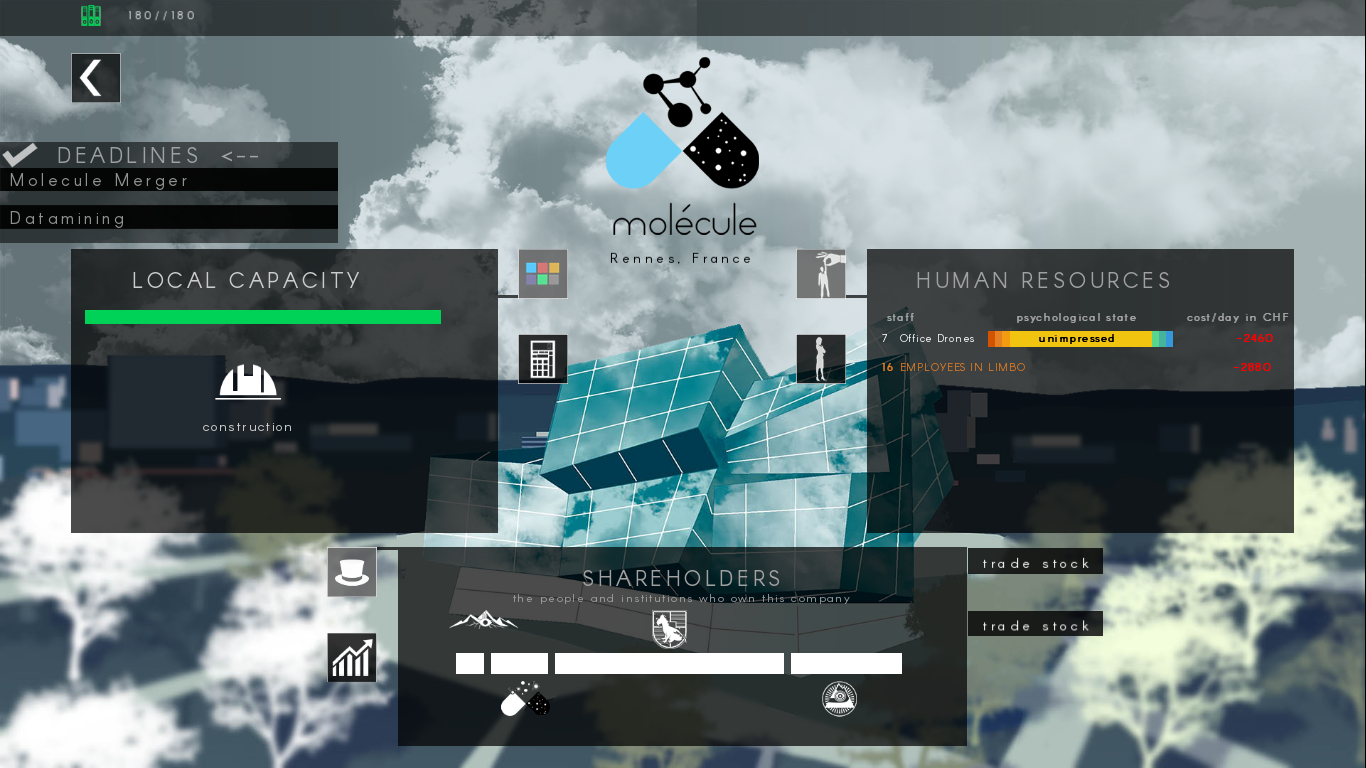 CONSTRUCTION – Construct new floors, from cubicle offices and server rooms to robotic production facilities – depending on what the market requires.
EMPLOYEE TRACKER – The Geist_AI software calculates company resources by work hours. Each office drone, programmer or lawyer is important to the firm. (make sure to fire them after projects to avoid redundancies)
EXECUTIVE SURVEILLANCE – Your top managers are the backbone of the firm. But since they are also often the source of intrigue and power shifts, their financials and psychologies are carefully observed. Have them manage company floors, assign them to projects and send them on missions.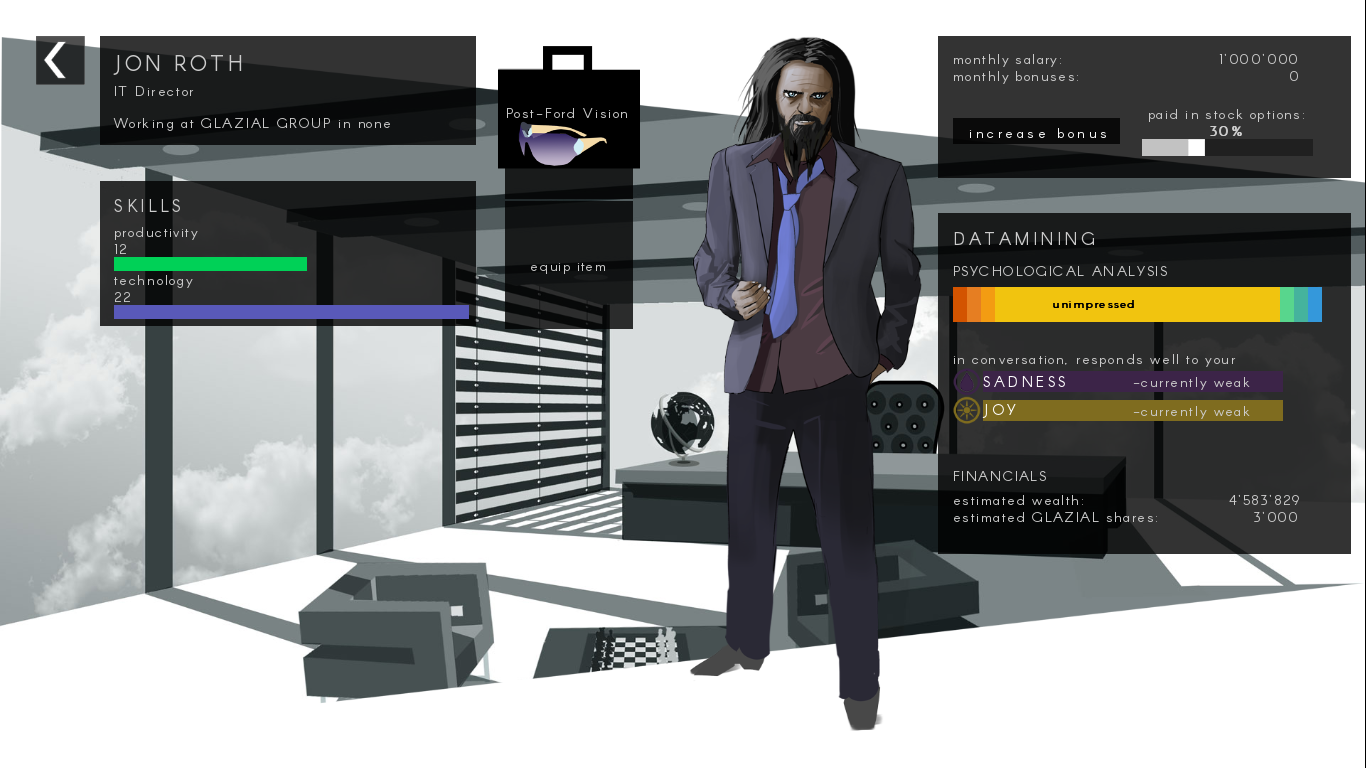 PROJECT MANAGER – This is where all the resources, work hours and cash reserves of the company go into. Shift priorities between running projects, allocate resources and outsourcing to external companies to finish projects as efficiently as possible.
STORAGE – Equip yourself and your managers with useful items such as golden golf clubs or experimental laptops.
NONLINEAR STORY
The story of the holonoptic will branch according to 1) the choices you make in conference calls (depending on your emotions, substances how well you get along with other characters) and 2) which deadlines you choose to meet (depending on your economic and strategic choices in the game).
What is left is integrating the Geist_AI software with the nonlinear story, or the countless story branches. We at the Glazial Group are anxious to present you, potential CEO candidate, with a playable version of holonoptic soon.
Jon Roth
IT Director / holonoptic lead designer