The holiday season is already in full swing for many and we thought we'd join in the festivities again this year with some exclusive usable holiday items. There are three different items to collect this year: Simulated Poultry Leg, Ornamental Death Globe, and Chicken Milk.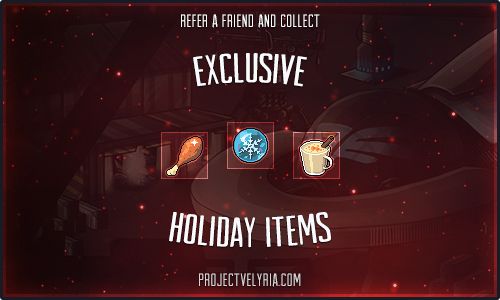 We will be using the Project: Velyria referral system to divvy out the holiday goodies.
Share your unique referral link with your friends and family and each time a new user signs up to Project: Velyria, you will receive one random item from the holiday collection. All three items have even odds of being selected and you can collect as many items as you want.

As we are using the existing referral system, we want to clarify a few things:
This event is not retroactive: Past referrals will not count and you will not receive holiday items for those sign-ups. Only new referrals will give you these holiday items.
Since your referral link remains the same, you will receive a random holiday item when people sign-up using links you've already shared.
We will be carefully monitoring new sign-ups and we will know if you're cheating. Creating multiple Madjestic Network accounts will result in the removal of all your holiday referrals and items, and depending on the severity, may result in a permanent account ban.
We will be featuring one of the holiday items each Tuesday for the next three weeks, so be sure to check back for more details!
In the spirit of giving, we are also offering a holiday discount when you gift a Founder Pack to a friend. You'll save 10% when gifting a Bronze Tier pack, 15% when gifting a Silver Tier pack, and 20% when gifting a Gold Tier pack! This discount will also apply when gifting a Founder Pack upgrade.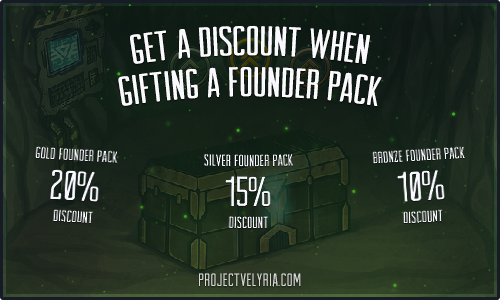 This holiday celebration ends on January 10th, 2015! Happy holidays, everyone!