Hey Everyone!
It's the tail-end of 2014, and it has been an AMAZING year for us at Grimm Bros… we've gone from an indie start-up that nobody knew about to one of the up-and-coming indie studios showcased at PlayStation Experience. And all of this happened in big part thanks to all of YOU! You backed us, supported us, and cheered us on as we pursued our dream and we can't thank you enough. On behalf of Randis, Sem, Nick, Mark and myself have a wonderful holiday season and happy New Years!
Without any further adieu - here is our next big update from all of us at Grimm Bros!
Exclusive Backer Pet Familiar Design Event!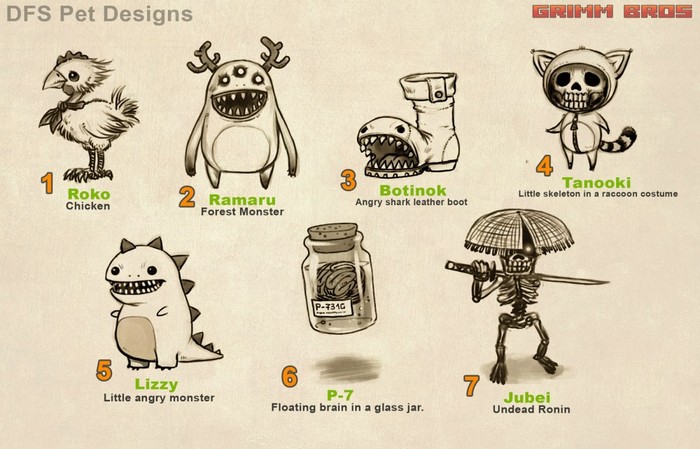 The Exclusive Pet Familiar Design Event is our reward for Kickstarter and Slacker Backers of Dragon Fin Soup who backed us at the PET FAMILIAR tier or higher.
Qualified Backers will be receiving an email with details, guidelines and instruction to join us on our developer forums to vote on a pet and name. The pet that receives the most votes wins!
Which Pet Familiar do you think is cool?
Dragon Fin Soup @ PlayStation Experience!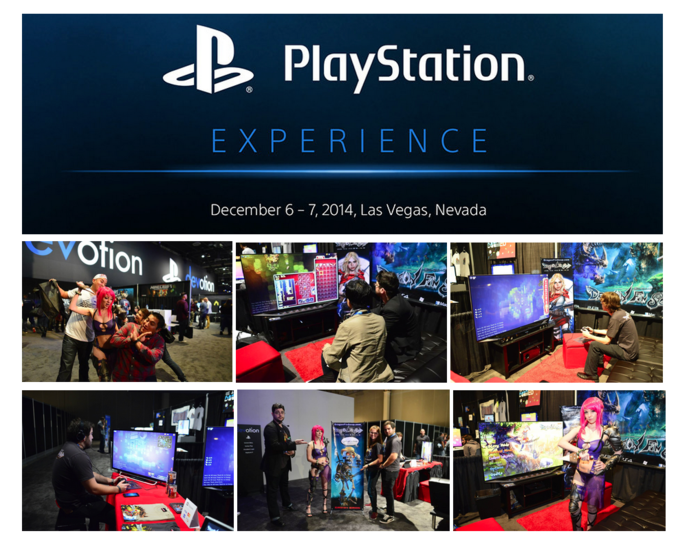 See the all the PlayStation Experience photos on our FB Album HERE! Grimm Bros was honored to be selected as a top-tier indie to showcase at Sony's PlayStation Experience this year. The PlayStation Experience was a massive two-day celebration of the 20th anniversary of the PlayStation console and the gamer community. Think of it as PlayStation's birthday party :)
We had an incredible time meeting backers, seeing old friends and making new ones. Attendees got a chance to experience Dragon Fin Soup for the first time on Playstation 4, playing the latest versions of Story, Survival, and Endless Labyrinth Modes.
Also new at the PlayStation Experience was Electric Lady cosplaying as Morgiana! She did an amazing job on the costume and expressing details of the character such as Morgiana's tattoos and battle scars.
Any help spreading the word about Dragon Fin Soup would be greatly appreciated. Please tell your friends to LIKE us on FB - Facebook.com or FOLLOW us Twitter: Twitter.com. And If you see yourself in any of our FB Albums, feel free to tag yourself! You can simply repost/link/share, with the hashtags #GrimmBros or #DragonFinSoup :)
Backer Survey Follow Up!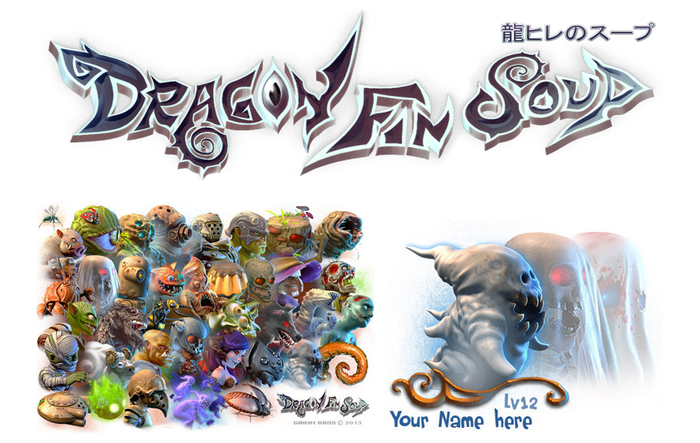 We now have solid first pass of backer info that we need to delivery your physical and digital backer rewards! However we still don't have everyone's info!! For those who still haven't sent us their info please do so ASAP! Click HERE to access and read the rules on the GHOST POOL, CREDITS, and MONSTER POOL Surveys.
A follow up email will be sent out to outstanding Backers who have not sent us their info and also to to schedule the Weapon and Magic Ring design jams via Skype - sorry we've been so busy! And to all of our OTAKU TIER backers - EMAIL us your portrait photo so we can transform you into an in-game Zombie!!!

Development Update
So when is Dragon Fin Soup coming out??!
Dragon Fin Soup is still in development and we are making very good progress. All of us at Grimm Bros really want to take the time to polish and make DFS a fantastic RPG experience to share with you. "Its done when its done", is a motto we keep to heart at Grimm Bros and current plans are to release Dragon Fin Soup in spring of 2015. We will let you know the official dates as soon as we have confirmation with our partners at Sony. Once again thank you all for your patience, understanding, and support. We promise to continue the sacrificial offerings of our souls to the elder gods of gaming to bring you yummy RPG goodes :D
The team has been working non-stop adding a ton of new stuff for the game, and we are excited to tell you all about it for the New Year! Here are a few new screenshots from Dragon Fin Soup to show our continuing progress...
Happy Holidays and talk to you all in the New Year!
Best,
- Ash & Randis