The Prelude: Hive Wars Science team
Wondering around he waste lands a member of the Hazmat science team makes a deadly discovery and unwilling becomes the center of attention for a new war. In under six weeks Yoshistory banged out this teaser trailer in perfect timing for EGX 2014. Please watch and enjoy comments welcome.
---
To see more work by Yoshistroy please click here to see his online portfolio.
Some fun facts about the production for the this Promo
2 weeks is the amount of time it took to create and animate the models
14 consecutive days rendering time on six computers running for 24 hours
4 hours to compose the sound track
6 hours to complete the final cut including after effects
10 minutes and one take for the Hazmat suit voice over.
Total length of promo 2:29
---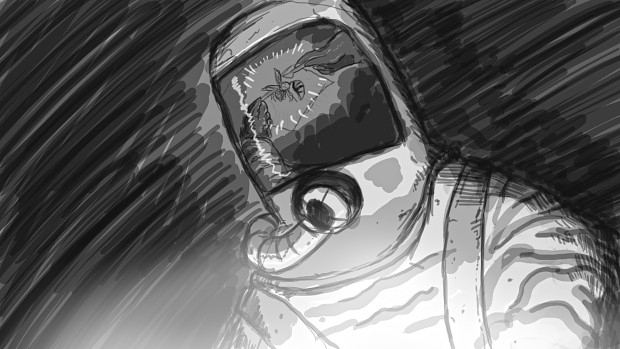 Original story board for game inrto featuring Hazmat suit guy
---
In game footage
This is the show reel we originally created for the Develop conference in July. This Video contains in game footage form an older Alpha version of the game. I hosted an event on steam and managed to get some volunteers to help out, it was crazy fun and the user feed back was invaluable to our production research.
We are pushing to have an Alpha released to the community soon...
*This video does not represent the finale product or game mechanic and has changed a great deal since.
*In-game footage was captured using Fraps.
* Sound track and After Effects by Yoshistory.
Visit us at EGX London 2014 and say hi, we appreciate all feed back.
---
For more information please mission over to the blog, please browse through and comment. If you like please visit the Facebook & Steam profile's we need all the support we can get.
---