We finished the High Pass boss battle (screenshots below) today and did some testing on the 360 to see if anything needed to be changed. The Sea Floor enemy is added so that level is complete and the first version of Sky City is in the game without enemies. We started brainstorming ideas for the final level and I think it's going to be a timed level where you have to race to the top in order to stop the weapon from firing. Shadow Island is a vertical level rather than a horizontal level which all the others have been. It's a race to the top and if you reach the top the final boss battle begins.
We added a few changes to the GUI to improve visibility. The O2 gauge that shows the amount of breath you have has been moved behind the player so you can easily see how much you have left. I also added some text that pops up at the beginning of each level that lets you know if you have weapon upgrades available, and fades out after a few seconds. We've had some issues with people not caring enough to upgrade their weapons, or even knowing the upgrade menu existed, so this should push it on the players some more. We mention it during the tutorial but I guess it just doesn't stick with the players enough to remember.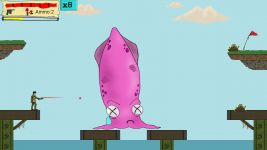 We plan on having our DreamBuildPlay version of the game done by the end of this week so we can put a lot of playtesting in to make sure there's no bugs or crashes, and more importantly get some feedback/suggestions. The heavy lifting this week includes; Sky City enemies, Shadow Island level design/art/enemies, final boss battle, and a few popups where needed to explain everything in the game.