Hey, and first of all we're "Team Miss Maryland" and we've decided to take a nice cosy seat here at indiedb so we can show off our game and get some opinions off you guys.
Our game, "They Came To Take You Deep", is a top down style shooter that puts you into a 1950s B-Movie inspired action game. The game puts you in the shoes of an old man trying to save the city and get the girl after a mad scientist's experiments escape and plague the city.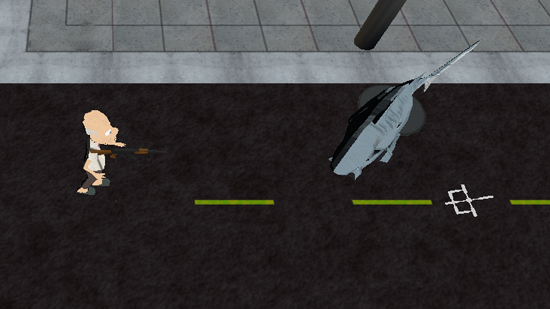 The game will feature a multitude of weaponry that will be purchasable using coins accumulated through killing enemy throughout the game, or found around the city.
Current Weapons:
Colt 45 M1911
M1 Garand
Ak47
Tazer
Laser Pistol
Shotgun
Walking Stick
Demutilator
Tuna lure
One of the interesting features of the game is that the city will be randomly generated, giving the player a new experience every time they play the game. This gives the player an opportunity to create their own buildings in the level designer and then see them in game!
Current Features:
Singleplayer

Defence Mode

Open world style

Randomly generated maps

The game is currently in Alpha, and we have yet to announce the release date, and will be released for PC and a version for Xbox Live Arcade.
The team is as follows:
Designers
Max Wood
Michael Wellon (Team Leader)
James Witcomb (Lead Designer)
Robert Paine
Matthew Wriggley
Salad Iqbal
Programmers
Jonathan Elliott (Lead Programmer)

Michael Pallister

James Loyd

Over the next few weeks we will be posting new information, screen shots and videos that will (hopefully) grab your interest and make you want the game.
To get you started here is a video of our main menu: