Greetings, Hexen adventurers from across the realms, - the time has finally come to draw the line and reveal the ultimate conclusion of the flagship Hexen mod - Legend: Farewell Edition.
During the development of the Marine Mod DLC, i have already began working on the concepts for the next version. But it also started to become more and more clear, that the sequel - Deathkings: The Return, - is being constructed with a much higher standards of design, with much more mod-making experience on hand; thus opening new gameplay options - incorporating which into Legend, the prequel - would take way more work than i ever anticipated.
True, i have made announcements in the past, - about leaving Legend Mod's development, but this is the first time when i actually feel that i don't want to work on it any further. I can easily envision Legend version 9, with all the needed changes that would elevate it to the same standards of quality as that of "The Return"...but the desire to start doing all that - is just not there. Zip. Zero. Zilch. Legend 9 - is the mod that is not to be. Not by me anyway.
On the other hand, my sights are firmly fixed on Deathkings modification, for it is a virgin territory for making an excellent mod, which is bound to feel a like completely new game. Deathkings was never even remotely as popular as Hexen, and to tell the truth - i explore the vanilla, deconstruct it - and enhance-remake it all at the same time. This is a gateway for a new Hexen-Legend battle-adventure, and so it shall be.
Legend, in turn, - will receive one last upgrade, and while quite significant, but nonetheless - a compromise between the vision of version 9, and the current state of the mod. Here are a few examples of how far i went with those, when single levels took me over a month to remake...EACH: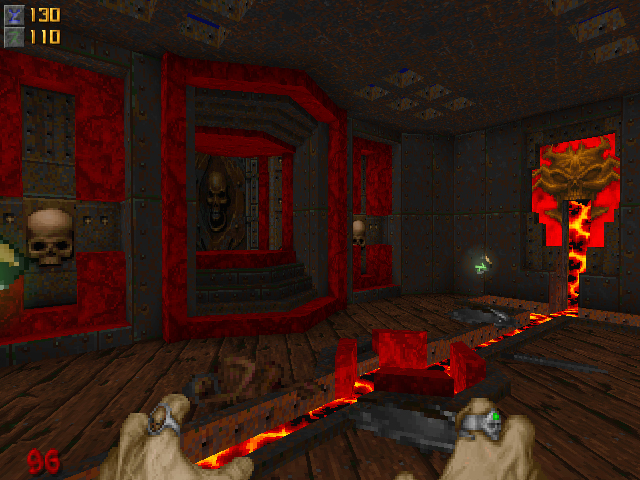 Tomb of Zedek features two wings, designed in a dark techno-gothic style: one wing appears intact, while the other has been badly damaged. So that had to be shown with every detail in every corner...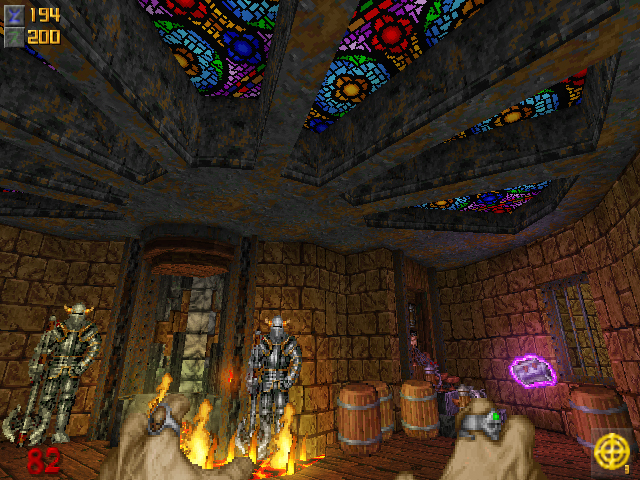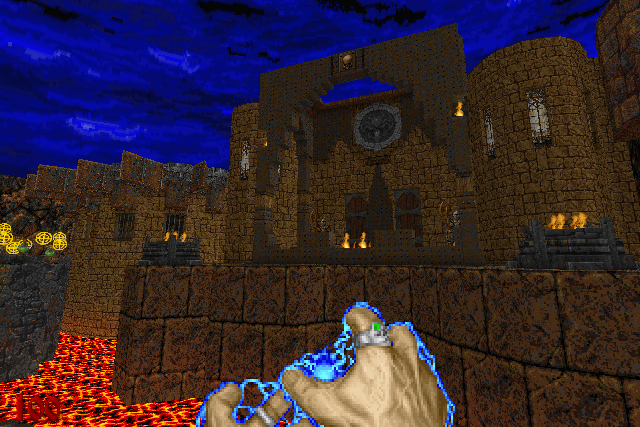 Forsaken Outpost - i have avoided the remaking of this level for years, cause i knew that it would be nothing short of a nightmare, - so lame it originally was...but, not anymore. New areas to conquer, alternate paths and lush redecoration make this location a thoroughly fun ride.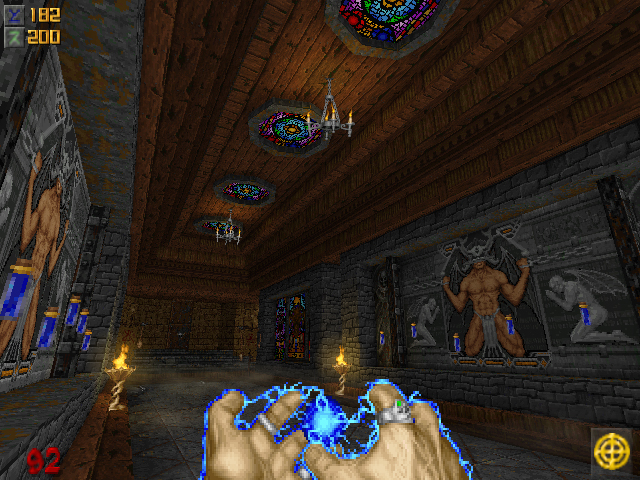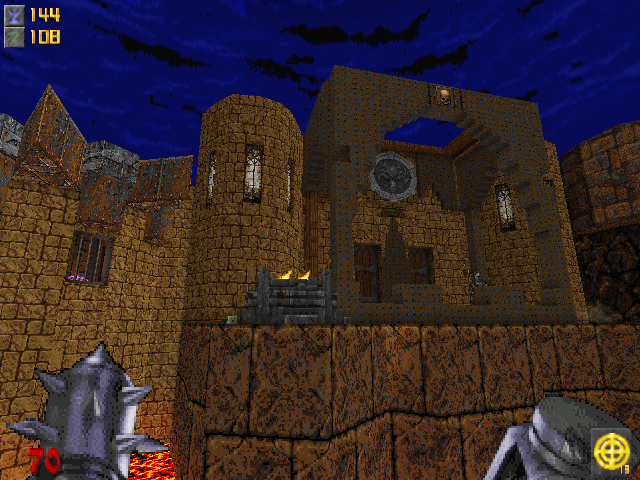 I ran into a problem with this structure: the height of the adjacent buildings could not be managed separately, unless it would make a lot of stuff look ridiculous. A semi-work-around this problem still allows to see that a part of the tower appears missing (even though it isn't), if you look at a very specific angle. But i don't intend to spend time looking for a perfect solution...that phase has passed for me.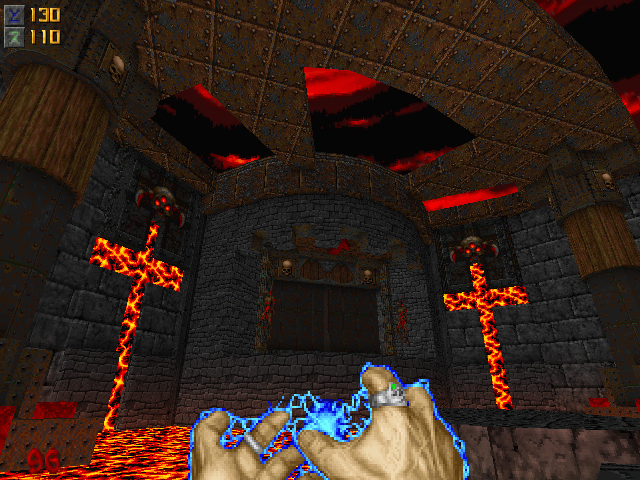 Griffin Chapel has a couple of some cool upgrades...many of my ideas showcase how 1993 Doom would've looked like, if it was made by me. No wonder i never liked the original, due to its pathetic art-style , having played through it only once...I did play the 3DO version way more than that! :-)
Here is the list of main changes for the upcoming version 8.43:
1) Complete redesign of several particularly lackluster levels of Hexen/Legend. The kind i avoided for years: Tomb of Zedek, Tomb of Traductus, Forsaken Outpost (insert a mad scream here, lol, cause these levels are originally so boring, that remaking them is an insane process in itself: not unlike turning a cockroach into a raptor), Desolate Garden and Bright Crucible. Definitely will post a video showcase once done.
2) Fix the Fighter's 2nd weapon's effects: currently, there is a mishmash of related and unrelated blood effects with this weapon, and they appear in and out of order. I intend to fix that.
3) Fix (finally) the issue of custom gibs. Initially, custom gibs upon death were planned to be made for all Hexen creatures, but since i am not a programmer, - i can only design those for two creatures. Ettin being one (already implemented, long ago). The other, most likely will be a Stalker. Currently, however, instead of that, - a general gibs sequence is made and is attached to most enemies. These two sequences appear incorrectly for certain enemies, and will be addressed and sorted out.
4) Light levels: Legend 8.43 will be 2 to 3 levels brighter than any previous version.
5) Additional detail design upgrades for various levels: currently - Castle of Grief, Griffin Chapel, Gibbet. (fixed Leatherface's shop, among other things) More will be determined upon final testing.
6) Smaller aesthetic fixes - over 100 of those: texture alignments, texture replacements, thematic alterations.
7) Addition of story screens.
8) Gameplay adjustments for weapons: Fighter's Axe +25% speed Mage's staff (melee) - different power sequence, lesser DPS. Fighter's Dragonstaff - post-explosion burn effect removed. Increased damage +20%
9) All secrets will have indicators added to them.
10) All interim fixes implemented by the Marine Mod 2.1 (partial 8.43 update) will be included.
11) Certain 2D decorations are being replaced with new concepts.
=======================================================================
And now, for the features NOT to be, which belong only to Deathkings: The Return. Theoretically, inclusion of those would make version 9, but like i said - i am not going to do that.
1) Four more additional enemy types
2) Completely redesigned battles
3) Maxed out decorative design for the entire game
4) Further thematic alterations and improvement of more 2D objects.
Stay tuned,
~Hexen Star