The weekly updates of Dibella's Watch are proceeding well. Here's version 05 of the Beta phase already; this one comes along with a lot of landscaping, new buildings and NPC's, including many enemies to fight, as well as a lot of other good stuff. The Western Deadlands are starting to get colonized and that's where I've concentrated most of my energy this week.
Now, there's a Crusader Army hanging out in a castle out in the western desert and there are bandits with camps and I've also added some really scary creatures, called The Techtarra! I was actually sweating when I fought the first one I pasted into the mod! That's how disgusting they are. Really.
This update has everything a good update should have. Be sure to check out the map of the new locations as well to see just how huge and enormous the Island of Dibella's Watch is getting! I scare myself with my genius. Cough.
Download the mod right now and here on ModDB.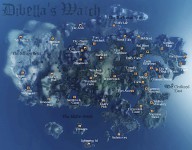 The updated Beta 05 map of Dibella's Watch
Update History
- A whole bunch of minor corrections done.
- A great amount of landscaping has been done; new locations have been created, and old ones expanded.
- Created "The Arch" rock formation in the north using new rock meshes.
- Real desert areas have been created out west.
- Introduced the Techtarra, which rules the Western Plains. Don't engage this creature if you have Arachnophobia!
- Continued colonizing the Western Deadlands; created Deadland Bandits faction and gave them camps.
- Created Fort Varschenk, another of the Deadtree Clan border fortresses.
- Created Castle St. Graecius out west, which is the home of the Crusaders. NPC's, Interiors and exteriors are in place.
- Gave them the Crusader Armour. Female meshes are new (Plate Armour Plus).