The Recruits team along with the guys that created The Red Solstice, have put our heads together and begun a small campaign to try to gather media and press momentum to further spread our games out to the people of the world.
Take a look at our website and check out the other great games we are showcasing there! Spread it around and know that you will be helping all the games here gather more views, more votes, and more press. This all means that these games have a better chance of becoming successful and complete.
So far in the campaign we have
Make sure you Vote for our games and share them round! We are not afraid of promoting each others games, we are all in the same situation and any help we can get to get our games out there is great!
Let us know what you think of this idea by leaving a comment below.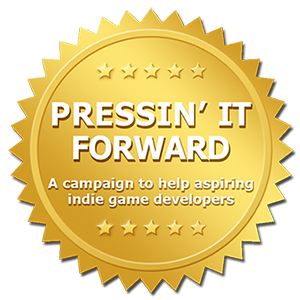 About Pressin' it Forward
The Pressin' it Forward campaign is about gathering indie games together on one simple and clear website, allowing the general public and the communities of each participating game to have a means of easily viewing quality, hand picked games from aspiring game developers.
The main focus of the campaign is to support games that are of a high standard but are at risk of failing because of a lack of press and exposure. Press and media is a very large part of a successful indie game, almost as important as the game itself. It is vital that quality indie games are not lost because of a lack of press or public awareness.
Games participating in this campaign will be labeled as being of the utmost quality, and the developers recognized for their dedication. They will be deserving of all the public support and press possible to keep them from being lost or abandoned.