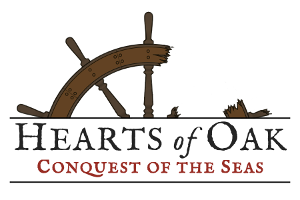 Welcome to another edition of our Hearts of Oak progress articles!
In each article*, we will bring you a summary of the latest development news, including work-in-progress screenshots and in-game footage, along with a more in-depth look at featured content.
After a long wait, we've got some truly impressive content to show you this week, including magnificent models, materials, menus and music. Seriously!
Indie of the Year Voting
As you may be aware, voting for the IndieDB Indie of the Year Award 2014 is currently underway.
Due to the pre-alpha state of Hearts of Oak, and the lack of a public release so far, we felt it wasn't appropriate to ask everyone to vote for it, so we didn't.
And yet, thanks to people like you, Hearts of Oak has made it into the Top 100 anyway!
We are immensely humbled by your support for this game even in such an early stage of development, and we couldn't be happier with this achievement!
Now, we have the opportunity to see just how far the game can climb up the Top 100 in the second round of voting.
If you voted for us in the first round and you believe our game deserves even more recognition, then please do vote again in the second round!
You can find Hearts of Oak under Upcoming Games > Role Playing on the Top 100 page.
Please note that voting closes on 21st December.
Anything we can manage from here on is a bonus, but we continue to be blown away by your support and we're hugely grateful for it.
Engine Development
- Main Menu; Danidr
New member Danidr has taken on the task of designing a new main menu for the game, which suits the game's overall aesthetic.
Below is a concept of how the final menu could look, taking inspiration from the original concept art by Haereticus: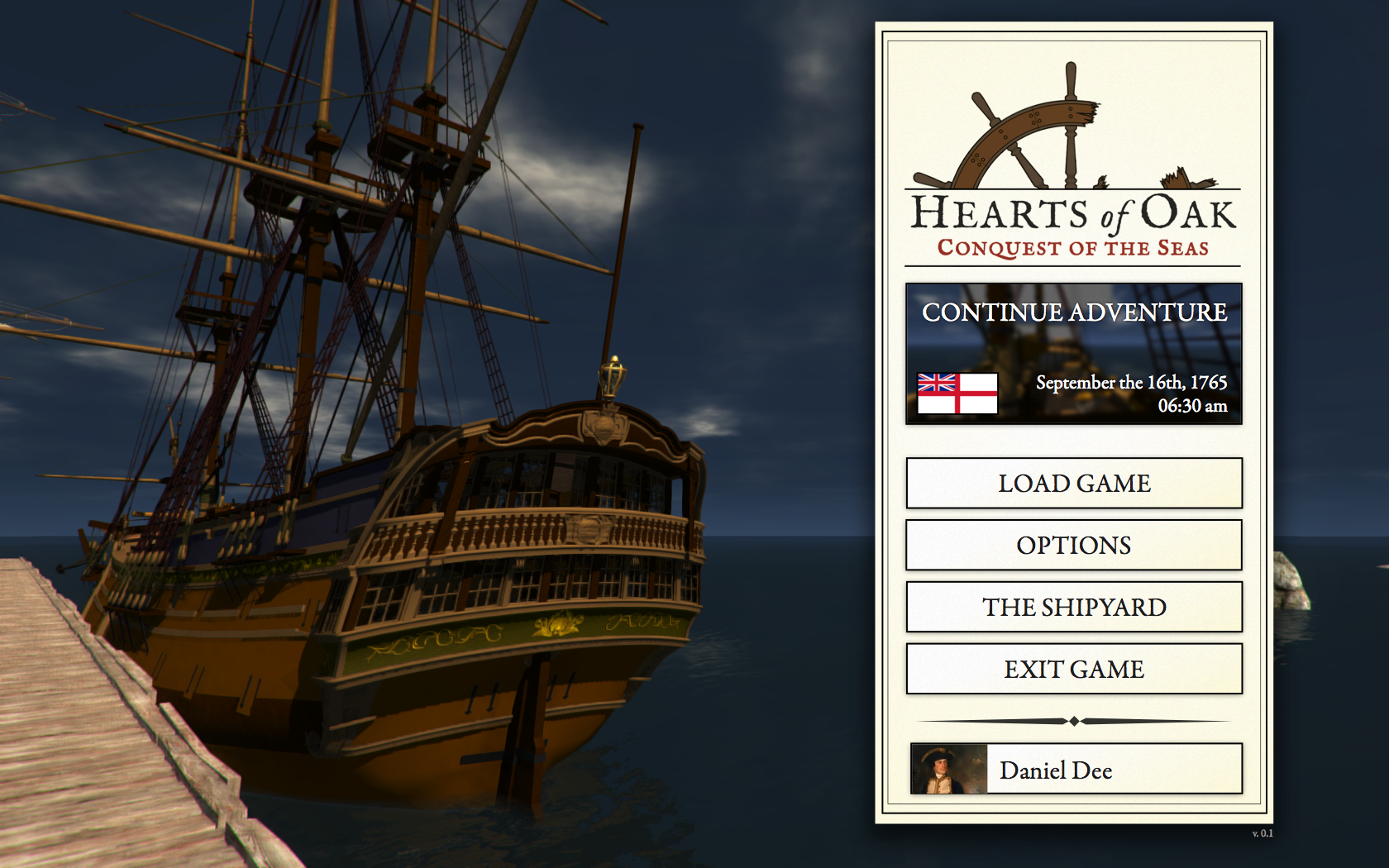 The background is a screenshot from the internal test build, and the menu box has several features worth noting.
The "Continue Adventure" button will allow the player to immediately pick up where they left off when they start the game; the example shown is a placeholder.
Below that we've got the pretty standard Load Game, Options and Exit Game, but there's also The Shipyard and a player profile example at the bottom.
We'll be explaining more about The Shipyard in the coming weeks.
The following image shows a working draft of the menu in Unity, which is only lacking a more detailed background: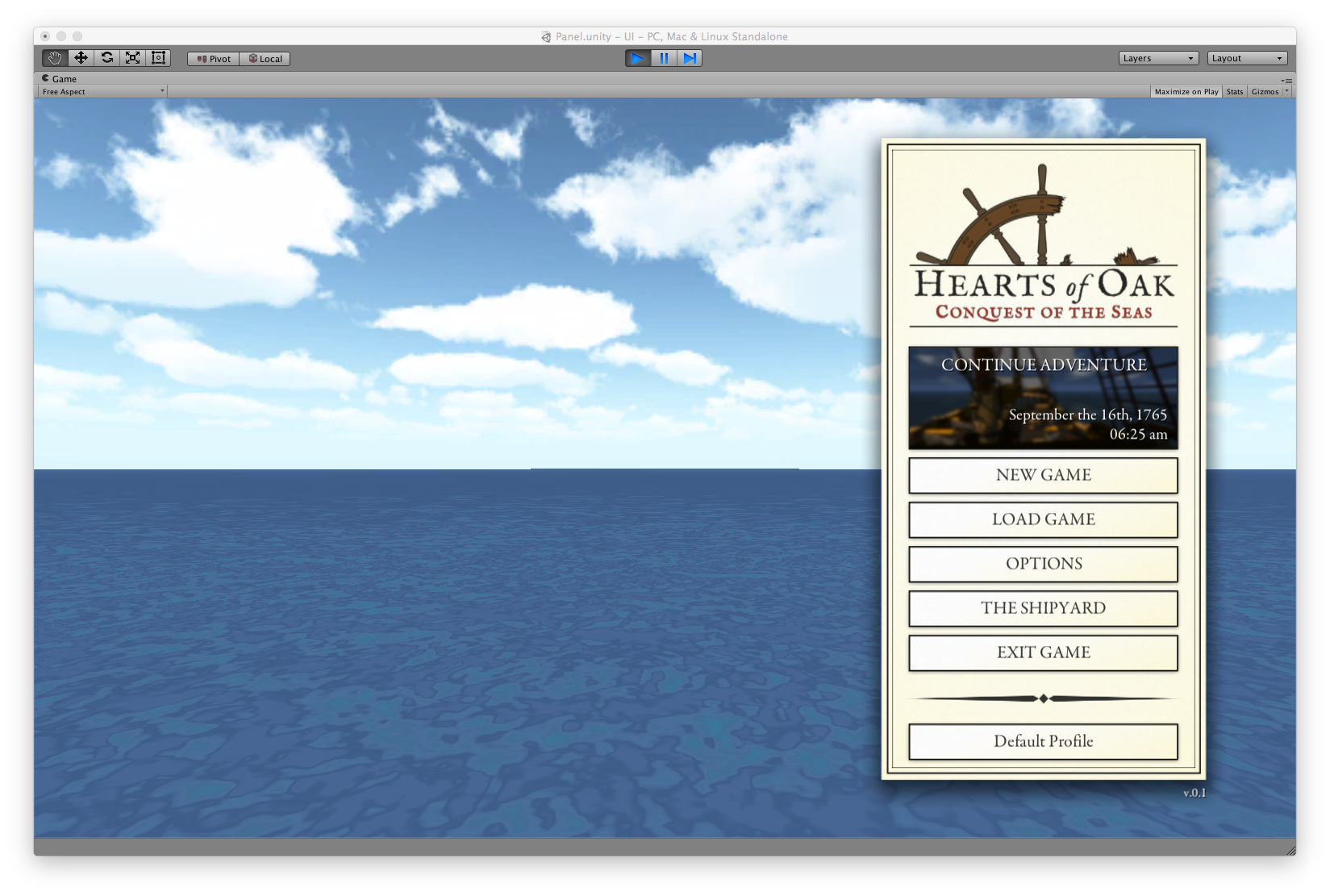 - Substance Materials; Captain Murphy
We have been experimenting with Substances for several weeks now, as an alternative to more traditional textures.
In the videos below, Captain Murphy explains the process behind making a Substance, the key features they provide and why they're ideal for some of our needs.
Substance Overview - Part 1

Substance Overview - Part 2

- Shader Test Scene; Ashinokami
To help artists to easily see how their models will look in Unity, Ashinokami has developed a test scene specifically to showcase materials in the engine.
Below is an example featuring the Endeavour, using specially-designed materials to mimic the real properties of wood and metal: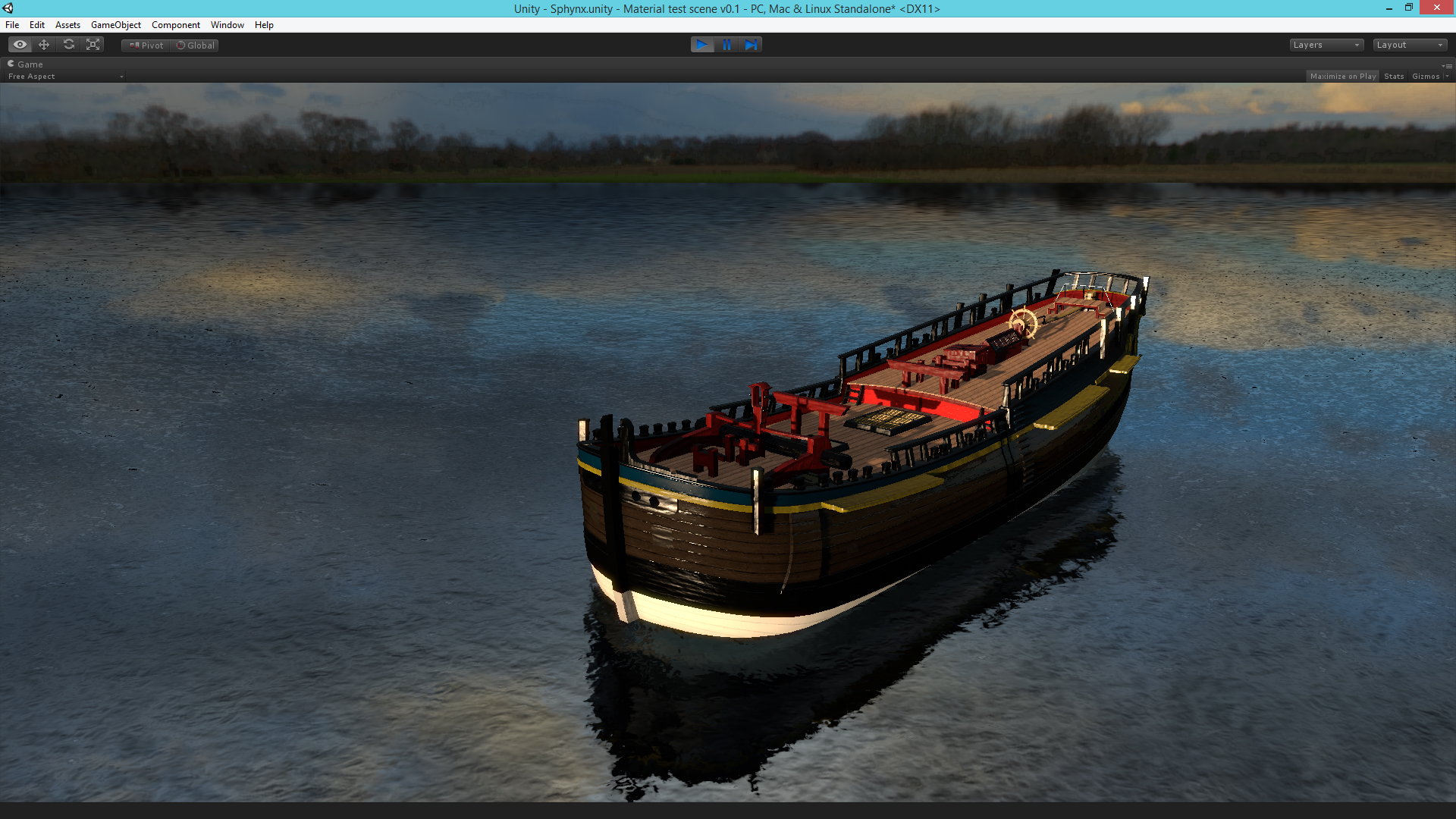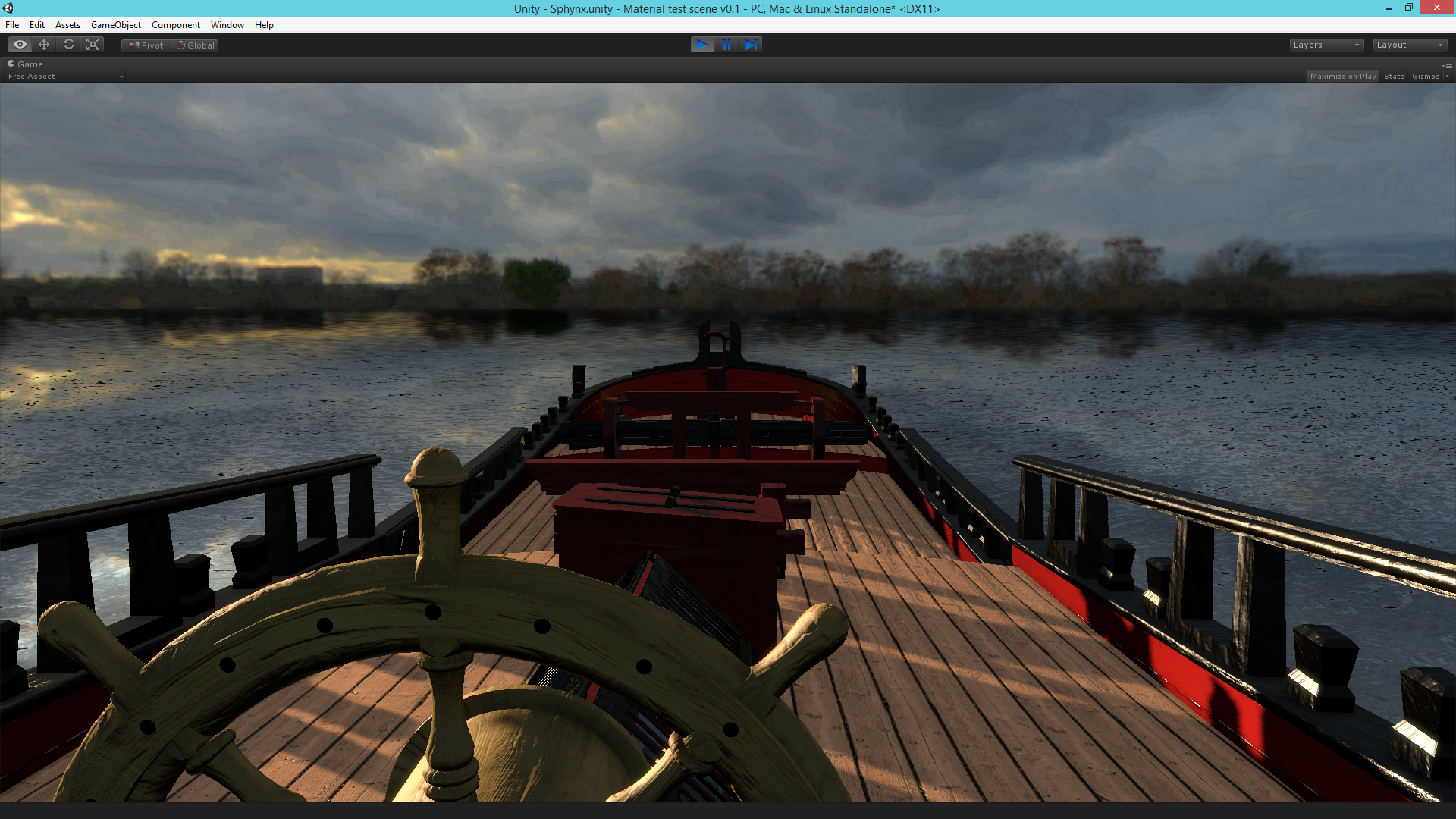 And here's the HMS Sphynx in the same scene, but using Substances instead (as described above) and a depth-of-field camera effect: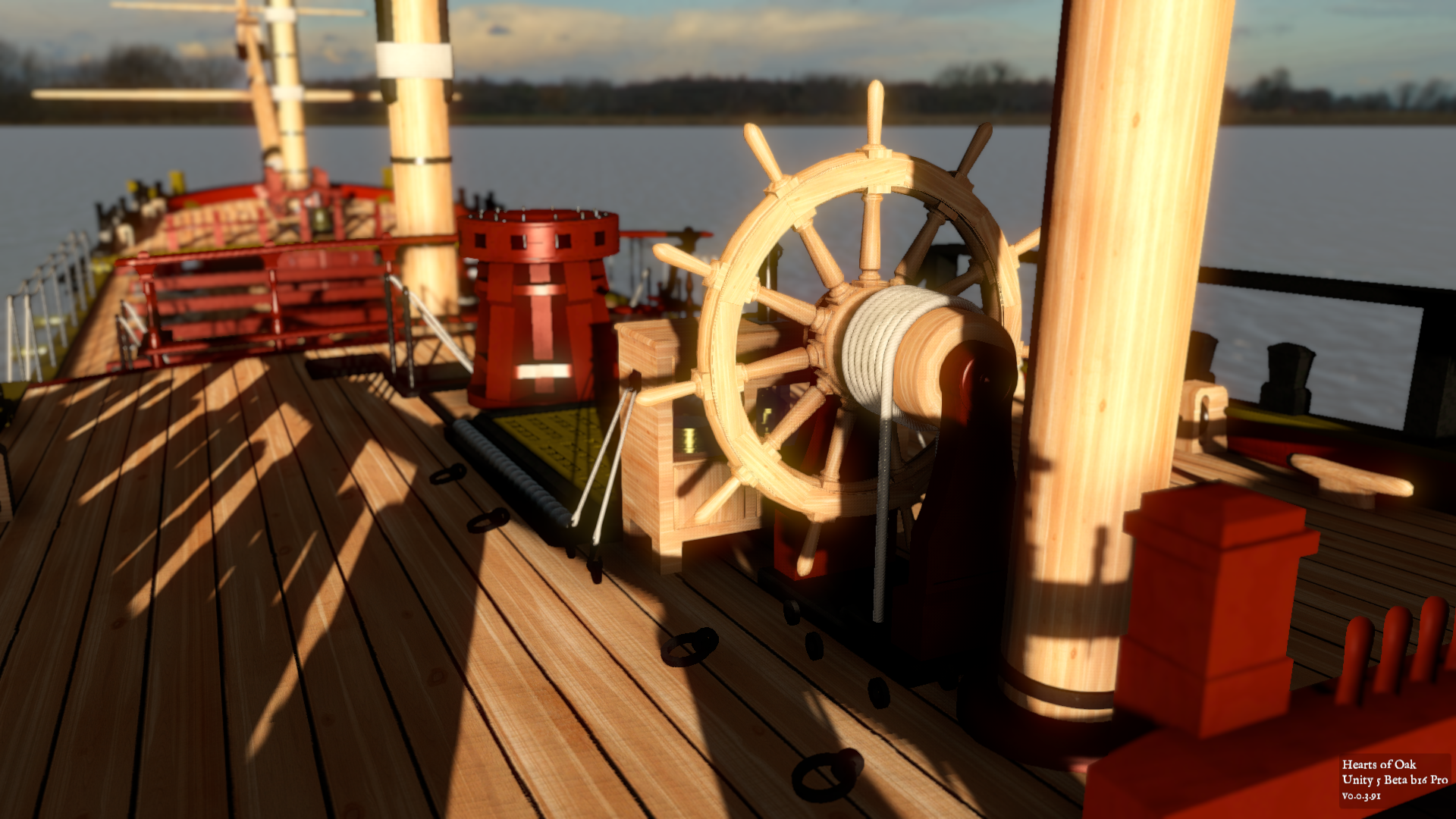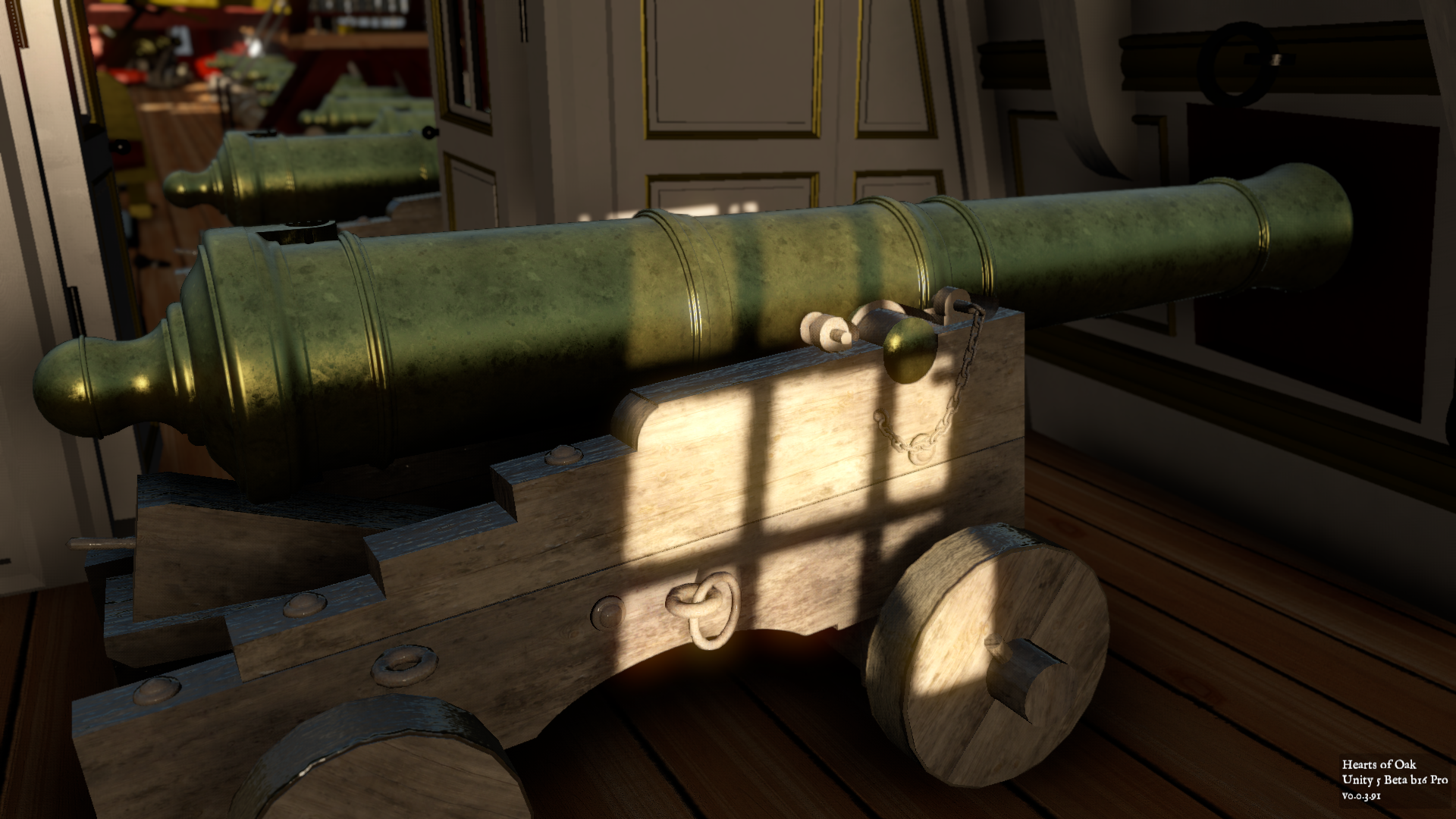 3D Models
- HMS Bellona; Armada
This ship now has all the most basic details required to test her as a floating battery in-game, including all gunports, ladders between decks, and the rudder.
The model also has the railings installed along the upper sides of the hull.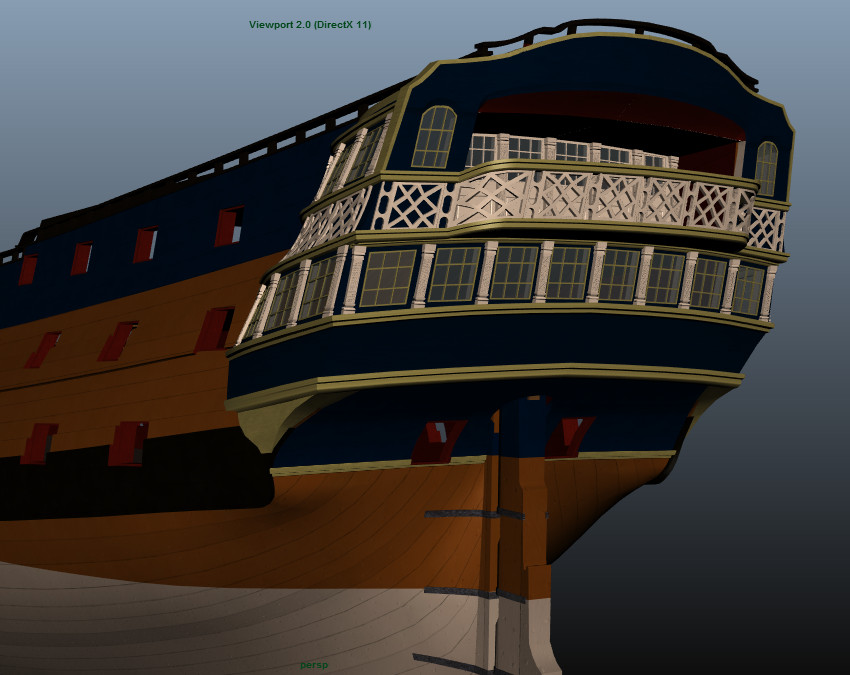 Although she looks a bit empty at the moment and more components will be added eventually, we hope to give her a full set of guns in Unity soon.
- HMS Sphynx; Wedori
Ropes. Do you like ropes? I hope so, because this ship has more than you can count.
The devil is in the details as Wedori shows just how much can be achieved with a little time and perfectionism: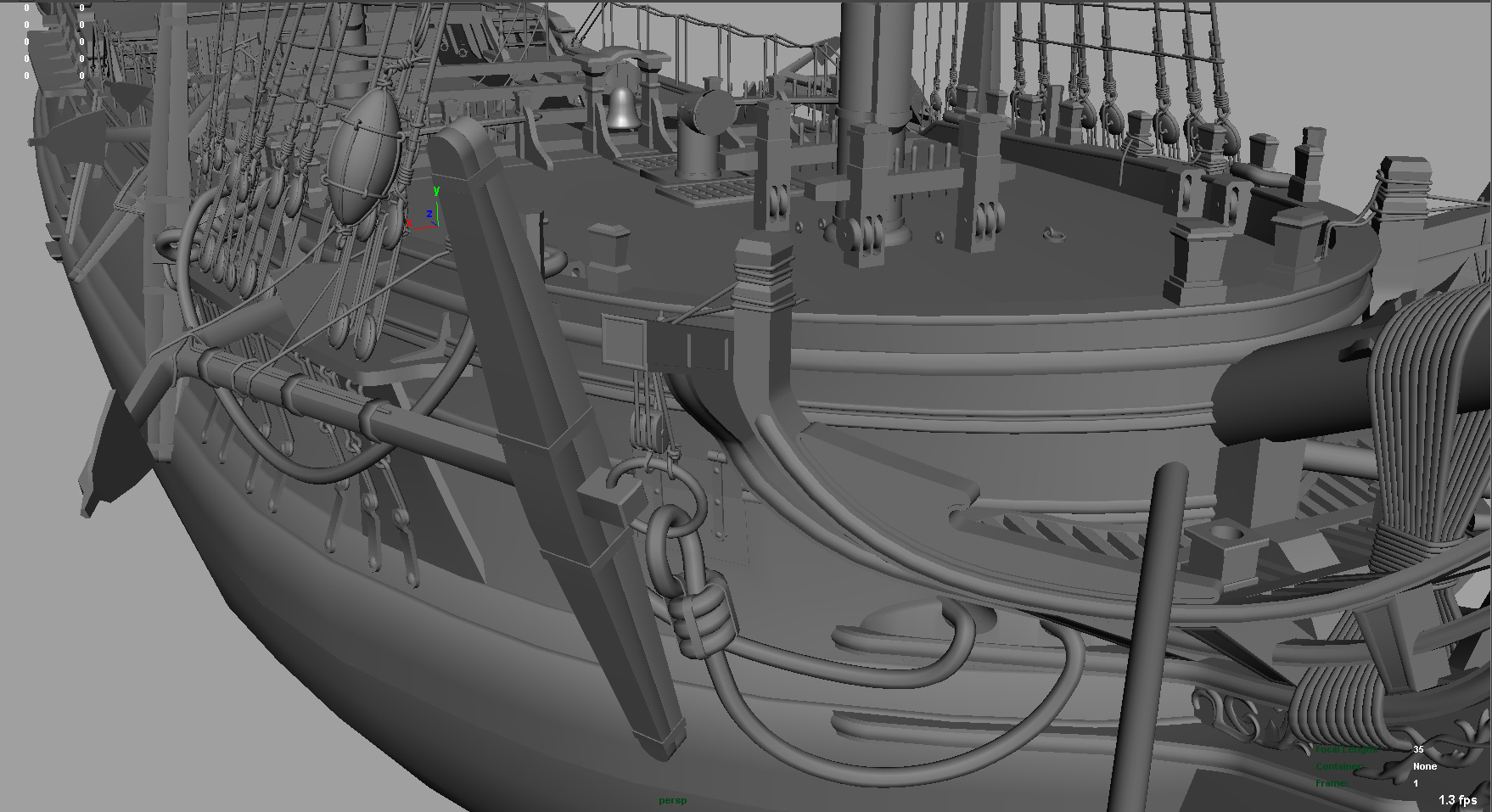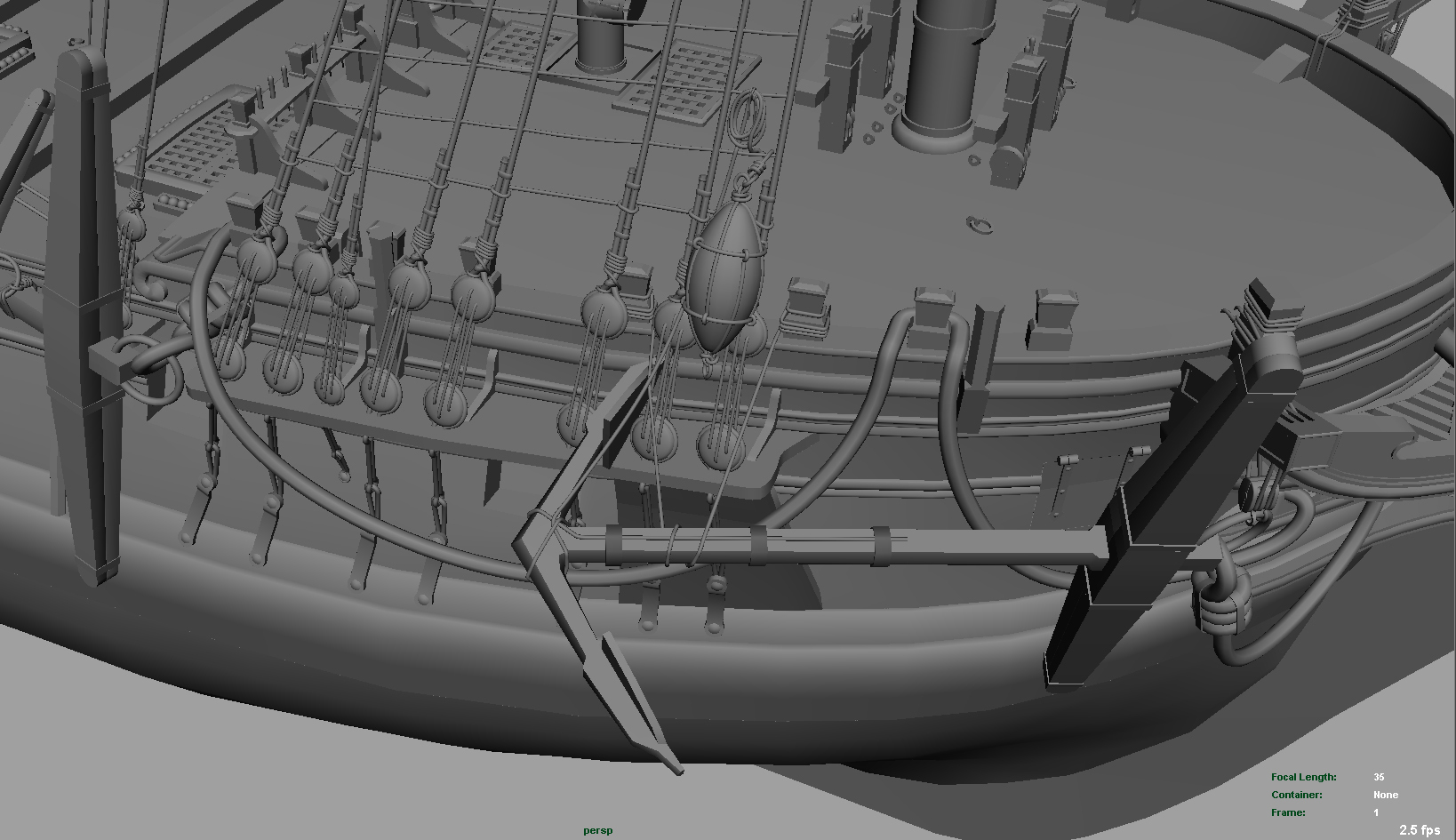 Environment
- Marie Galante; JohnV
This tiny island has been mapped from height data in 1:4 scale using World Machine, and trees have been added to populate the land.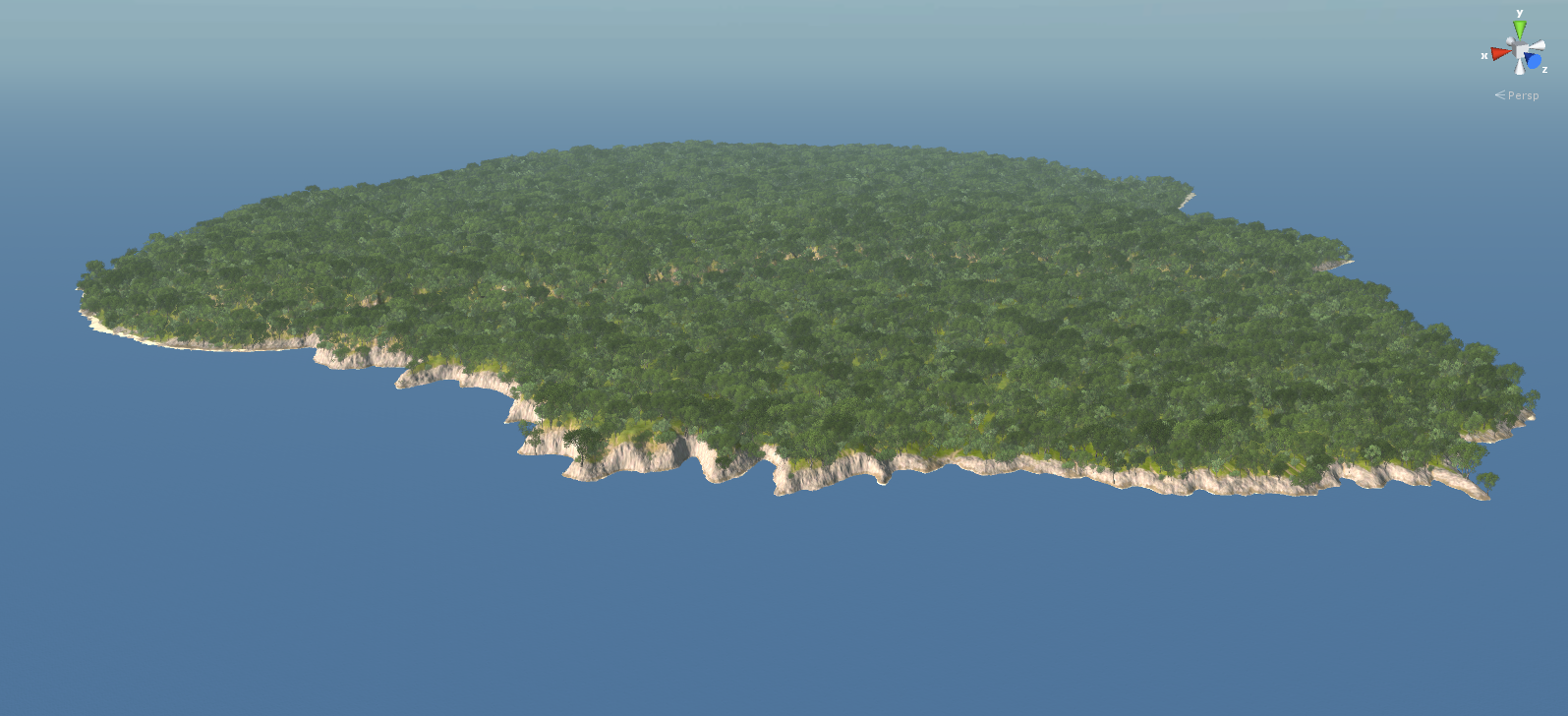 This second image shows how the terrain textures blend naturally from rocks to grassland based on height: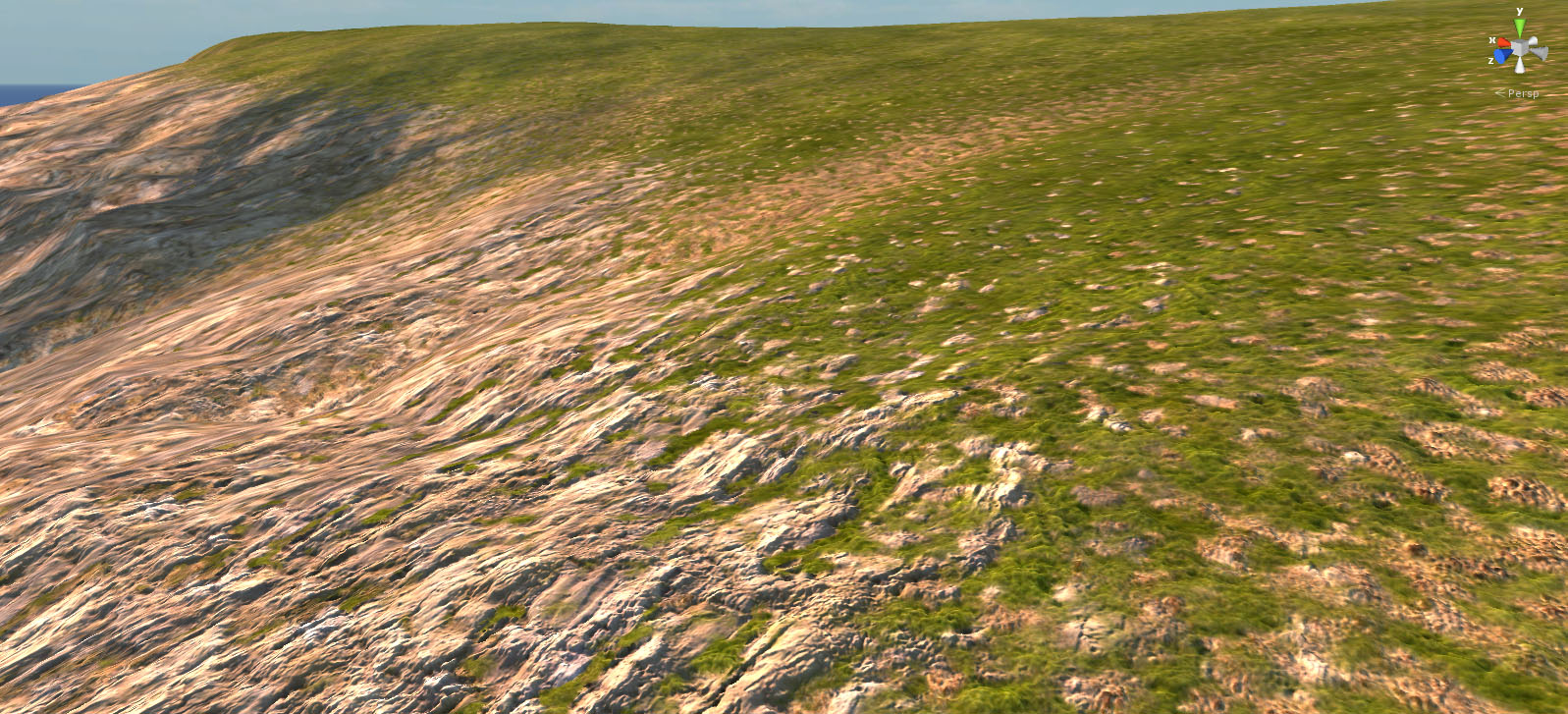 Music
To give you a taste of what's to come, we're regularly showcasing an original track, produced by one of our talented composers.
This week, we've got a brand new track called "Man O War", composed by Dastroids.
The composer says it represents "a battle on a man o war":
Dastroids wrote: When I wrote the piece I imagined myself on a big man o war firing cannons, and of course I was the captain giving the orders.
Stay tuned for more original music soon!
Vacancies
We are still recruiting all types of 3D artists, and in particular we'd like to see more people willing to get their assets into Unity.
We will also accept help from programmers and 2D artists.
As a reminder, all of our developer roles are NON-PAID positions.
For role descriptions and how to join the team, click here.
Fundraising
We are still accepting donations to help pay for engine add-ons, software licenses and more.
If you would like to donate to the project, you can do so through Paypal using the Donate button on Heartsofoakgame.com .
We greatly appreciate every contribution!
You can keep up to date with how much we've raised and what we've used the funds for here.
That's it for this week's progress; we'll have more updates for you soon!
Don't know what the Hearts of Oak project is? Take a look at our Frequently Asked Questions for more information.
*Please note that we're aiming to post a new article at least once a fortnight. If there's a long gap between articles, it usually means we're very busy!