Hi everyone! Finally, the new update is out, and the new playtesters are invited. Forty of them, to be precise, and 25 of them already responded, so there's a lot of playing going on at the moment. If you already were a tester, and are looking for new friends, this should be a good moment to log in again ;). For all testers: these two things are new, let me know what you think of them!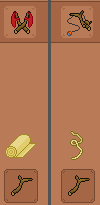 I have to say I forgot how nice it is when new players play te game; I love finding houses on testservers, messages from players saying nice things, getting new likes on Facebook, people inviting their friends, etc. And of course, I play a lot myself as well, so there's a serious chance you'll meet me! Probably while I'm fishing; I'm really starting to enjoy fishing on public servers, so I can say to myself: 'this fish was generated in Sweden' or something like that ;). If you ever catch a cool looking fish, let me know here or via social media; I'd love to see them!
The fish generator was quite hard to get right, by the way, in particular AFTER I already thought the update was ready to be sent to Desura: it turned out that the .exe I made out of my code handles the file saving differently, which forced me to rewrite a lot of code. And then, when I tested the new .exe, I discovered I broke the fishing mechanic while fixing the generator, so I even had to make another .exe. And when I finally could upload everything (this already took me a whole morning), it turned out that most of the volunteers were very busy, so I had to wait a little longer. Not that I blame them or anything - they're doing great work and I can't overstate how much I appreciate it - but they are doing this in their spare time, which means they mostly can't warrant 24/7 uptime. It would be great to have a professional company volunteering (would be great publicity, right?) - maybe I'll try to find one in the future!
Finally, I also have a huge lists of bugs to fix already, so more than enough work to do! The most interesting one is probably this one: what happens when a lake and rocks are generated on the same place? Testserver1 gives the answer: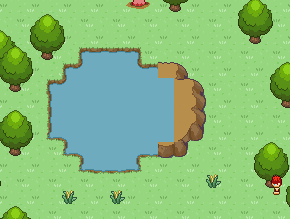 PS
If you didn't get an invite yet, don't worry; more groups will be invited soon!
If you want more development, see [twitter] or [facebook].