On the 4th of July 2014, Kieran and I worked tirelessly throughout the day to thoroughly test the first public build of Hashtag Dungeon. We added the last few items we had on our to-do list and then hit the build button.
Unfortunately it was at that very moment the broadband for the majority of the east of Great Britain decided to explode. We ended up having to upload the final version via a phone's internet tether at about 3am on the 5th!
This late launch would all have been fine if we didn't have to be up at around 5-6am in order to get to London for the London Anime and Gaming Convention 2014… so there was absolutely no time for a lie in! Luckily we were in good spirits and managed to (with the aid of coffee) make it to London in time for set up. Many thanks to Tom, one of our most excellent musicians, for driving us down in the car.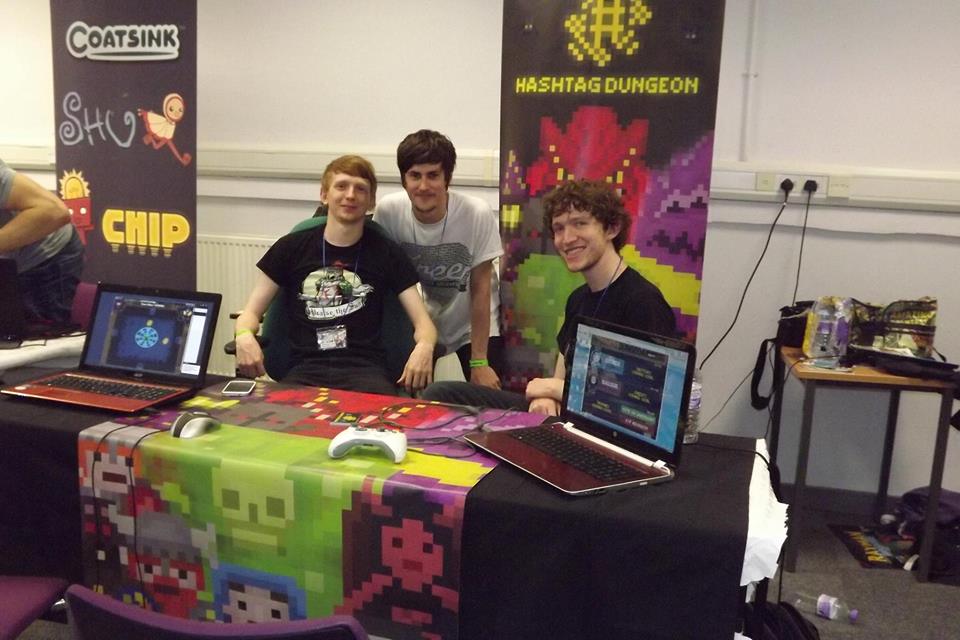 LAC was very exciting for all of us! It was our first experience of running a booth at an actual convention. We'd like to thank Pia for helping us arrange getting a table for the convention – we couldn't have done it without you!
You might be thinking, "Surely going to a convention the day after release might be a bad idea? Surely you won't have access to your builds if there's a problem with the version online?" – Yes, yes it was a bad idea. It was only a matter of time before my phone started going crazy with tweets from people who weren't able to download the game. It turns out that because i'd included a '#' in the uploaded file name people weren't able to download it from the itch.io servers. Whoops…
The week after I was at the Loading Bar for the Indie Launch Event alongside games like Tango Fiesta and QUBE. It was awesome to meet other developers and get their feedback in such an awesome game-themed atmosphere. I'd like to thank Failnaut for inviting me along and letting me show the game!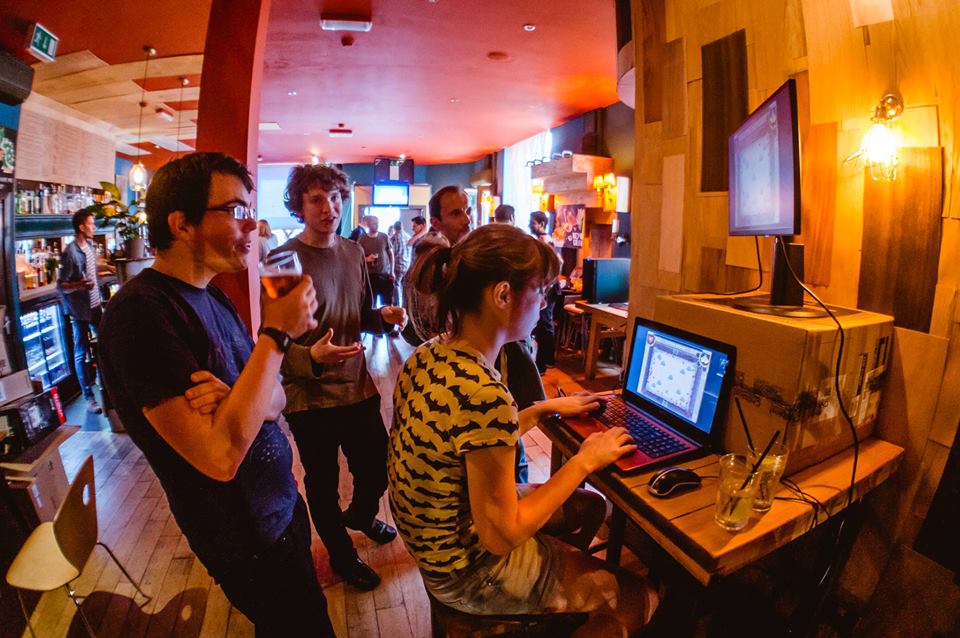 We decided we'd go for a soft launch and not actively contact sites like Polygon at first because we want to make sure the servers are able to handle the load over time. We were worried that if we got a massive surge of people playing in the first week we might end up having problems we wouldn't be able to deal with quickly. We wanted to avoid a situation like other online-based games have on launch.
Having a soft launch has been excellent because we've been able to deal with bug reports on a one-on-one basis. If we'd had loads more people playing we'd probably get spammed with the same bug report over and over again. It's nice to have a small community at this point as we can talk to them all directly.
We've received great feedback from our players so far! There have been a few bugs here and there but thanks to the auto-updater we have been able to patch the game quickly and efficiently!
Our Upcoming Update
Since we released we've been taking all our player feedback on board, there is a big to-do list of things that people have suggested and what we think would help players make and play better and bigger dungeons.
I've been referring to the next update as the 'magic' update because I've been putting in a lot of magic related stuff. I've added a summoning circle to the game that players can use to summon different things. We hope that people will collaborate together in order to decipher the different magical combinations.
Of course there's always a risk with dealing in magicks that are incredibly powerful. One wrong element or slight error in the star alignments might summon forth something slightly less than friendly:
I've also been slowly but surely adding in a mage for each of magical forces in the game, here is a picture of them standing in their corresponding locations in the summoning circle: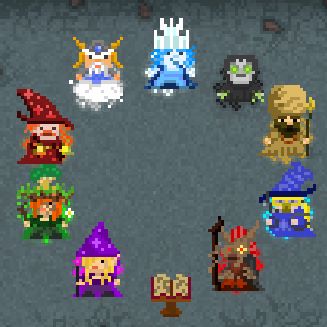 Plus with the addition of a bunch of extra items, backgrounds, traps, sound effects and UI features this is bound to be a most excellent update for our players! Stay tuned for it!
You can buy Hashtag Dungeon on our website now via itch.io!
You can also help support us by voting for and sharing our Steam Greenlight page!