Hey DU:SR fans!
We want to thank each of you for voting for us in the Indie of the Year Awards. Unfortunately, we didn't make the top 100, but that gives us something to strive for next year! So thank you! Your support is very much appreciated.
This is also our last update before the Holidays, so we at 2 Old Men Studios want to wish each and every one of you a Merry Christmas, Happy Holidays and Happy New Year!!
Next year is going to be a great one!
That said, we have one piece of concept art we'd like to share with you, along with another entry from Corwynn Lorr's Journals.
First up is that art piece by Josh Carrenca.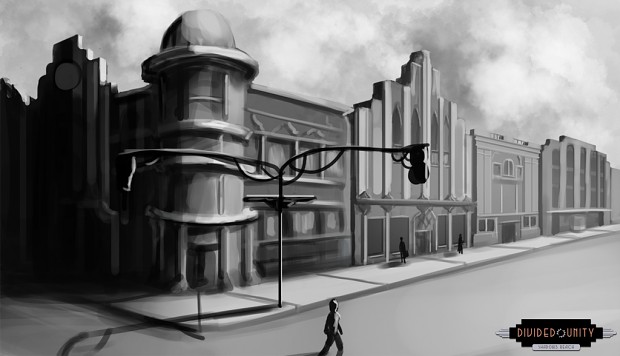 This is a typical street corner from any city in Nomolas, even Solace. Notice the art deco style of the buildings? If not, take note of the long lines on the buildings. That's art deco. Even though our game is dieselpunk, art deco fits into the time period so well, we had to keep it.
Although you don't see it here, you'll see instances where we take the two and clash them together. The combination creates some really interesting pieces.
Now let's turn to our Corwynn Lorr piece. It's been a while since we have spoken this name, so to refresh your memory, Corwynn Lorr is essentially a lore-keeper for Nomolas. His ancestors and himself have spent many, many years gathering information about the country. You can read his introduction here: Indiedb.com
This piece brings us back to Solace; a very important town in our game. This time, we take a look at Solace during its peak time of peace.
194 BU

I am still in this place they call "Solace".

For years, I have watched the trees of this valley bloom, change colors, lose its leaves and catch snow on its branches. This game of catch continues on this day, as I write and look out into the valley.

The people that live here continue to fascinate me. Even though the sounds of war can be heard echoing throughout the valley, they go on, day by day, as if it were another normal day. They celebrate their normal holidays and traditions; never forgetting one.

It's that time of year again for the exchanging of gifts and parties; all done with a smile on each and every face. Although my family line isn't from this part of the world, I have learned these holidays and traditions and take my place in each of them - and I enjoy very much being a part of them. The sense of family and comraderie that is found at times like this is something everyone should experience.

Of course, I am not sure how much joy can be found with those that live outside of this valley. Hardly anyone risks going outside of it, for fear of being discovered. So the reports on activity on the other side of these mountains are rare.

Sometimes there is an elderly person who is willing to accept his or her fate and will go outside and report back from a "radio house" that was established years ago. The reports though are sparse and the details reported back....I don't think anyone believes they are even real. Even so, that is about the extent of what we learn from the outside; other than the "Annual Search" - a trip taken by a select few, once a year, who go and find people to bring back to Solace. The stories we hear from those that arrive give the only confirmation about what is really going on out there.

Regardless of these things, it seems so normal here, I sometimes wonder if the children are even aware of what is happening outside of this town - this valley.

It really is incredible how much these people have accomplished and built in the time that this place has been in existance; which has only been 56 years. The cure to many diseases have been discovered, new ways of growing crops for bountiful harvests, entertainment and creativity that my ancestors nor myself have ever witnessed. I could spend all day writing down all of the amazing things that have been done in this place, but that will have to wait for another day.

I wonder what can be accomplished in another 56 years...