2016 had a lot of highlights for Damsel and Screwtape Studios. In February, we launched our Greenlight campaign and after only 18 days we successfully made it through. Based on that exposure, we were given the opportunity to travel to Boston to show off the game at PAX East. Thus was our first international showing , and was a great excuse to jump into development with gusto.

PAX was fantastic! Damsel had a great position in the PAX Rising booth, and with thousands of people passing by, and we barely had a moment where we weren't showing off the game. Watching people play your game is exhilarating, and we came back to the studio ready to apply all of the amazing feedback we received from players, media, and other developers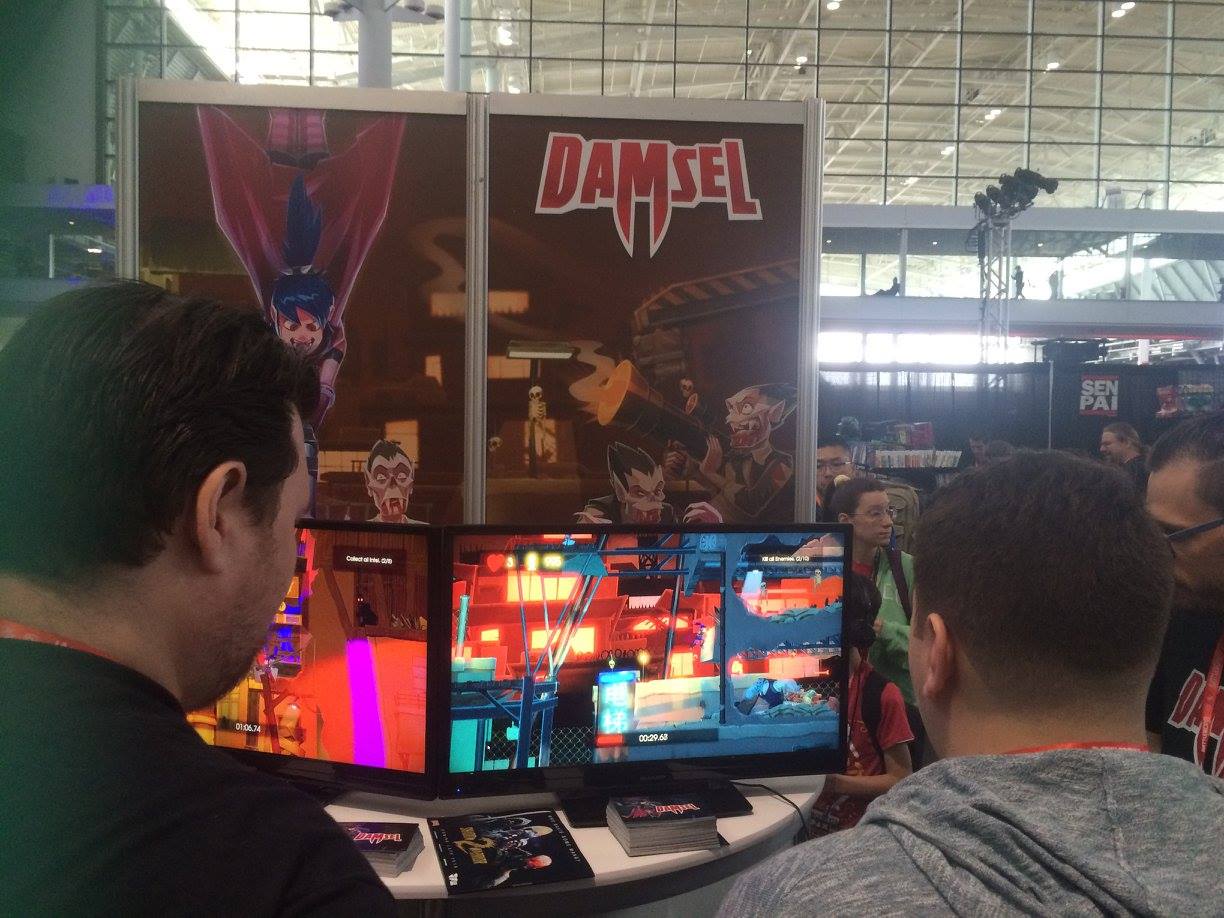 At PAX East we also held an impromptu Speed Running Competition. Don't worry we haven't forgot you our winner will still get a steam key when we release.
Since April the game has come a long way, with the tireless efforts of Anthony and the team.
April 2016
November 2016
The more people who played the game, and the more feedback we received, the more the game took shape. Our level design and core mechanics proved attractive to players who liked to speed run, but our visual style was drawing in a much larger number of players. This meant honing the scoring system, player and enemy movement and objectives to find the balance for everyone who wants to play the game.
In November, Australian game developers flock to Melbourne for Melbourne International Game Week. Damsel would be showing for four days at two different events in the week. Firstly, we showed off Damsel as a part of the Made With Unity Showcaseat Unite '16, then at the end of the week we had an amazing time presenting Damsel again at PAX Melbourne.
PAX was again fantastic. Damsel was coming together! Not only was the booth nearly always full but when contacting press before the show we actually had interviews lined up before the weekend started! And as always the feedback from players was invaluable!
Since November Anthony has been continually honing the gameplay and adding feedback and scoring.
We have come so far, and can't wait to show you more before our release in 2017.