I'm working on a really Big Update and I wanted to show some progress.

The new female Dwarves are in the game and there is a new system for choosing Dwarves to join your town and choosing which Dwarf gets assigned which jobs.
As part of the upcoming "Big Update" HammerHelm will not only have new Dwarf models, but Dwarves will have traits and you'll be able to choose who joins your town and who gets which job!
Each Dwarf will have traits that determine how good s/he is at certain jobs and activities. Lazy Dwarves work slow, strong Dwarves can carry more resources, meticulous Dwarves will craft better items, and sleepy Dwarves might take a nap while on the job!

Every time you place a home, you'll be presented with three Dwarves and you can choose two of them to join your town.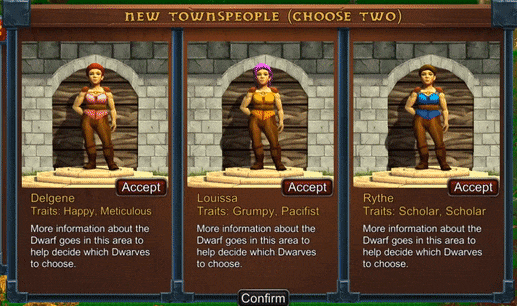 These features are just a small part of the Big Update, which will include more buildings, more jobs, a totally redesigned town economy (including allowing you to get resources like gold and ore from the town) and a ton more. I'm hoping to write a comprehensive announcement about the Big Update soon. My plan is for the Big Update to bring HammerHelm out of Alpha and into Beta.

Oh and the new male Dwarf is almost done too! (don't worry, he will have eyes - and of course, different beards to choose from! :P)