Hey
Its been a little while since my last news, ive been busy with the clean up after my mates places were flooded...
Anywah ive also been working on the Halo faction.
From reworking most of the VFX
part 1

New Halo VFX video - Sci-Fi at War Mod for Star Wars: Empire at War: Forces of Corruption - Mod DB
part 2

Videos & Audio - Sci-Fi at War Mod for Star Wars: Empire at War: Forces of Corruption - Mod DB
And ive made some changes to the scales, and what not, the new list is....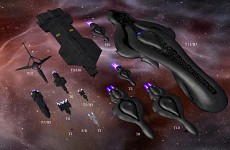 LF - Banshee
LFc - Light Seraph
HF - Longsword
HFs - Flood infested Seraph (WIP, will be a browner color)
LB - Longsword B
HB - Seraph
T1 - Phantom
T2 - UNSC Frigate
T3 - UNSC Medical Frigate (Andraste Class)
T4 - UNSC Aspire (will replace with covenant corvette if i get a model ofr it, and this will become T5)
T4s - Flood controlled UNSC Frigate (rekinned with brown patches all over, still WIP)
T5 - Covenant Battle Frigate (if covenant corvette model is found this will be aspire)
T6 - UNSC Python
T7 - UNSC Marathon
T8 - Covenant Battle Cruiser
T8s - Flood controlled Covenant Battlecruiser (reskin still WIP)
T9 - UNSC Phoenix
T10 - Covenant Battle Carrier variant
T11 - Covenant Assault Dreadnought
T12 - Forerunner Dreadnought
H1 - Noble 6 in longsword (will put in sabre if i get a model for it)
H2 - Arbiter in seraph squad
H3 - UNSC Forward Unto Dawn (UNSC Frigate Class)
H4 - Brute Cheiftan (in covenant battle frigate)
H5 - UNSC Pillar of Autumn (a Marathon class BECAUSE I DONT HAVE A MODEL FOR THE HALCYON CLASS!!!)
H6 - UNSC Spirit of Fire (UNSC Phoenix class)
H7 - PRofit of Truth (in Covenant Assault Dreadnought)
So thats the rework, its a list of al lthe units, with a bit of an explination, all unsc ships will use MAC and side mounted cannons with the exception of the Aspire and MEdical frigate, theyll use missiles as there secondary weapon. The Covenant ships will use the pink/purple bolts (secondary) and blue plasma blasts (primary) as there main effects.
Im going to be using Halo LEgends for the SFX for the weapons, and possibly one or two of the cut scenes from halo 3 and reach if needed.
Ill keep u in the loop and show u the new flood infested models as i skin them\
Also im looking for a few coders so if anyone wants to help, then PM with a list of what uve workedo n, if its nothing, and u still think u can help then PM me anyway
If uve PMd me before and i havn't got back to u, just send it again lol, im backlogged a bit
Spino