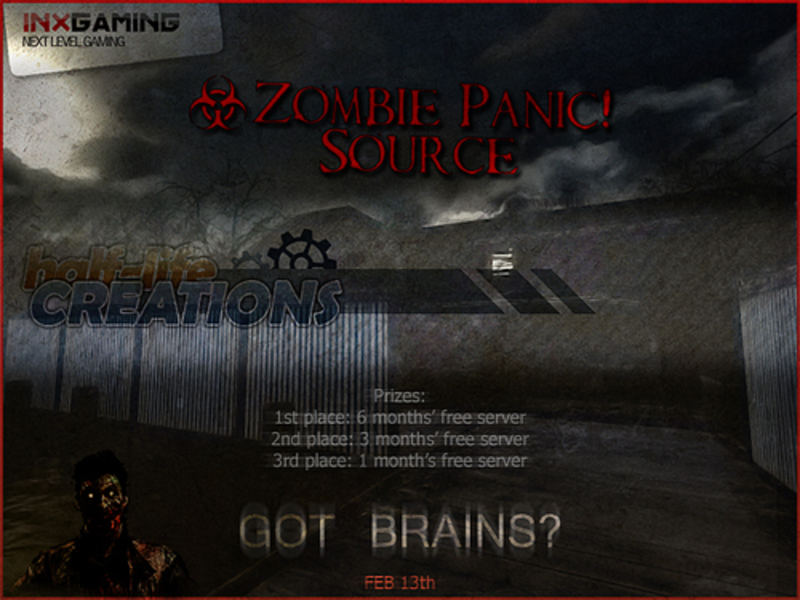 Got Brains?
A Half-Life Creations Competition
Sponsored by INX Gaming
Got Brains is a Zombie Panic Source Competition that will take place on Saturday, February 13th 2010 at 1PM EST (6PM UTC/GMT).
Rounds and Maps:
zps_policestation
zps_silence
zps_nightmare
Each map will be played for 5(five) rounds, for a total of 15(fifteen) rounds. Scores will be added together at the end of the ninth round and the top three scores will be awarded the prizes listed above. Their contact information will be forwarded to INXgaming.com and they will distribute the prizes.
Signup:
The signup will be done on a first come, first serve basis. The first 20(twenty) people to post on Half-Life Creations under the Got Brains topic will get the spots to compete. If you intend on signing up, post your name and confirm you can commit to the time listed above. If you cannot make it, please let us know so your spot can be used by someone else. If you do not show up and have not cancelled within 5 hours of the competition, it will be up to our discretion to allow you into future competitions.
Signup topic is here:
Half-lifecreations.com
Prizes:
1st Place: A server for 6 months
2nd Place: A server for 3 months
3rd Place: A server for 1 month
All prizes will be 32 slot servers.
To see a list of games offered by INX Gaming, please go to:
Inx-gaming.com
Rules:
No cheating or exploiting of any kind. No stats padding or any other method of increasing score than genuine play. Voice spamming is not permitted. If players quit the game at anytime for any reason, we (the admins) will not keep track of your lost score, you will start from zero. Be respectful of other players. Ties if they occur: The players will be sorted by the least number of deaths reported by the server console. This tally would happen after the match and results would be announced as normally. Users can be removed from the competition at anytime under the administrator's discretion.