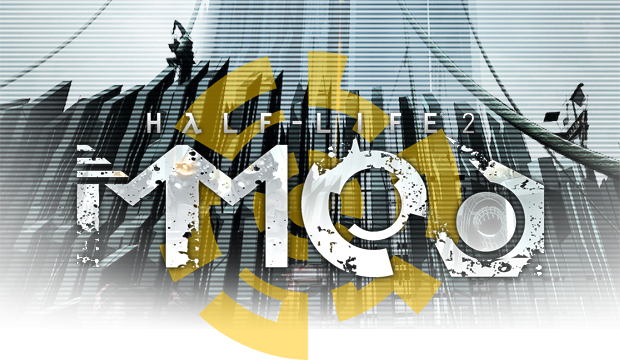 Half-Life 2 : MMod v3



Oh hello, so uhh, it's been a while, this is Gunship Mark II, still alive, still writing in broken English.
I'm gonna make this relatively short, so let's cut straight to the chase.
So you may ask yourself : "Where the H~E~C~K have you been? It's been almost 2 years without any progress, or any update, you just went missing from this mod page". And my answer is - it's sort of complicated. I've been mostly busy with real life stuff, when shit hit the fan in my country and I kinda stopped doing everything related to modding, only occasionally I would bring myself to do something, but it wasn't Source related. HL2MMod went from a weapon re-skins with particle effects, to a full blown modification with brand new gameplay mechanics, AI changes, new weapons, brand new particle effects as well as replacements and enhancements for older stuff, visual changes, like new post processing shaders, dynamic lights, projected muzzleflash effects, weapon re-animations and more. All of this take a lot of time to develop.

I really don't wanna release a broken, half-baked mess, that's why this mod went through so many iterations and that's what v3 stands for, even though technically this isn't 3rd version of this mod, if you ever noticed HORRIBLE misspelling in mod link, this mod was once called HL2EP2:Enhased [sic], around 2011 I think, which spawned 3 iterations alone, they were all kinda bad in their own right, I also remember restoring HL2Beta WCMapPack maps for this mod for some reason, guess I love HL2Beta that much. I also try to restrain myself from adding too much crap in this mod like I did before, just shovel in random guns for no reason which often would break gameplay or were just plain freaking boring. Adding random gameplay features that were horrible mix of shite and broken mess, game would crash like crazy all over the place and I didn't know how to fix or debug stuff. This project has also been a Source Engine and C++ learning experience for me, more than anything really, my skill and modding wit grew better and better every year, so every iteration had better and cleaner code, particle effects, shaders and features.
Development of v3 started right after Epistle 3 from Marc Laidlaw. You can guess, I was devastated, as many of us were. People were saying "That's it, Half-Life is over, Half-Life is dead", but then it struck me : "Bullshit", i said, "We'll show 'em how dead it is". I got fresh Source 2013 code base set up, I've got my tools ready, I've got Visual Studio installed, and I've started porting features from older iterations of HL2MMod, while simultaneously enhancing them and cleaning up the code, some parts of the code were rewritten from scratch, some features are totally brand new, a lot of features were ported from City 17 : Episode 1 mod, for which I am super grateful. I've made brand new particle effects for everything, I even did a couple of live streams to show some features off and to tell people that I am not dead.
For once, in many many years, I was satisfied with how code looks, how particles are made and how relatively easy it would be to port this mod to a better code base if we ever see this happen from modern day Valve.
So this huge wall of text brings us here, modern day, where I am glad to announce new teaser trailer and a release date, which is somewhere in 2018. I've had a lot of fun working on v3 version of this mod, it was also super fun to work on a trailer itself, I love making videos and I think this is one of the most complex videos I've ever made.
Before we start with the media, I must really thank everyone who's been helping me with v3 version of this mod, I've also need to give special thanks to GearDev Studios, since I am using a lot of their stuff in my mod, I hope I've listed everyone in the end of the video, if not - please forgive and correct me, I'll make sure to credit you!
So, let's go through media!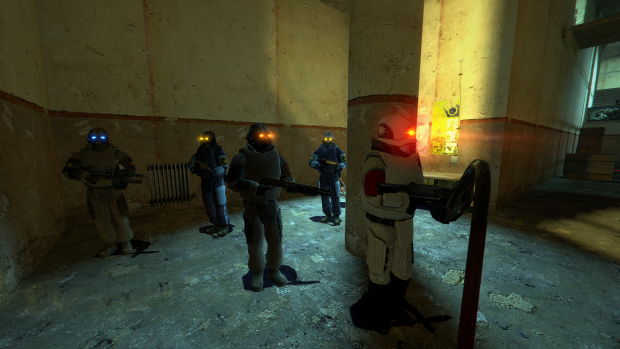 And here's new trailer! :
HL2MMod Is not only fancy shaders and effects, there's a lot of stuff going under the hood, which I would love to demonstrate in better detail sometime later, maybe this year. Here's what's in there and what's planned : more immersive camera, new weapons ( npcs can and will use them) , smarter combine soldiers ( can jump on/off ledges, can shoot smg1/oicw grenades/aim and accuracy greatly improved, normal combine soldiers can shoot combine balls), you have a choice between hitscan and pseudo physical bullets, optional smart health regeneration to offset new difficulty level, there will be more gameplay changes later, like simple gore/dismemberment mechanics and maybe new npc's or variations of them.
Guess that's it for now, thank you everyone for reading, hope you liked what you've seen, see you all in 2018, have a great end of the year c: