Hey everyone. It's time to take a look at the design process for a new hero arriving in 2.2--Goreflea. Goreflea is one of the most unique heroes in the game. As an idea, this ugly little bugger has been running around in my head for the past few months or so. Designing his skillset was a fun challenge, and making them work in the game even more so. I'm pretty pleased with the end result.
Initially the idea for Goreflea started out as a sort of poltergeist/demon thing that would have the ability to control enemy bodies. I liked the idea of being able to turn the enemy's own against them, and I worked for a while to design a skillset around the whole 'supernatural' theme, but it ended up feeling stale. I set the hero idea down for a while and continued work on the three new heroes introduced in 2.1--Siku, Baqir, and Gearhead.
For the coming update, I really wanted to bring the hero idea back, so I came up with something new to wrap it around--a bug.
Goreflea's first ability is his hallmark--Leap. This skill sends Goreflea flying forward while invisible for the duration. If he connects with an enemy along the way, he burrows inside their body and takes control. While inside of a host, Goreflea takes no damage (instead, the host does).
And Goreflea can cast Leap from inside of a host! (This instantly kills the previous host.)
While controlling an enemy, Goreflea uses their attacks!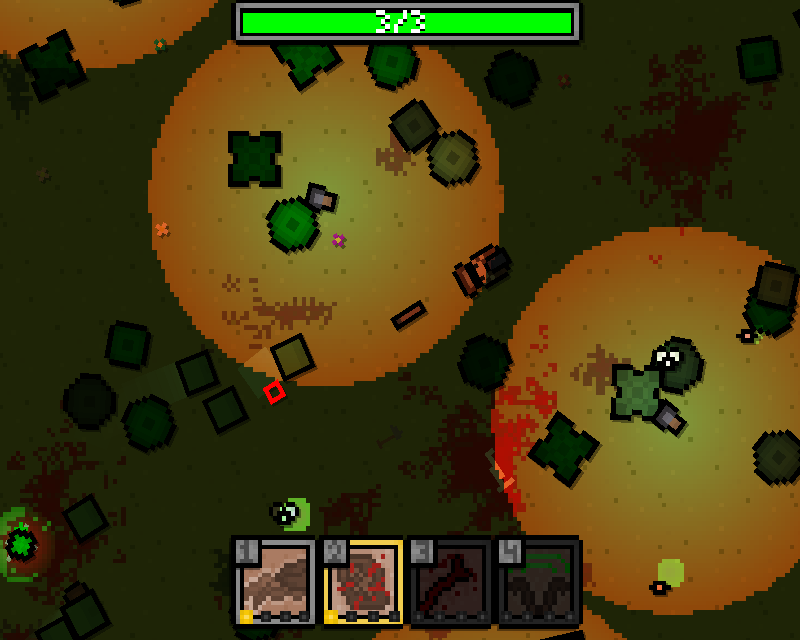 Next, I wanted some way to bring enemies into the fray. Korak's Vine Grapple is one of my favorite skills, and I loved the way it works together with his other abilities to provide the mobility needed to make Korak the good time he is. I wanted something similar for Goreflea. Goreflea's third ability is called Proboscis. This skill sends out a sticky tongue that pulls any enemy it comes in contact with to Goreflea. Goreflea can cast this skill while inside of a host too!
Tempo is what makes Goreflea tick. This is a passive ability that stacks as Goreflea lands consecutive abilities. (Note the neat little stack notifications in the screenshots, these have been added to a number of hero abilities.) As Tempo stacks, Goreflea's abilities all have their countdowns decreased. This is partly what gives Goreflea such a high skill ceiling and such high potential for massive damage output. Goreflea's gameplay is all about landing your abilities and gaining momentum as you tear through hordes of enemies.
Goreflea's second ability took some thinking to come up with. At this point in the design process I already had his third and fourth abilities in place (which is why I'm hitting this ability last). The hero was still missing something--Goreflea had a way to utilize enemy bodies and pull them in closer, and Tempo allowed it all to happen faster and faster, but more damage output was a necessity for the extremely fragile hero. Enter Parasite.
Parasite sends out a facebug at a low range. If the facebug attaches to an enemy, the enemy is sent into a frenzy and then explodes.
Life is tough for Goreflea on the outside--his extremely low health (3) and relatively low movement speed means he is a vulnerable target while outside of a host. However, once you start hopping from enemy to enemy with a few stacks of Tempo... Things start to explode pretty quickly. One thing I'm always trying to achieve in the hero designs is a fun and fresh experience, but most importantly, I'm looking for depth and a skill ceiling. Goreflea is the best of both worlds--a challenging, rewarding gameplay experience that always leaves room for improvement, and a bloody (quite literally) good time.
Look for Goreflea in the upcoming 2.2 patch!