Although I was able to spend a day and a half working on the new "blood, guts, gibs and gore update," priority bug fixes ended up taking over most of my week. The gore update is coming along well, but won't be finished until about Feb 3rd. I want to do it right and live up to expectations here. In the meantime, I've added several new things to the editor.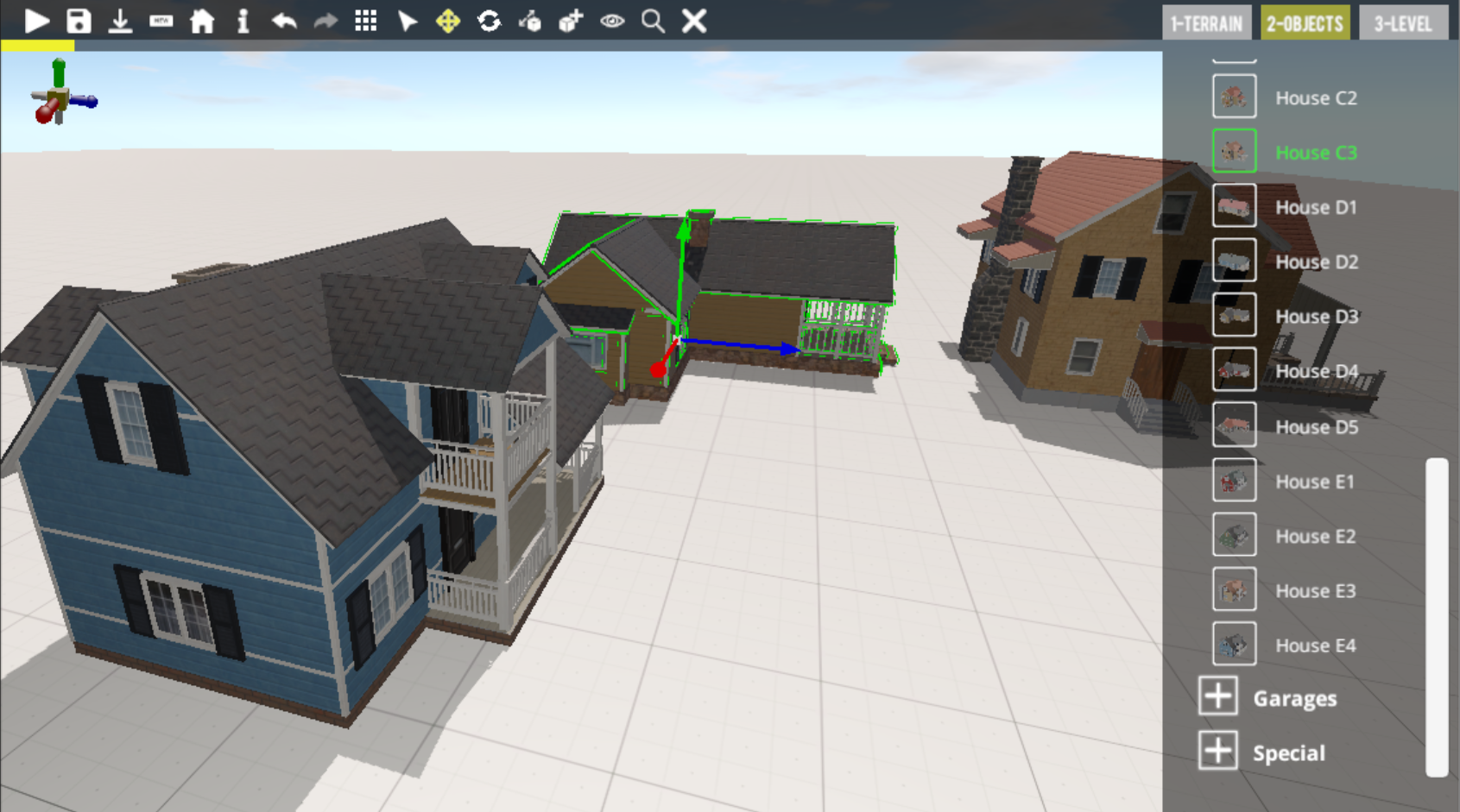 RESIDENTIAL SUBURBAN BUILDINGS
You can now add suburban residential houses, garages and even a chapel to your custom levels! You'll find these under the new Buildings category, in the Level Editor.
I received lots of requests to add more props and pre-made content to the Level Editor. This takes a little bit longer than you might think, because I have to make sure each asset that is added is optimized and carefully calculate the "complexity cost" for each, since I have no idea how they will be used or abused in level creation. Since they are new items, I erred on the higher side for now, and can probably lower the cost of adding each item in a future update.
Eventually I'll be adding some runtime optimization features that combine meshes, materials, etc. to dramatically improve level performance and allow for bigger, more complex creations. Until then, I'm purposely keeping level complexity limits somewhat limited to ensure Community Tracks run well on everyone's machines.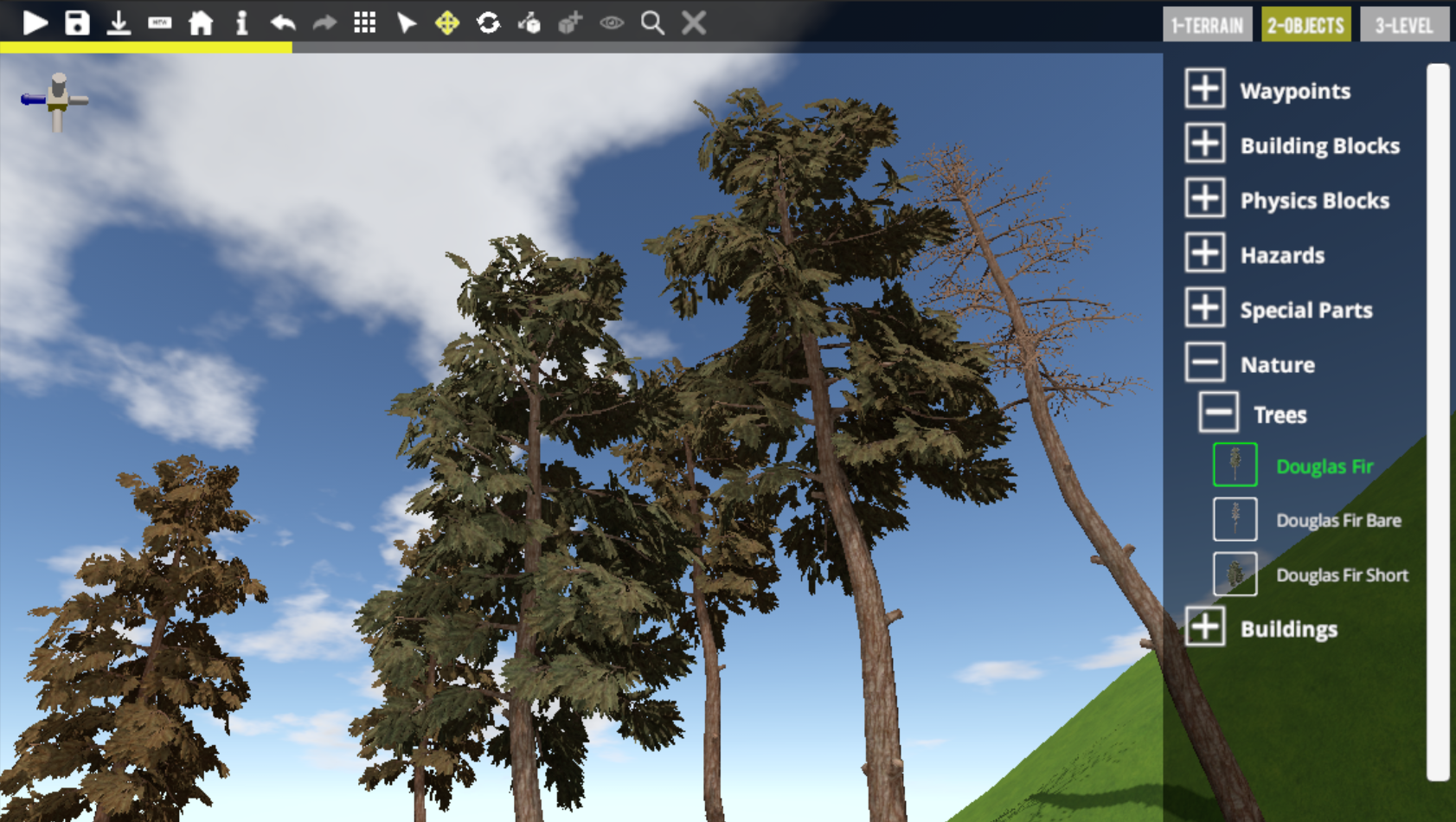 TREES
I also added a new Nature category to the editor. For now, it's just a basic set of Trees to spruce up your levels, but I'll be adding much more to this over time.
As you add trees, they'll automatically grow/shrink at random to give things a more natural feel. You can still resize and rotate them yourself, of course, but this feature just makes things a little faster and easier by default.
Trees also adapt to Terrain changes, so you can place them once and forget about them. Paint your mountains and hills, and the trees will automagically adjust themselves accordingly.
Calculating complexity costs for these is trickier, because the Unity engine has its own way of handling and optimizing trees that I haven't figured out how to utilize yet. So for now, trees are kind of expensive to place. You can use them for props and sprucing up levels, but probably not to build a big forest... yet.
TERRAIN PHYSICS
Terrain friction physics and effects now work for Community Tracks. This means each texture type behaves like it should. Mud is slippery and flings mud off your tires, dusty trails have lower traction, rock textures have high traction, etc. More terrain texture types will be added in future updates.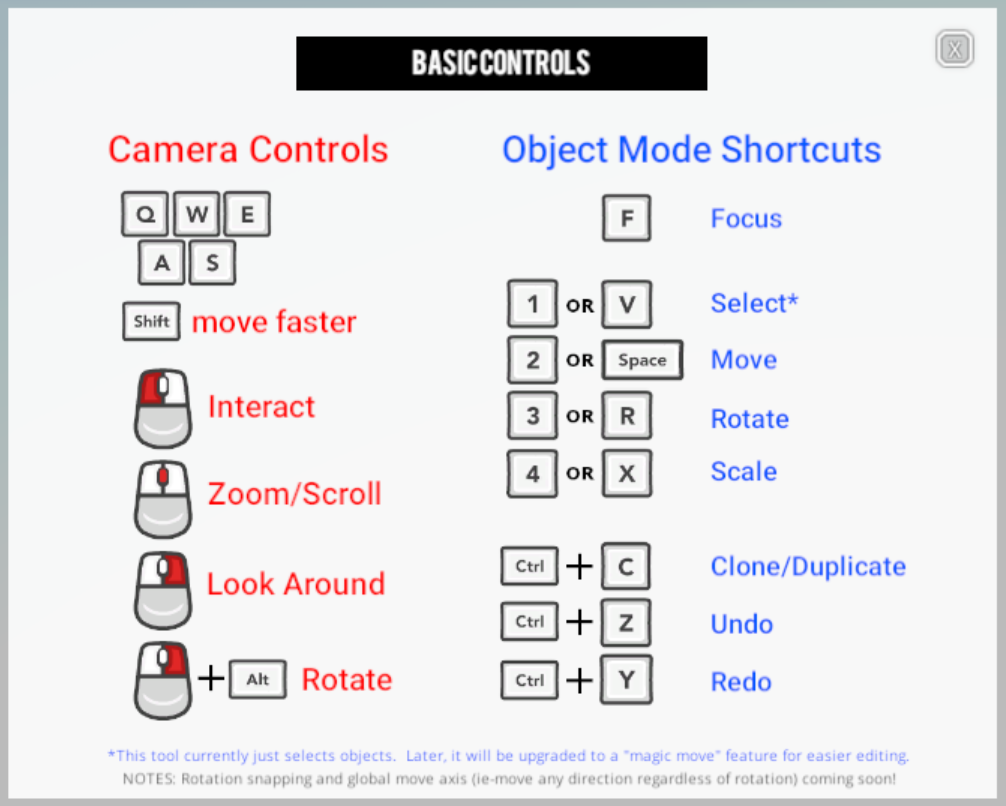 KEYBOARD SHORTCUTS
Added several new keyboard shortcuts to the Object Mode in the Level Editor. This really helps speed up level creation, and makes the process more enjoyable in general. I tried to offer multiple layouts for this, to appeal to different preferences.
Terrain editing shortcuts will be added later.
LEVEL EDITOR IMPROVEMENTS
I also did a lot of other improvements to the Level Editor and Workshop integrations.
Workshop Level Names are now separate from local file names.
Level Names can now be any ASCII characters
Level Descriptions limit changed from 128 to 2000 characters
Camera controls much more smooth and consistent
Camera re-positions itself to where you left off when entering QuickPlay Mode.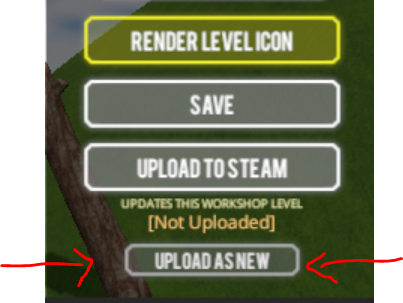 Now you can build a detailed map once, and use it for multiple tracks or tell a story!
Upload as New
I also added an "Upload as New" button. This is very useful if you want to build a detailed level once, and then use that map to host several different Tracks, similar to what I do with the Official Tracks. This way you can create challenges of increasing difficulty, or even tell a story.
For example, you could create a detailed environment called "Haunted Woods." Then build several tracks using that level as your base: "Haunted Woods #1", "Haunted Woods #2" etc. Each level could be harder than the last and tell a tale about this haunted woods environment you created.
As the Level Editor gets more optimized, level sizes can get bigger and more detailed.
WORKSHOP OVERLAY
I added a Workshop button to the Community Tracks menu. This opens the Steam Overlay directly to the G&G Workshop. You can now search and subscribe to new workshop levels while in-game! No more need to go to an external web browser and then return to the game.
BUG FIXES
Thanks to help from beta testers, we rounded up a ton of bugs and killed 'em! The boss bug, if you will, was one that caused a user's Workshop levels to be overwritten by new uploads if you happened to do things in a certain order. Another big one was levels being "broken" if the user changed the level name after upload. To fix this, I had to re-write much of the Workshop file management system. Boring stuff, but now the big bugs are fixed and everyone's levels should work as expected.
Full list of bug fixes at HakJak.com
Steam Early Access release is planned for February 16th!
You can check it out on Steam now, and add it to your Wishlist/Follow for automatic notification on updates, sales, and releases. This moment is crucial to the long-term success of this game, so I hope you'll help me spread the word about it.
Visit the Steam Store page here.