Hello, ModDB community!
You might know about our mod before, so now GUNSLINGER mod is officially registered in mods database.
If you're new to GUNSLINGER mod, then do four things:
Take a look at the description on the summary page, so you can understand what GUNSLINGER mod is all about.

Visit our

YouTube channel

. It's the best way to see all features being demonstrated. You can comment here too.

Take a look at this

article

before asking a question or suggesting ideas. It's highly recommended to do so.

Share our page with others. It's optional.
Okay, now we're going to review what we have done so far. We're not going to review anything, so this article will be "tl;dr-safe" and minimum as possible. If you want to know more, you can always check the links at the end of the article.
WEAPONS
We finished making animations for pistols and some shotguns. Some of them are compiled and in-game already. You can check our progress on this weapon list and YouTube channel.
All weapons and items are animated and compiled by STRIFER. Some of the 3D assets (models, textures, sounds) are made by GUNSLINGER Team members Mr. Rifleman and SAM61. Other 3D assets were made by their respective authors (it will be stated who made model and texture in every description of video, image).
Most recent finished weapon is TOZ-66:
We decided to make the new model for P220, so it will be next-gen looking just like other models in the mod. Work in progress, picture is clickable.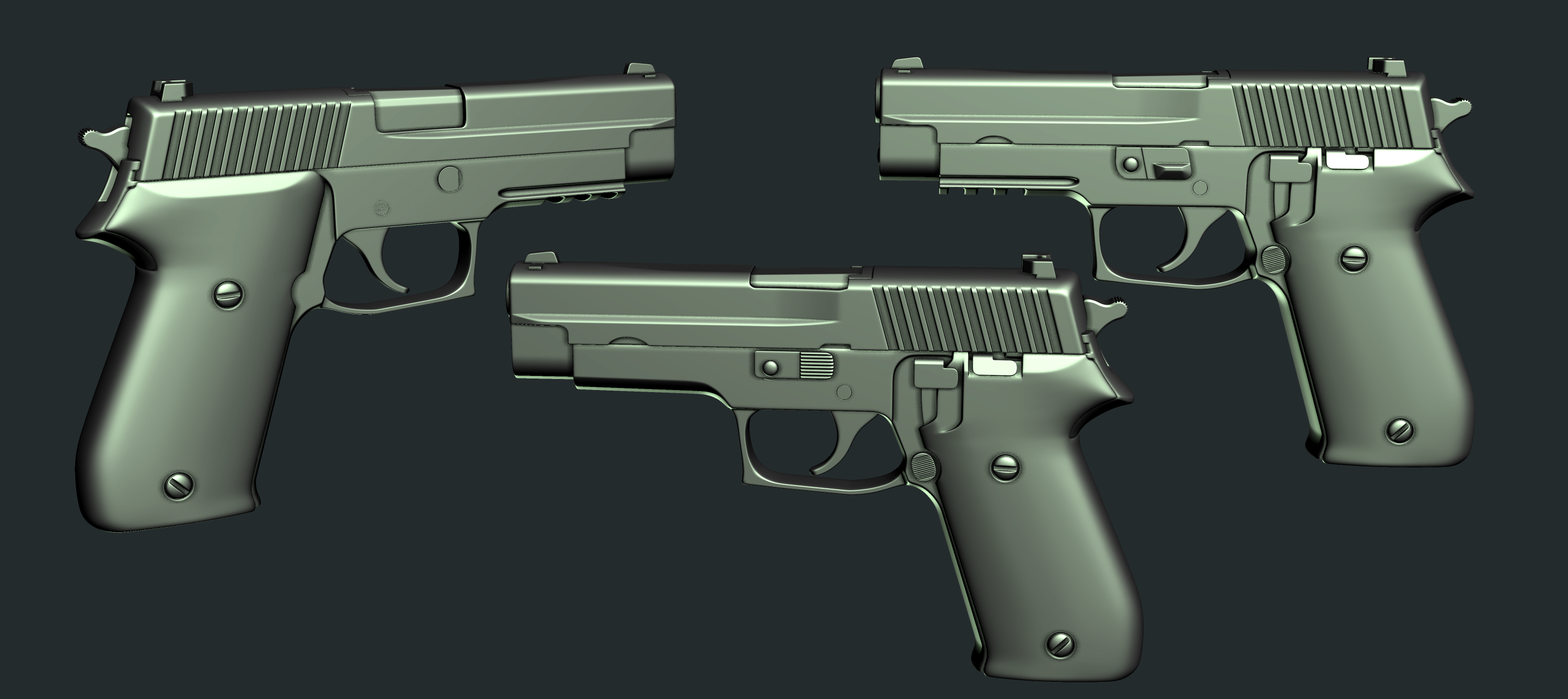 Model by SAM61.
UPGRADE
Check this video to see the upgrade tree of TOZ-34 and how GUNSLINGER mod's upgrade system works:
Attachable laser sights and flashlights aren't shown there, but they're implemented already. Check these screenshots:
Speaking of more attachments - Mr.Rifleman is working on PN23 night optic sight. Check this WIP render: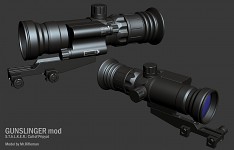 ITEMS
Detectors, binoculars, bolt, knife, grenades, vodka, hand-held flashlight, med kits and other medical/consumable items were animated and compiled. Detector animations are synced with every pistol, bolt, knife, and grenades. As always - link to our YouTube channel above.
Most recent update is about bandages.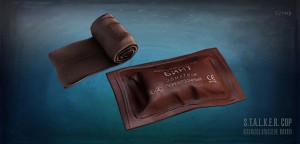 Video demonstration:
Model and textures by
Synap
. He also made models and textures for antirad and anabiotics.
OTHER STUFF
Headlamp switching on/off is animated now. Speaking of flashlights... you can have 3 active flashlights at the same time: headlamp, hand-held and attachment one (like under-barrel for pistol). There's going to be the article called "flashlights" where you can compare every flashlight and see which one would be best to use in the specific situation.
It's not recent update, but we think it's worth to mention it again. This update doesn't feature weapon-related mod, but it's something what Sin! (GUNSLINGER Team, Programmer) wanted to make. Controller is now deadly as hell. We are going to post an article soon about the ways to be safe.
And that's it for now. Yes, some features aren't mentioned. We are going to post separated articles about every type of feature in future, so you can understand them. Right now, all features are explained in Russian only. They're going to be translated soon. And NO, we aren't using source code to implement new features.
Thanks for reading!
Useful links:
Official YouTube channel
F.A.Q. (Frequently Asked Questions)