It happened so that my friend and I decided to become indie developers. And in fact, we used to be them - we used to write flash games and other little things, but somehow it all came to an end. And suddenly we decicided to be "indies". Again. We got together, thought of a name (decided to call ourselves "Bread games" because we were tired of endless pathos names of small studios) and started making a game. As there were two men in the team, we thought that creating MMORPG with an open world and rich history was too easy, and we stopped our choice on top-down RPG about vehicles with guns. Everyone loves vehicles with guns, right? We cooked up a plot about bad evil and kind good with minigun, and we called the game "Gun Road".
(Right now we're on Greenlight, you can support us here!)
About the engine
From the very beginning we were to choose an engine to do everything on. We threw away the idea of a self-written engine because this was for big companies only, we were too cool for that and it was too easy for us. I don't know why we haven't remembered about CryEngine then, we were choosing between Unity and Unreal engine. I have worked with Unity for some time and understood something in it, but we should test Unreal just in case. I put it up, tried it and we stopped at it. Why? Because it's intuitive. In a couple of days I understood Unreal better than I'd learned Unity for two months.
About testing level
Honestly, I can't remember why we've chosen to make a 3D game. But the first results began to appear so quickly that people with whom we had worked before were surprised. It all started with a car, and, as we thought, this would be the starting car for a player. Then everything will change, we'll talk about it a bit later.
The car had to travel somewhere, for these purposes a test location with a fence was built.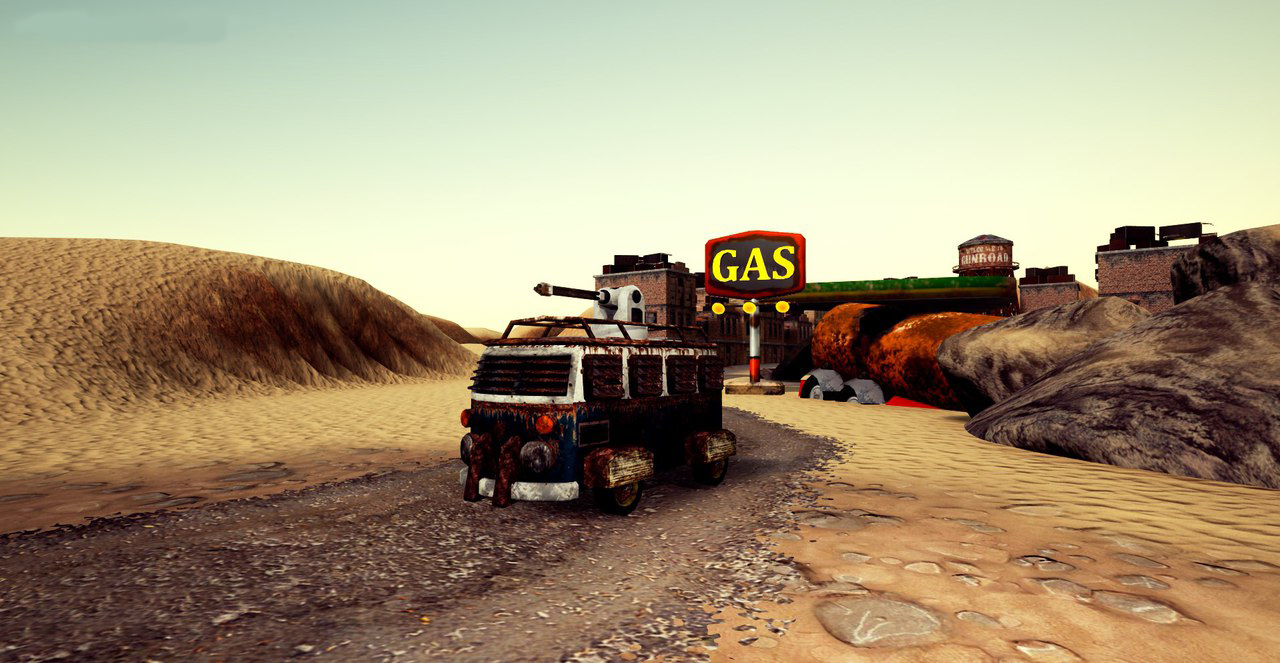 According to the early outline of the plot, the cars had to be roboticized and a bit futuristic for the player fought with robots and the car of the player was supposed to be assembled from parts of defeated enemies and to be modular.
Well, our car can move and shoot at other cars - everything's all right. Now it's time to think about the most important thing, how to make a game out of it.
About features
How shall we entertain the player? Well, everything is simple, we will put half-naked girls on the car and arrange fights in the mud! Yes, that would be cool. The problem is, I can't make characters. I really can't. Therefore we had to forget about this and to create something instead. We began to think…
-A large seamless world, with the possibility to go where the eyes are looking.
-Random events that can both reward the player, and cause him some troubles. For example: we catch a signal, we come to it, and there one of the scripts works, or there will be evil raiders, or a trader in trouble, or a dead body from which you can loot and so on…
-Various factions and their attitude to the player ( everything is simple here: a lot of factions and strips of relations, and different features for good relations with each of them. Perhaps in the future, unique technique and unique weaponry)
-Cars upgrade ( earned money, came to the garage, got a more powerful gun or bought a more spacious car).
-"NullSecs" (special infected zones, where raiders are angrier, and loot is more valuable, and getting out of it is harder).
-Trade (bought cheaper, sold more expensive).
It seemed that all these features were not a problem to implement , until the problems actually began.
Let me start from the very beginning, although the item there will be only one, the so-called "open-world".
How we have abandoned the idea of seamless world
Almost immediately after the idea of a seamless world, a terrain of 64 square kilometers with mountains, ravines and other delights was created. And we started exploring it.
It turned out that travelling in that world was really boring but it seemed impossible to us to to enliven and fill the seamless world with events. There are only two of us.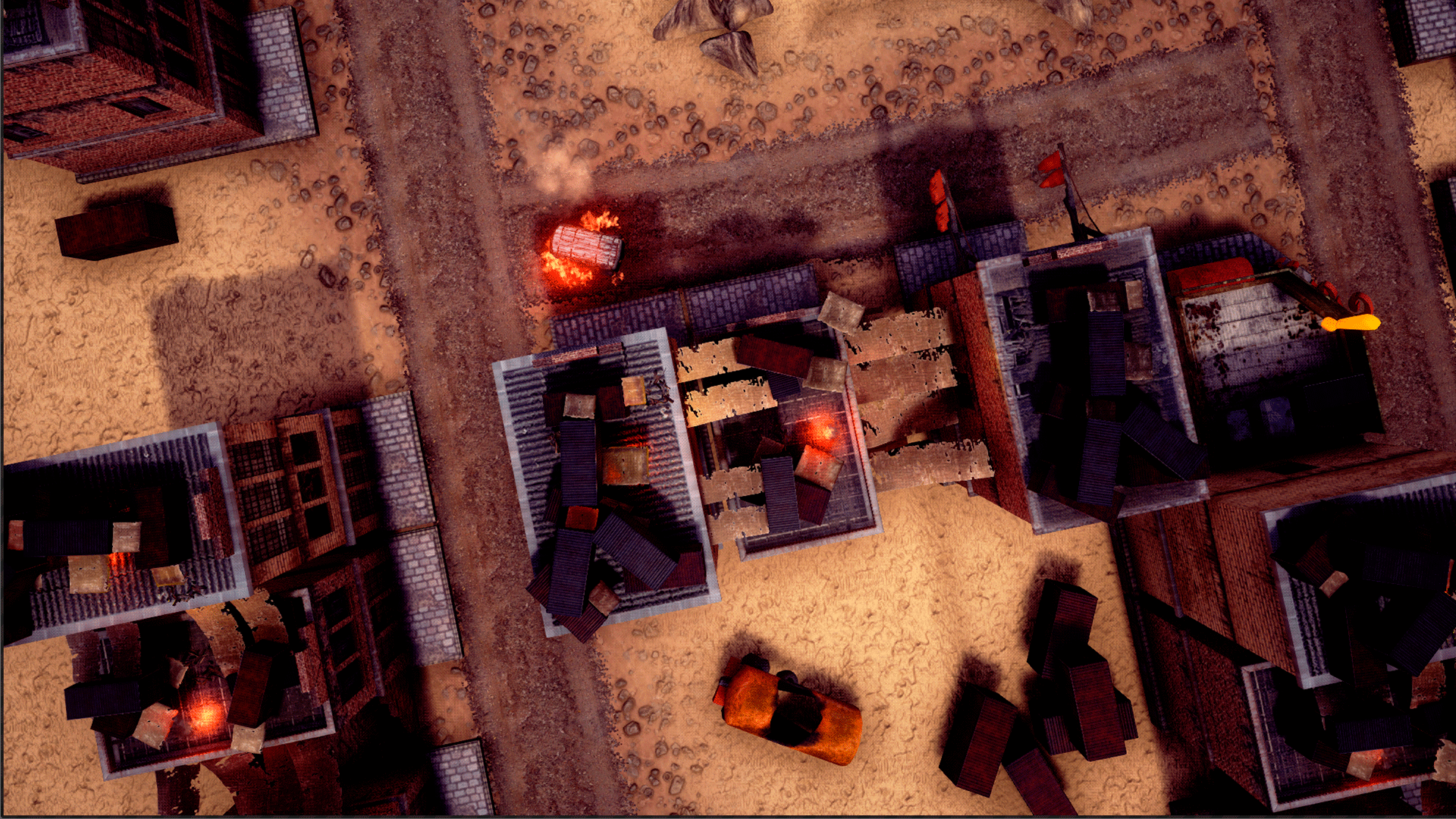 So we've chosen another way and created a global map just as in the Fallout 2, yes. Everything turns out to be much more fun here, the player icon is moving throuhg the badlands and various events are happening. As a result everything becomes more dynamic and siplier and there is a lot of room for adding new content. ( we are not speaking about DLC now, we are tired of it ourselves, so if you have bought the game you get all the content at once).
As a result everything becomes more dynamic and siplier and there is a lot of room for adding new content.
About new locations
The new approach has made it easier to organize new locations, the first of them is a small town that needs to be freed from raiders. Originally the houses looked different, with ordinary roofs, in other words, they were boring. Therefore, according to the plot, we decided to relocate the survived population to the roofs of the houses, and set up there simple settlements "of shit and sticks".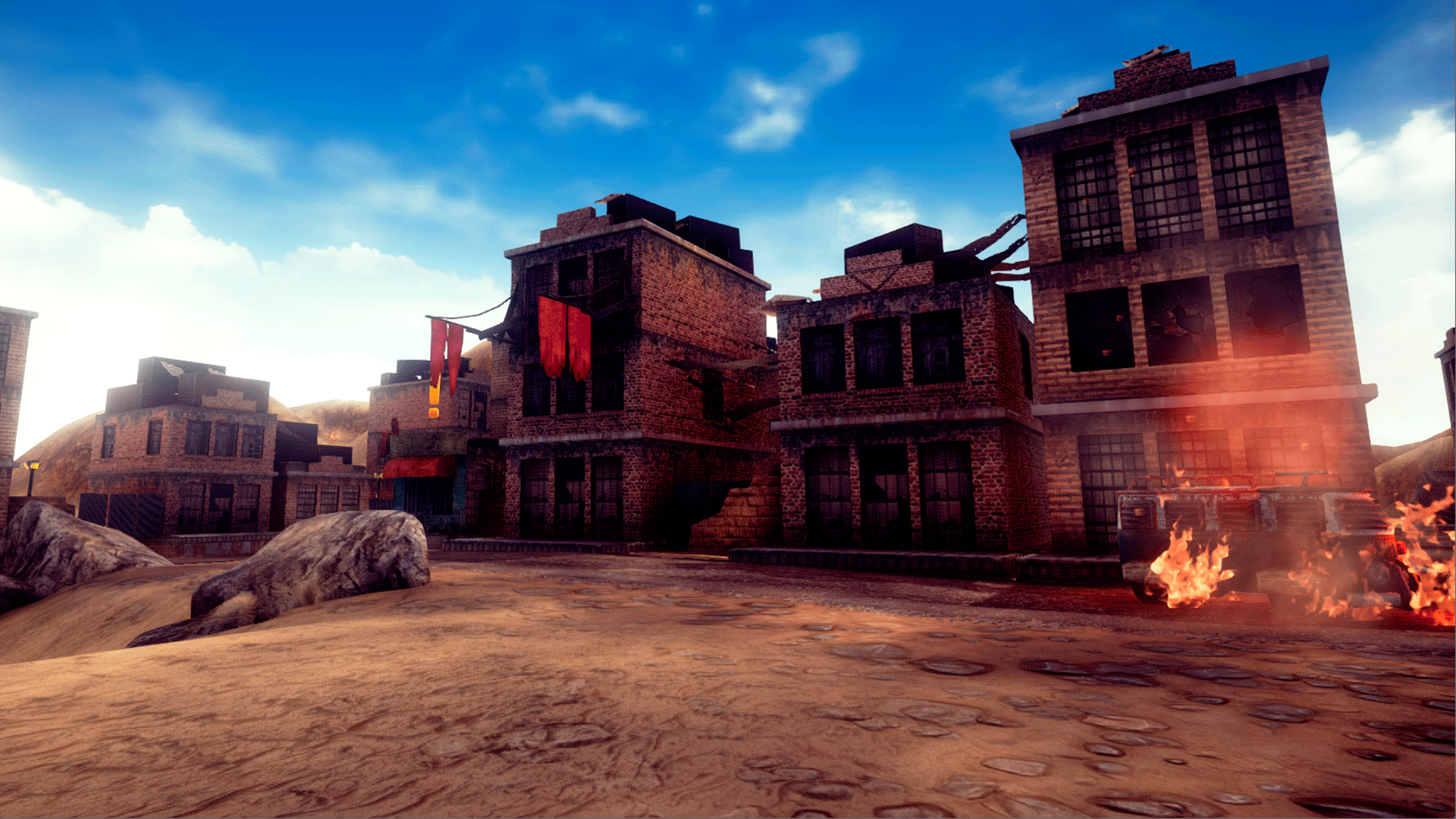 In addition to the Lore, this gave liveliness to the picture, and riding among the houses became somewhat more interesting.
About the characters
Remember why we have rejected busty beauties? Because we really can't make characters. But we needed characters. So armed with paint and ingenuity, we've made the mascot of the game Gena Fierce. Then we thought a little and made a Bartender, who would issue tasks and give information about caravans that could be robbed.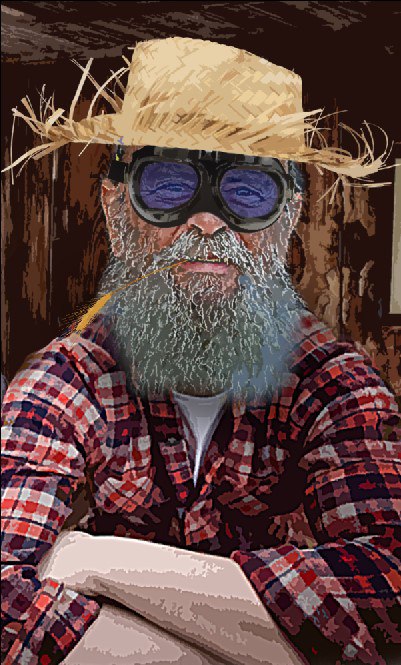 Gaben from the blue
And everything seemed to be all right, and the project was moving actively to the public demo which was scheduled for late summer, early autumn, when suddenly Mr Gaben blessed us the news:"Stop, guys, there won't be Greenlight any more. Now you have to pay to get to Steam, and that is $100 to $5000. That is the question: to wait and hope (for less than $5000) or to try and storm Greenlight.
We've chosen the second variant…
Preparations for Greenlight
It happened so that from the decision to "storm the Greenlight" until the release on it we were separated by one week only. During this time it was necessary to finish everything that only could be finished, to make a trailer, screenshots and not to break down. As our game is about West that has become wild again we decided to have a real rednek from the south of the US to voice the trailer. It cost us about $15. He sent us his work the day before the appointment release and to put it mildly, it was not what I expected. It is quite unclear whether this is his accent, or our rednek is just an emotionless log. But we thought that's OK and could add some colour to our work, and we burst into Greenlight with all this.
And now the part for which all this was started. We need your voice and feedback. We want to get feedback to create the game you want to play.
At this stage, your voices and feedback are the most important. Thanks for your support.
Even if we do not get Greenlight and drown in cons we have already received more feedback than in the previous six months. Looks like players need a kind of proof that you are seriuos. You can vote here!