Guilds are one of the most exciting parts of Eminence: Xander's Tales. Form allegiances with other players or invite your friends to join and earn bragging rights by defeating other Guilds. Work together as a team to tackle some of the games toughest quests and uncover the Eminence: XT story together.
Being a member of a Guild gives you access to Guild Duelling, where you and four other members of your team can go head to head with another Guild. In addition to Guild bases (which will be explained in a later update), cards can still be wagered giving the winning Guild the opportunity to take cards from the losing Guild in ranked GvG (Guild vs Guild) duels.
Here's an idea of how a Guild Card Duel looks: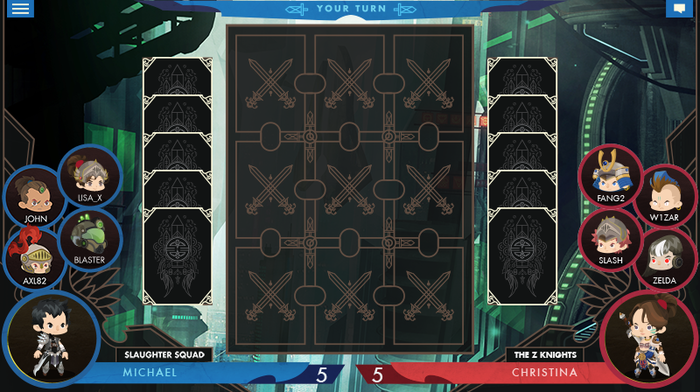 Within every duel, you'll be able to see your team members as well as the other Guilds. All participants will be able to spectate the duel until it's their turn.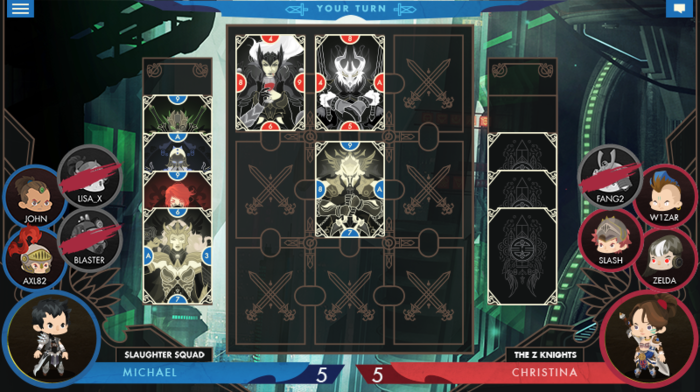 As participants are defeated, they'll be crossed out to reflect this and unable to participate again until the end of the game. A single game will be best of five duels.
A question for you!
We're exploring how turns should be taken for Guild Card Duels. As backers of this project, we're keen to hear your take on which style you'd prefer. Here are two suggestions for how turns should occur.
Style 1
Members of each team duel until they lose and then it's the next person on their teams turn. So Guild Member 1 will duel and stay on until they lose, then it'll be Guild member 2's turn.
Style 2
Every member of team will play one game each. So Guild Member 1 will play second Guild Member 1, then it'll be Guild Member 2 vs second Guild Member 2 etc.
Let us know over at our Kickstarter which style you prefer!