Hey everyone! Chan here from Omniconnection to bring you yet another weekly update on Grimoire: Manastorm. It's been an extremely exciting week for us. With our alpha opening up we're now beginning to see the heightened exposure we've anticipated and absolutely need to grow our community! Here's a bit of a look at what's been going on behind the scenes.
For eye candy this week I have included an action screenshot from the map Conquest_Quarry, taken during our open alpha event.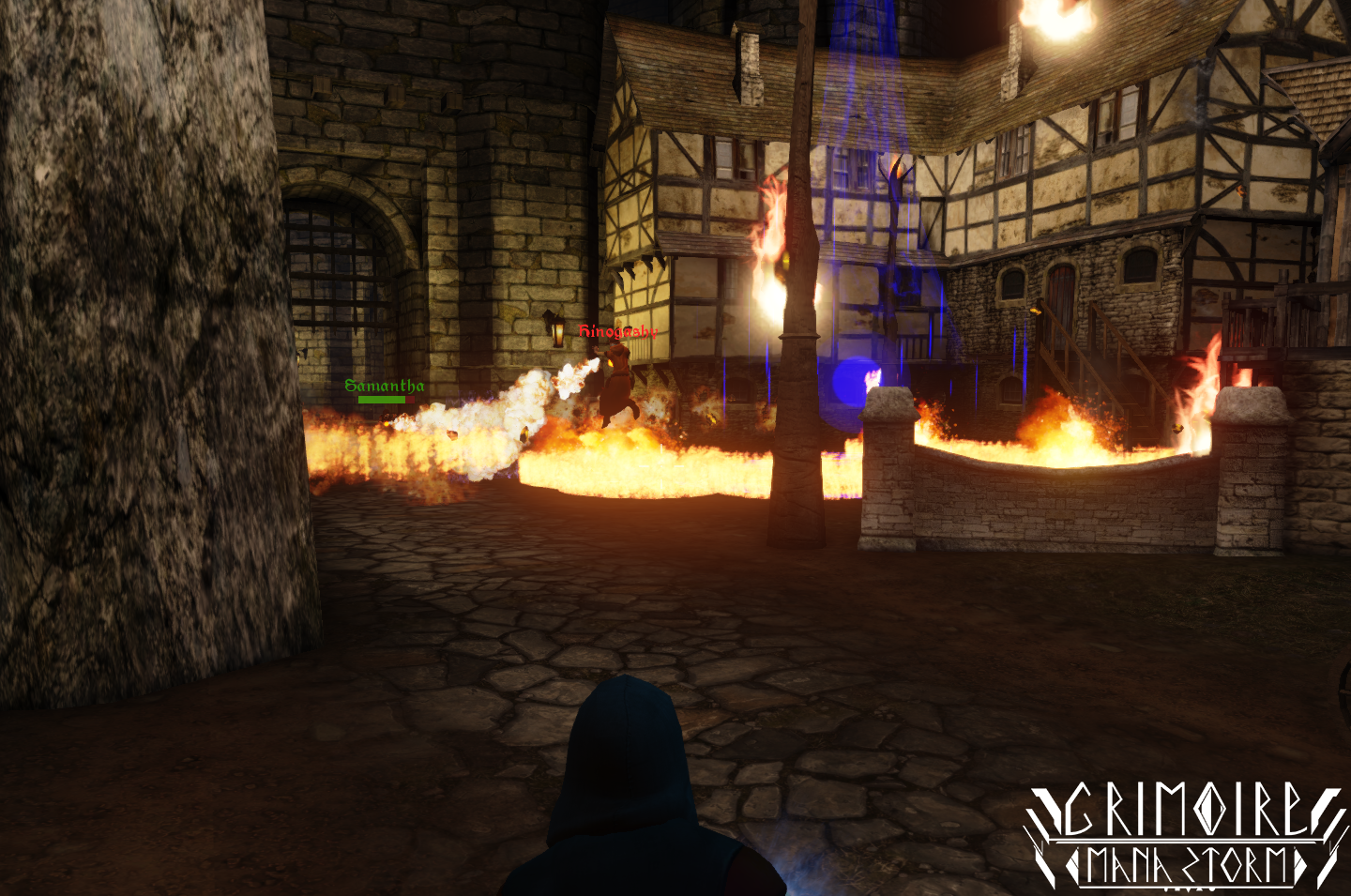 Since the beginning of development with Grimoire, we've set out to make sure each class has it's own unique feel and playstyle. As of the last few weeks we've been working on the design and implementation of a very important element to each class- passive abilities. Our main focus with passive abilities is to give each class more opportunities to affect your decision making in particular situations.

Lightning Passive(Magnetize) - Damaging an enemy player with a lightning ability applies truesight to the damaged player for 3 seconds. While truesight is active, the player is visible through walls. There is a secondary effect to denote the tagged player is behind a wall(no line of sight.)

Ice Passive(Chilling Grasp) - Damaging an enemy player with an ice ability will apply a single stack of frostbite. Upon a player receiving 3 stacks, the frostbite effect will burst, dealing extra damage.

Earth Passive(Earthen Mantle) - Damage resistance is increased base on the current amount of mana steps you have available. 3 mana steps available - 40% resistance, 2 mana steps available - 25% resistance, 1 mana step available - 15% resistance.

Fire Passive(Path of Fire) - Manastepping leaves behind a trail of fire that will damage enemies.

Nature Passive(Rebirth) - When you normally would die, instead you will transform yourself into a critter. As a critter you cannot attack, you have a small amount of HP and your movement speed is increased. If you are not killed within ten seconds you revert to mage form with 50% hp/mana. This passive has a 60 second cooldown that does not start until you are back in mage form.
In other news this week, Omniconnection has officially established a partnership with www.Vilayer.com to be our official server provider! What this will mean is that we can be secure in saying that with our initial release we will have enough servers to cater to the amount of players at release, throughout multiple regions internationally!
To develop Grimoire to the point we can truly be happy with it, our team size will have to expand over time. With that being said, we are very selective with the process of adding team members, but extremely excited to announce a new addition to the team that we know will help us take Grimoire to the next level! Prepare to say goodbye to the current sounds of Grimoire. Daniel "Shrack" Swearengin, a professional sound and audio engineer, will be doing a complete overhaul of our current sound design!
"I'm really looking forward to working on Grimoire: Manastorm and using the sound design to make the game as immersive as possible and to make you feel like a badass while playing."
- Daniel Swearengin
You should expect to see improvements in our sound effects in upcoming patches over the coming months, so make sure to stay tuned! We'd love to hear your feedback on the new passives systems or new announcements, so make sure to drop us a line on our forums with your thoughts!
-ChaN