Thanks for stopping by for this update on Grimm!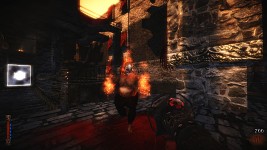 I've gotten a lot of great feedback from you guys here, and elsewhere, about the latest releases (both the Windows and the multi platform release). Some bugs have been fixed and a lot of polishing has been done on a lot of aspects of the game. New additions were among others a secrets counter, a breakables counter (for those of you that have OCD) and a toggleable button counter, which is handy after saving a game and returning several days later. It's hard then to know how much buttons you still had to press at that point, making Grimm tedious which is not the point of the game.
Gameplay and Balancing
Monsters have been balanced and fine tuned since the last release. The Elite Ventril (those mine throwing tough bastards) have become a lit less tough and the kick from their mines has a bit less bite, making them a more balanced mini-boss in the game. A bug where monsters would wait several seconds before spawning has also been fixed.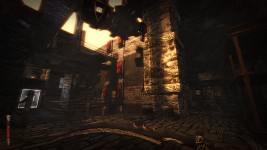 I've not been able to work a lot (at all actually) the last few weeks due to an insanely busy schedule, but I've received some good news last week which should promise me more time for the development of Grimm. In the mapping department, some new areas have been blocked out that were 'on the shelf' so to speak. Currently, if you play Grimm completionist style then there's about 3.5 hours of gameplay to be found in the game. It's getting pretty long which is making it far more interesting in terms of development. No more major adjustments from here on in, a big one could upset all the maps and gameplay within and could mean having to go back to do a lot of work. Grimm is all about balancing and there's yet a long way to go before I'll be completely satisfied with the way the game sets up tension in each skill level.
New Media!
For your pleasure I've updated the images section with ten new images.
If you 'watch' this mod by clicking on the button to the right of this news item (Why not? It's fun!) then you'll find the images section is updated at least twice a month with new images and regular media updates, actually... it's filled right now with a lot of media you may not have seen yet, so stop reading and pop over there to check it.. cllllllllliiiiiiiiiiiiiickk!