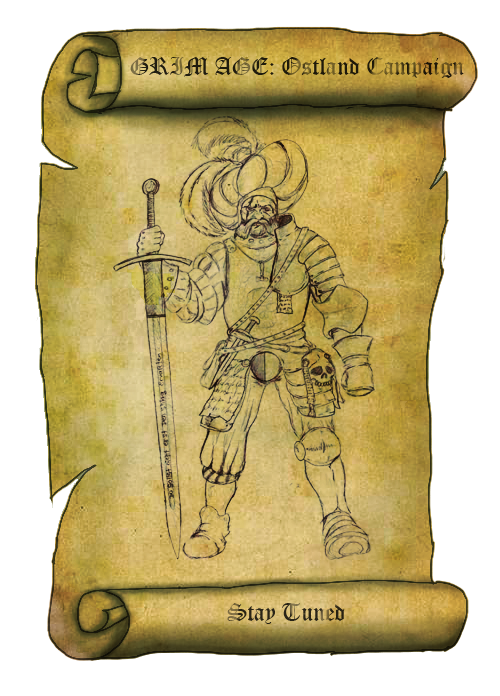 It is the year of 2023. The Great War against Chaos has ended. But even though The Empire claimed victory, the peace, which the citizens of The Empire had waited for, didn't come. Many thousands of bloodthirsty followers of Chaos spread across the lands of Ostland, hiding in the Forest of Shadows, pillaging Empire villages, raiding caravans and slaughtering numerous innocents. Soon after the war ended, Chaos marauders of Norsca, led by N, performed a raid on Gauschdorf. It proved to be surprisingly successful, as the desperate and exhausted Empire troops, guarding the outpost, were not yet ready for a massive attack of the Great Enemy. Neither was the garrison of Schönfeld, which quickly moved to aid the outpost guards in the attack. Ultimately, they were slain in the name of the Dark Gods. The furious warbands of marauders evidently captured Schonfeld, which led on to N establishing a Chaos outpost close to the city, inspired by the success of the battle. Many battle-hardened champions and warriors of Chaos wished to be led into battle by Blabla, who started forming another horde to finish off the Empire once and for all..

Briefly, it's going to be a quest-based singleplayer mod, backed up with an imaginary story happened after The Storm Of Chaos.
What's done so far: 1. Simple rank system allowing player to hire better troops. Right now it's renown based, but it will be adjusted to quest as soon as we have them done.
2. Population. Now recruits don't appear from nowhere, each settlement has certain population and a certain number of recruits. Lords use this system, too, draining nation's manpower.
3. New recruiting systems for both Empire and Chaos. It gives player some more reasons to develop their character. The higher is player's rank, the better units are vailable to be hired. Lords use this system, too, thus only the most honourable lords can upgrade veteran infantry into Greatswords, for example.
4. Different small stuff.
- Test event which happens at the end of the first week
- "Nordland Refugees", it levels population of Salkalten up.
- Destroyable villages.
- Permanent war between factions.
- New bandits.
- New map (WIP).
- Player can use weapon only of his own faction.
- All troops, which are not of player's faction are removed from it.
- Unique bodyguards for faction leaders.
What's planned:Everything you ever knew about GA.
We need:1. Scripters2. Artists.Alpha-testThere is a closed aloha version which is needed to be tested. I still need a couple of testers.
Cya.