Grid Force – May Developer Recap
Yes, I'm a Future Seeker
Hello!
Welcome to the Playtra Games developer update for the month of May, 2022.
We slowed down our event attendances and sped up our game development as we blast through the final months of development on Grid Force - Mask of the Goddess.
And, due to a last minute change of plans, there's a lil' bit more going on in this blog post than expected, which is why I'm writing this after the rest of it, and why it's reaching you a day later than usual
(Sorry.)
We're very close to release now, the final stretch, and next month we'll likely have tons more material to share, too, so even though this puts May in an awkward transitional period for us, don't fret, as there's still a lot of stuff to share with you today, including some livestreams we've been doing, some spicy asset updates in Grid Force, and, most crucial of all, the new Grid Force demo.
Send it.
---
THE NEW DEMO
Let's start with the most important bits first.
Last month I mentioned that we were rolling out a new demo to Steam in the near future after getting feedback on it at both Insomnia 68 and Format. Well… it's here, baby!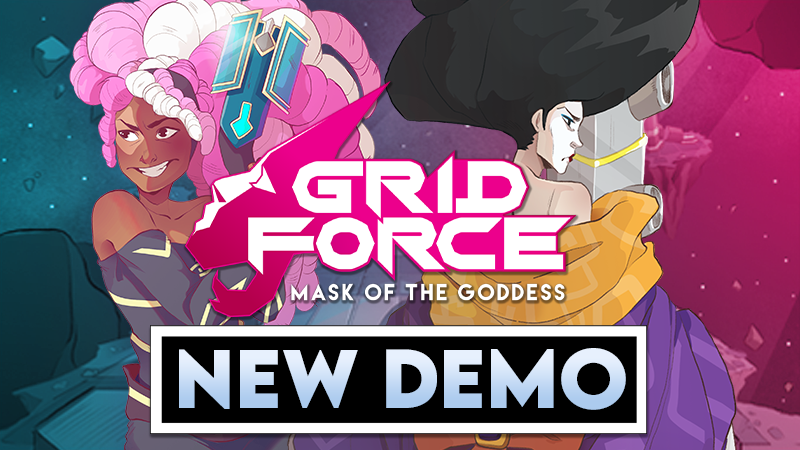 The team has been working hard on getting it as polished and bug-free as possible, and with the development of the main game happening simultaneously, it's a more time-consuming task than one might think.
Even still, in case you missed our update yesterday, to coincide with our inclusion in the Dreamhack Beyond Steam event we have unveiled the latest, shiniest, brand spanking(est) new Grid Force demo for everyone!
(Try it out, and let us know how you got on!)
---
ABSOLUTE PERFECTION
Next up, residents of our Grid Force Discord server (join the server please please please) will have seen some asset upgrades that are being worked into Grid Force as we approach our release date.
There's too many to show off in this post, but here's a couple of our most recent before & after snapshots to show the night and day difference between the old assets and the new.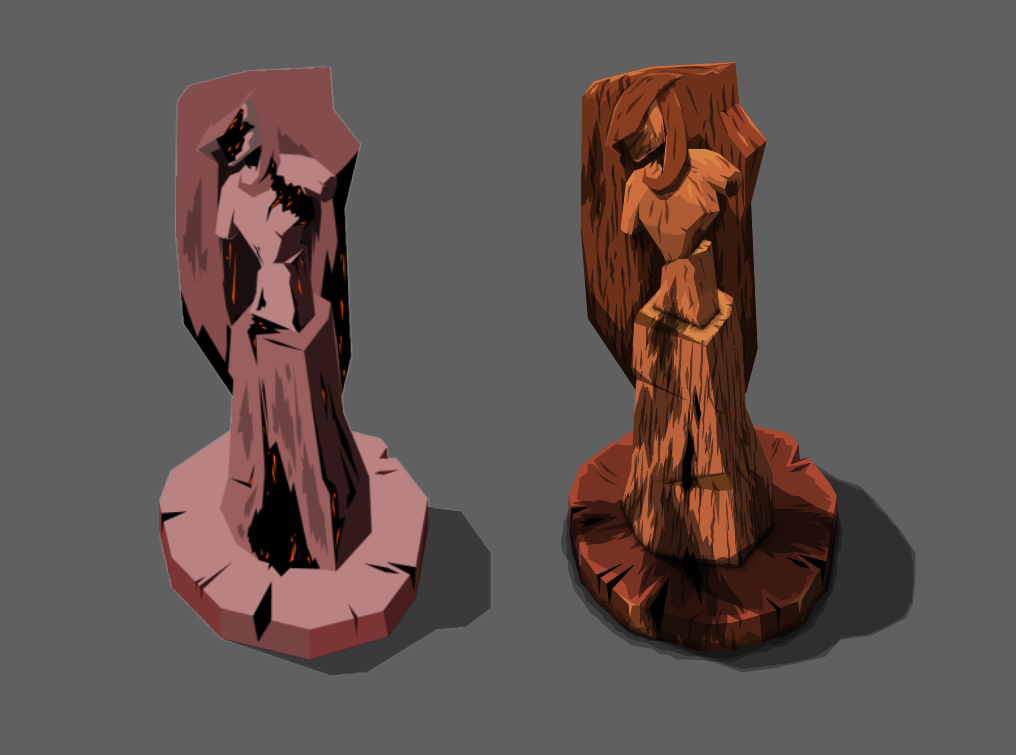 Tikaka Wooden Stake Upgrade / Pietro Brunelli - Concept Artist
And for the next one: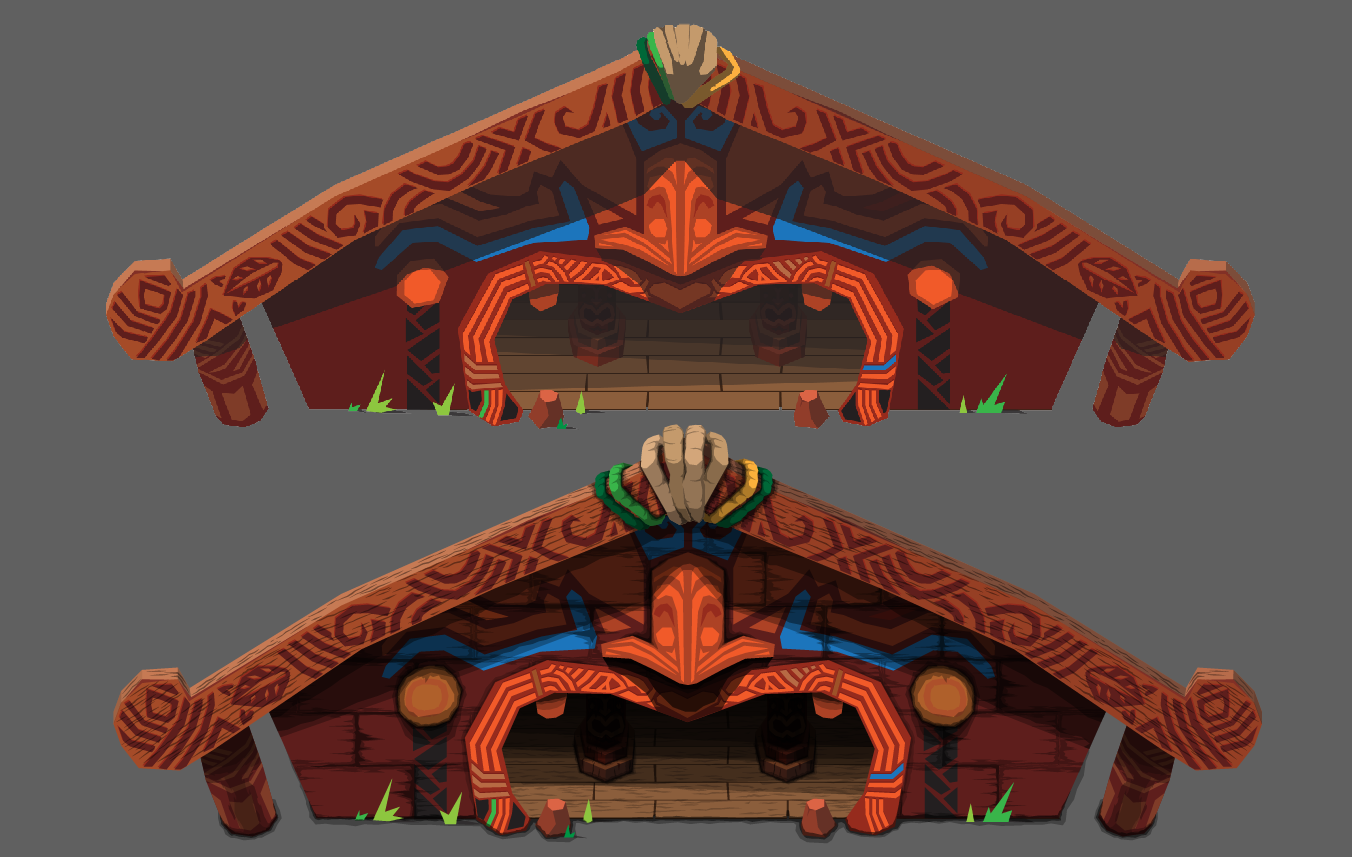 Tohora Graphic Rework / Pietro Brunelli - Concept Artist
If you'd like to see more of these, keep up to date with the graphical reworks as they're made, or even ask questions to the artist directly you can do so via our Discord server.
(But, perhaps you'd like to see the assets whilst they're being worked on? Well…)
---
SOMEBODY'S WATCHING ME
We've been putting a lot of effort into building and interacting with our community as best we can over the last few months, and the next step in that plan for us has been the introduction of the PlaytraGames Twitch channel.
We're still working out how to best utilize our livestreams so we can chat with viewers and get some work done at the same time, so, here's a few tentative examples of what we've been up to.
Level Design / Character Balancing w/ Dan

Grid Force Bug Hunting w/ The QA Team

Art Streams w/ Noemi

Asset and Visual Updates w/ Pietro

Educating Fudge!
We have something akin to a schedule, but we're also open to streaming spontaneously, too, so if you're interested in seeing our work in real-time as crack on with Grid Force, you know where to go.
Alongside that, occasionally we'll be taking one of our streams, chopping it down into something more manageable, and throwing it up on our YouTube channel.
Like this one!
BUG OF THE MONTH: EVIL PAN
The team hates bugs.
They're annoying, they break stuff, they take a lot of effort to root out and fix; it's just a nightmare. Now I'm not saying that I, community & marketing gremlin at Playtra, love bugs, but what I am saying is that the bug reports are very funny to read.
Unbelievably, this next bug was captured live by the QA team.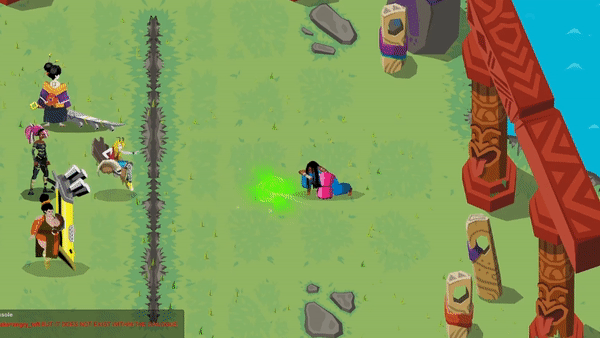 Grid Force - Mask of the Goddess / QA Stream #1
For context, this segment appears early in the game, the first full stage, in fact, and comes as a result of making a certain decision wherein Pan sends out a healing orb to bring Pai back from the brink of death.
However, Pan is… well, not the best shot, apparently, so the orb just bounces around for a bit instead of striking Pai to heal her, before vanishing into thin air as unhelpfully as possible.
At the time of writing, this has been fixed, but it gave us a good laugh when it came up.
---
SO I'M SAYING MY GOODBYES
With all that being said, I'm going to wrap up this month's blog post!
It was on the longer side than it was a few days ago, and as June is also going to be such a hectic month for us here at Playtra, there'll be no shortage of content for the next one. In fact, I suspect it'll blow the lid on a lot of the bits and bobs we've been keeping under wraps for the time being.
With an updated demo available right now, and a brand spanking new trailer coming soon, the latter edited by yours truly, we're going to have lots to talk about next time.
Until then, though, I hope you've had a great May, and I wish you all the best moving forward into June.
Be good to each other.
Staples [Community Manager at Playtra]