Grid Force – April Developer Recap
Mr. Sandman, Bring Me a Dream
Howdy!
Welcome to another developer update for the month of April, 2022.
It's been an exhausting yet wonderful month for us here at Playtra, and as always, there's plenty to update you on, so much so that I've chosen to squeeze a lil' TL;DR at the end of this post in case you want to skip to the cold, hard facts.
I won't be offended.
(I might be.)
We visited some gaming events. Two, to be exact, and we've a plethora of content to share from those, as well as a handful of progress updates, and the game mode that could've been.
Let's roll.
COUNTING SHEEP BUT RUNNING OUT
A handful of us here at Playtra attended the i68 Insomnia event in Birmingham on the 15th - 18th of April, and boy howdy, it was an adventure.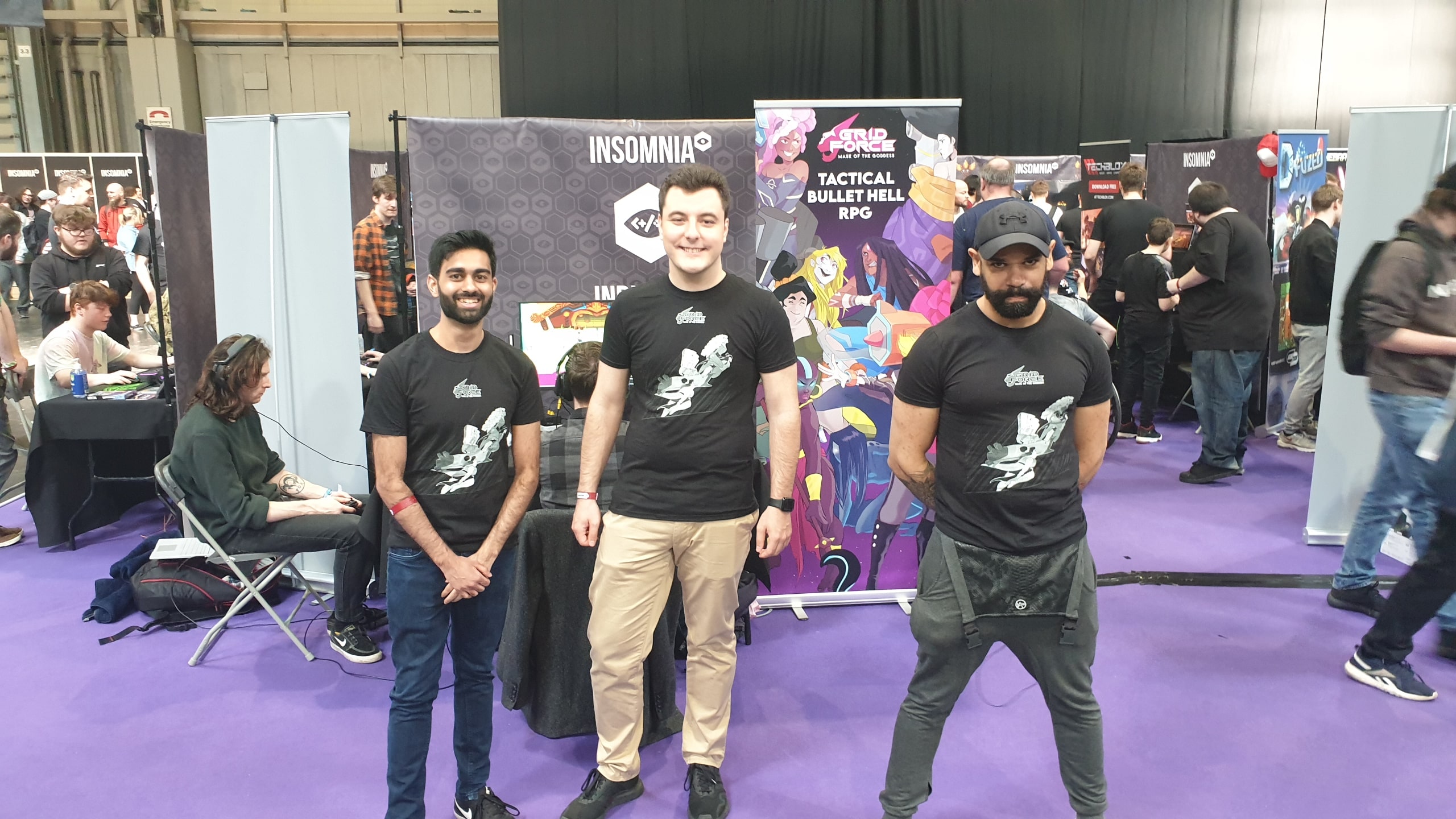 Rishi & Jordan [QA Team] | Dan [CEO & Co-Founder]
We got to meet many of you there and give away some event-exclusive Grid Force merch, as well as show off our newest demo that's not currently available to the masses. Don't worry, though, as we're looking to push that demo out onto Steam in the coming weeks, so everyone gets to have a crack at all the new iterations Grid Force has been through since our last playable teaser.
To get a better look at what we got up to at Insomnia, swing on over to our social media pages, such as this TikTok, and this one, too.
You can also head over to our Twitter, or, better yet, our Discord, and have a peruse through our events channel.
(Oh, and if you were at Insomnia, give us a shout so we can find you!)
((Not in a weird way.))
AIN'T NO PARTY LIKE A FORMAT PARTY
In addition to going buck wild at Insomnia, less than a week later some of the Playtra team did the very same at FormatGG's gaming event in Manchester.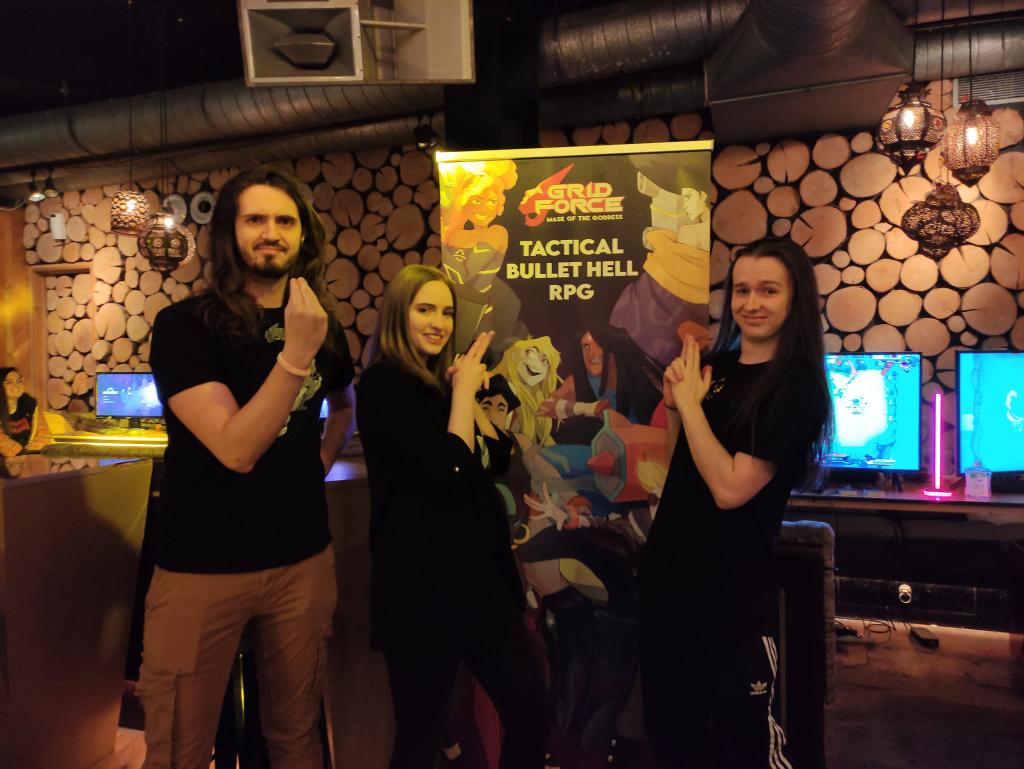 Nicola [Marketing/Community Manager & SFX] | Noemi [Comic Book & Concept Artist] | Fudge [Social Media & Community Manager]
Once again, getting to meet so many gamer folks, streamers, journalists, and other content creators really was a dream come true for us. All the feedback we received during these events is invaluable to our team as we press onward with development.
To get a better look at what we got up to at FORMAT, swing on over to our Discord, and be sure to let us know if you were there as we'd love to hear from you.
(You may have also gotten a sneak peak of the upcoming Grid Force trailer that I've been working on, but shh, don't tell anyone.)
ASSORTED FUDGES
It's not often I'd dedicate a whole segment to talking about a quick social media post we made, but, with the recent addition of social media and community legend Fudge, Playtra's newest team member, our TikTok page has had some much-needed life breathed into it, and nowhere is that better demonstrated than the #GamingSkills speedrun post, now boasting a hefty 120k views.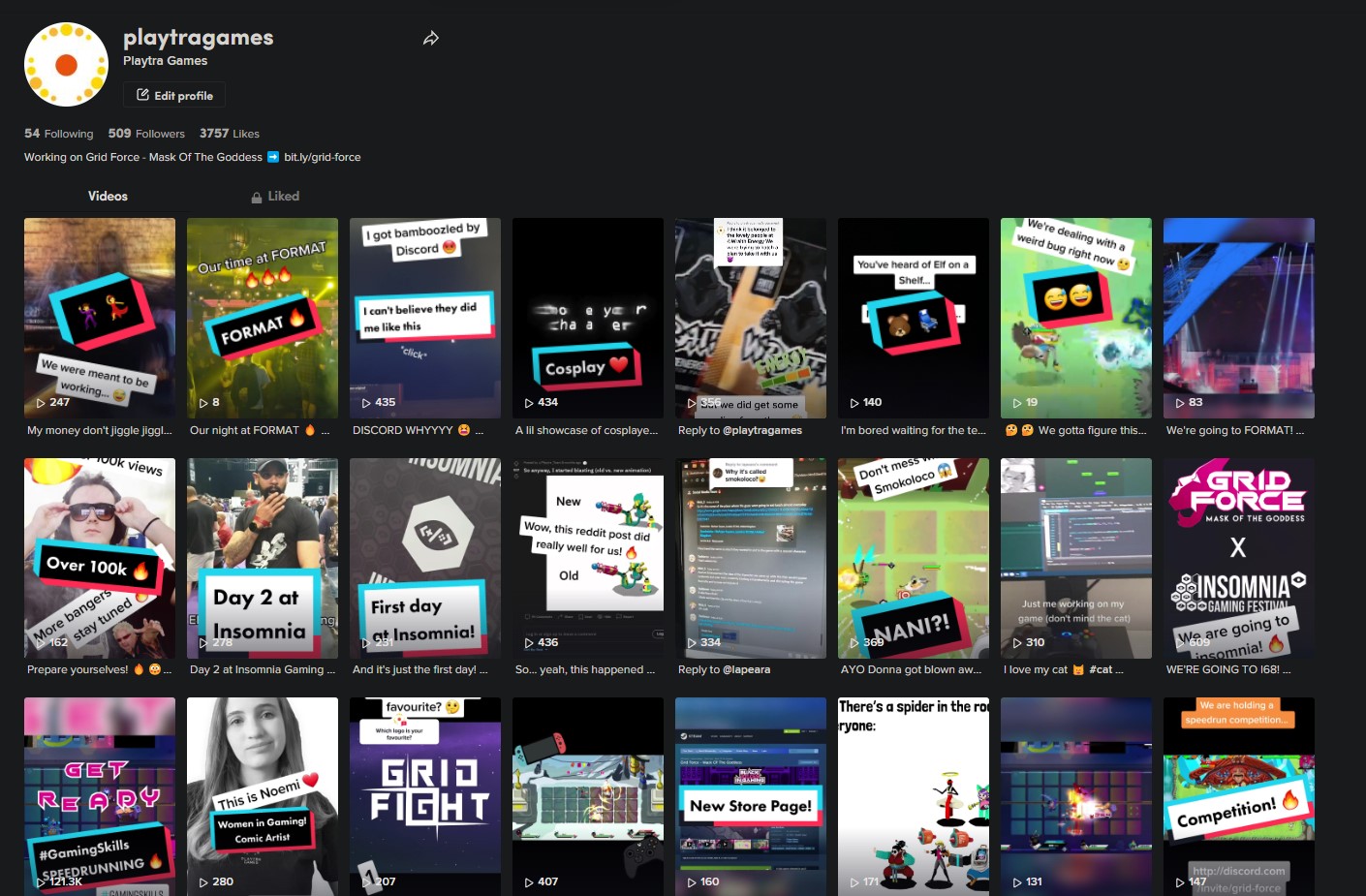 The Playtra Games TikTok Page | 29/04/2022
If you haven't done so already, head on over to our TikTok page and give the video a watch.
Also, don't forget to follow our page because, in the words of Fudge, more bangers coming…
(Should we do another speedrun challenge soon? Hmm…)
GRID FISH - BASS OF THE GODDESS
This one isn't real.
April Fools is an interesting holiday.
Sometimes you do a quick goof that deploys the dopamine and moves on, nice and easy, and sometimes you spend several hours of the only life you'll ever have designing a game mode as a joke until nobody thinks it's a joke anymore and your colleagues become greatly concerned.
Anyway, here's what a fishing minigame would look like in Grid Force - Mask of the Goddess: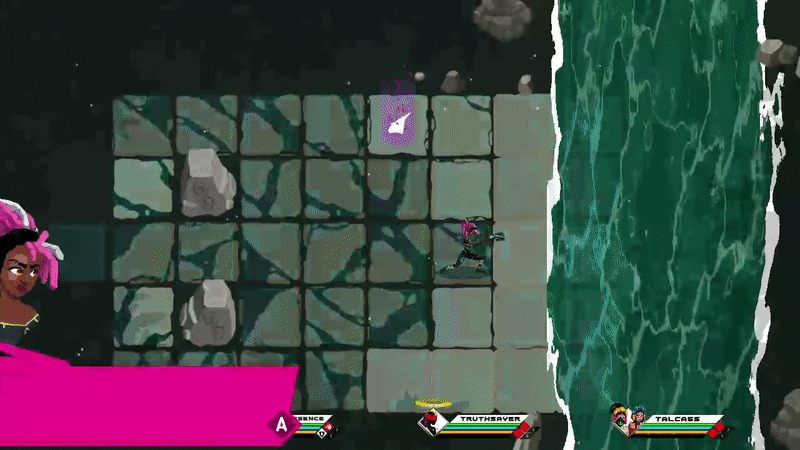 Fishing Minigame Concept | Grid Force - Mask of the Goddess | Nicola
It might be hard to tell from this gif that's had all the pixels squeezed out of it, but you don't just stand at the water and get a fish for free. In fact, if you try and pull a fish too soon, or too late, you'll get nothing. But, if you nail the timing, a Physhilla could be yours.
Or it would be, if this was going in the game, which it isn't.
Unless…
(I am actually legally required to say that this is not going in the game ever.)
So why am I showing you this?
Well, I think there's a lot to glean from this regarding Grid Force, and game development in general. To make a fully-fledged fishing minigame that would feel appropriate and respectively polished in Grid Force would be a real time sink and, from a budgetary standpoint, not that viable either. But, being able to visualize our ideas is an important part of seeing what does work, what doesn't work, and what we just don't have the time or resources for.
It's a shame we can't do it, but sometimes that's the way it is. You gotta make the tough decisions to keep the wheels in motion. Plato said that.
(Probably. I dunno.)
Grid Force won't have a fishing minigame, but the systems we have in place made something like this possible, so, make sure you keep an eye out on what else our game can offer when it releases in the summer of this year.
(If anything, I'm just annoyed at Nicola for getting me all hyped up for a fishing minigame that we'll never get to see.)
JUST THE TIP OF THE (ICE)BURG
Lastly, our beloved second stage in Grid Force, 'The Burg', is getting a facelift.
For those unfamiliar, the Burg is the stage currently serving as the demo for Grid Force, at least, it is when this developer diary is being posted.
That means it's time, once again, for our traditional before and after image:

The Burg | Before & After | Grid Force - Mask of the Goddess
With a shift in the time of a day, some extra props on the side, and a cheeky bit of graffiti, the Burg is the nearest hot spot for champions wielding huge laser cannons looking to destroy giant robot teddy bears.
Like the changes? Let us know in the comments!
WITTY ENDING HEADER
At last, with all that being said, it's time to wrap up this month's blog post!
Thanks for reading, and be sure to add Grid Force - Mask of the Goddess to your Steam wishlist.
We wanted to thank everyone who has already done so, too, as it helps us out tremendously.
As for the quick notes…
TL;DR:
We went to i68 Insomnia and Format.

We have a new community & social media team member.

We concepted a fishing game for a laugh.

The Burg has had a visual redesign.
Take care, everyone. See you in May!
Staples [Community Manager at Playtra]