Hello Indie/Mod DB Community,
We're so glad to be here! We are an indie development team comprising of several industry veterans and seasoned indies / modders coming together to create the next great World War II game.
About The Game
War & Valor is set in Northern Africa between 1941 and 1943. It will feature two playable sides, "Allied and Axis." The Allies will consist of American and British forces, while the Axis will consist of Germans and Italians.
The below picture (colored areas) show our intended playable areas within the theatre. This will be broken up into several towns and sectors which players will conquer from one another.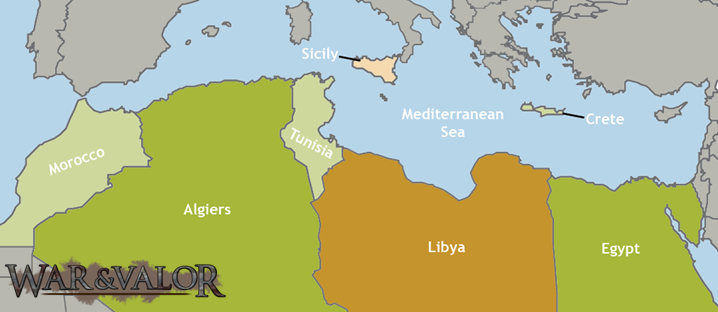 It will fall under the massively multiplayer, pvp, first person shooter, strategy, free to play and realistic categories (wow, that's a lot - yeah we know). Our goal is to have 200 players inside of scale-able combat zones that range anywhere from 1 km2 to 256 km2 maps.
Every battle is player fought and the outcome determines ownership of the town then and there. Ownership of sectors correspond with a theatre map designed to create a higher purpose of teamwork and side victory - oh yes there will be winners and losers.
We'll also be incorporating a more casual environment for game play called, "Tactical Combat," where players and their in-game teams can compete in tournaments or re-create historical battles in a more controlled environment.
About Our Team
We have an awesome team full of 15 WWII / gamer enthusiasts. We are all currently engaged in the production pipeline creating important game assets (art, sound, UI, programming etc).
Interested in helping?
If you're an artist, programmer or have skills in the industry we're looking for some additional help to boost our already great momentum. We have created an "ad" for jobs located (here). Please note we are all volunteering our time to this because we believe in it tremendously.
=====================================
We will keep you up to speed on our progress and hope you decide to follow us. Thanks for reading and I hope you are as excited about this as we are!