First things first: 'Thank You's
Thank You so much to all our supporters, both casual and dedicated, for helping us get here.

Thanks to the elusory Steam employees who approved us to join the business end of Steam. :D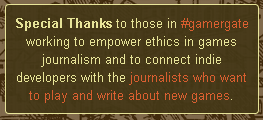 Finally, Thanks to GamerGate. Y'all were friendly and supportive when we were just getting started. You brought many of the votes and a lot of the support these last 39 days and we haven't forgotten. Thanks.
The developers here at Aesop Games are ecstatic.
This literally happened over night for us, the discovery occurring as we sleepily checked our emails after waking. Last night we were another small indie studio making free / experimental games. Today we're looking down a route toward paying customers and studio expansion... and we can't wait. We haven't even had time for celebratory tacos.



What Does This Change?
Being greenlit suddenly opens up the possibility of Steamworks integration much sooner on the Alph 3D client. We've also been preparing for the addition of achievements and maybe even trading cards!

We know all you Steam players are excited to hear this, and we hope any players who haven't joined Steam are motivated to do so knowing you can (in the near future) play our awesome game and get steam points at the same time.

Looking Forward
There's still many tasks between now and Brunelleschi's completion, but we'll be offering players access and opportunities at every point. Brunelleschi is also not the only game Aesop Games plans to develop. If this goes very, very well, we have a few more clever ideas to put into development. We might even expand the team.