Hello folks !
Today is a great day !
We have launched our Steam Greenlight campaign. We need you! Help us, vote for us!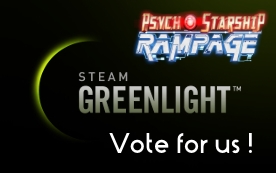 After a lot of work on our engine (based on LibGDX), our game is stable enough to be shown. So we decided to introduce our concept to the Greenlight community.We wish to listen to feedback from the community, to help along the development and build the best possible game.
We also released our first trailer:
This video is using early development footage. The alpha demo is more advanced, but we think this trailer summarizes our concept.
If you want to try our alpha demo: go to the download page of our website.
It is also available on itch.io
What the alpha demo offers:
The Starship Editor is the most advanced part: all the main features are there. It manages multiplayer in schizophrenia mode. We still have to work on making it more user-friendly, and implement an in-game step by step tutorial.
A lot of work remains on weapons and equipments: improve the feeling of weapons and add more of them.
We haven't done any level design. So we know the levels and enemies do not have any advanced behaviour yet, but it will come. And they allow you to test your starship. We will pack a lot more action in this part of the game to greatly increase the pace. It is inspired by old school arcade shooters, improved with a physics engine, loot and various weapons.
The loot system: we tried something new. The hacking beam downloads blueprints of new weapons/equipments from nearby enemies. This system is interesting as it forces the player to put himself in danger in order to get more loot. But the drawback is you don't want to shoot enemies before hacking them and that slows the pace. So the loot system will change in order to keep the action coming!
Follow us on the social networks! We will keep you informed about Psycho Starship Rampage's development and evolution.
Follow us on Twitter.
Like us on Facebook.
Our website.
Don't forget to help us on Steam Greenlight
What do you think? Tell us in the comments! We are open to your feedback.