with the love studios is thrilled to announce that earlier this week Instant Dungeon! officially crossed into Greenlight's top 100 and as of this writing (7am CDT, 8/23/2014) it's currently ranked #55 on Greenlight with over 6,600 'Yes' votes!
Of course, our Greenlight journey's not over yet, not until the Big Man at Valve gives us the magic thumbs up, but all the same, we wanted to take a moment to say thank you to everyone for their kinds words, votes and support!
Instant Dungeon! was truly made 'with the love' and we're sincerely touched by all the love and support PC and Playstation mobile gamers everywhere have shown it! Thank you one and all!
To show some love back, and in the only way we know how, we're currently working on another spectacular update: Instant Dungeon! v1.4.
This new version will feature three all new epic boss battles, bringing game's total to six boss stages!
It'll also add at least one new game flavor(Maximal Mash) and possibly another (Rescue Relish).
Our current target it to have Instant Dungeon! v1.4 ready by the end of September 2014.
To help tide you over until then, here's sneak peek and one of the new bosses, the dreaded Blue Dragon and his icy abode: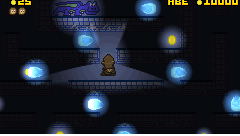 Hope that temps your tummy and until next time, happy dungeoning!