Introduction
In the world of Freelancer development there has been one program able to perform advanced tasks such as dynamic jump holes and advanced player management called FLHook. But within a few months, there will be two. GreenDuck is entering the stage with some exciting new features that will make OLG, and any other mods who choose to use it, the most competitive mods in Freelancer.
Currently
For those who dont know, GreenDuck currently supports...
Decoding and encoding of player names from the file.
Death Scanner, causing players to lose their ship and respawn in a patriot when they die.
Dynamic Jump Hole Generator, allowing for jump holes to be dynamically created and destroyed between any system.
Secret systems, only accessible randomly with a dynamic jump hole.
But Soon
GreenDuck will soon support these new concepts.
Client Side Updating to make Dynamic jump holes functional to everyone.
Daily update distribution system to push small changes to the universe to all players.
Procedurally AND randomly generated system slots which will redo at downtime.
Dynamic system ownership with the sov. system.
Dynamic economy.
So lets look at these features one-by-one and see whats in store!
1. Client Side Updating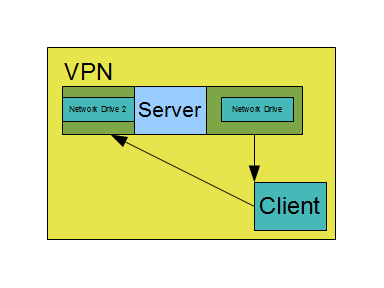 The way the Freelancer is built, server side changes to the universe will not affect the client's view of it. Therefore, I am designing a VPN-based system to send updates to the clients.
How it works is pretty simple. GreenDuck saves the changes to the universe as a ZIP file which is downloaded from a simple windows shared folder on the VPN by the client. Then the client applies the update and starts Freelancer.
I will be using a hacked Freelancer executable in order to force an update from the server before launch. It should be a very impressive feature.
2. Daily Update
Building on the client-side updator you just read about, my mod will have its own way of pushing changes to client systems. This means that that bug in the 3rd Unknown System can be patched with a tiny 5kb patch the user most likely won't even notice.
Also, a daily update allows for changes to the map from player built jump gates or dynamic jump holes. For example, look at these before and after shots of the game universe where dynamic jump holes were created.
Before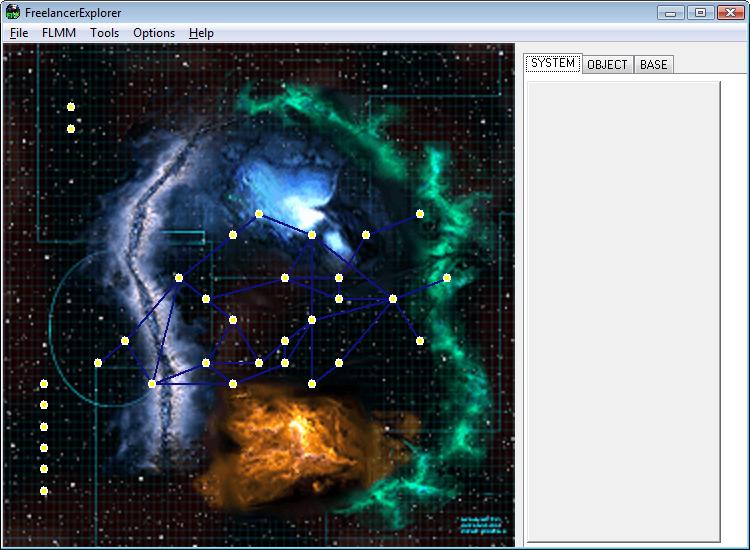 After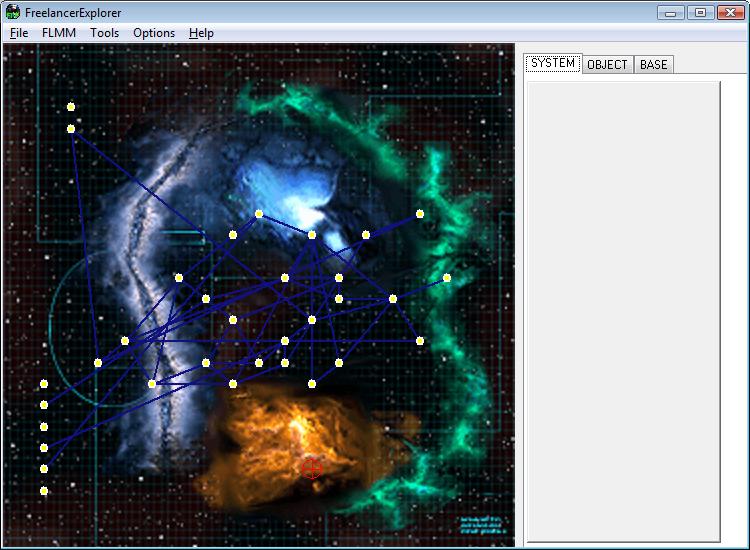 More importantly, it means that features such as a dynamic economy become feasible. But most important of all, it will allow my player-owned systems plan to work.
3. Procedural + Random Systems
In addition to the static unknown systems you see above you, there will be about 50 slots of unknown systems that are procedurally or totally randomly generated. Lets first define what this will mean.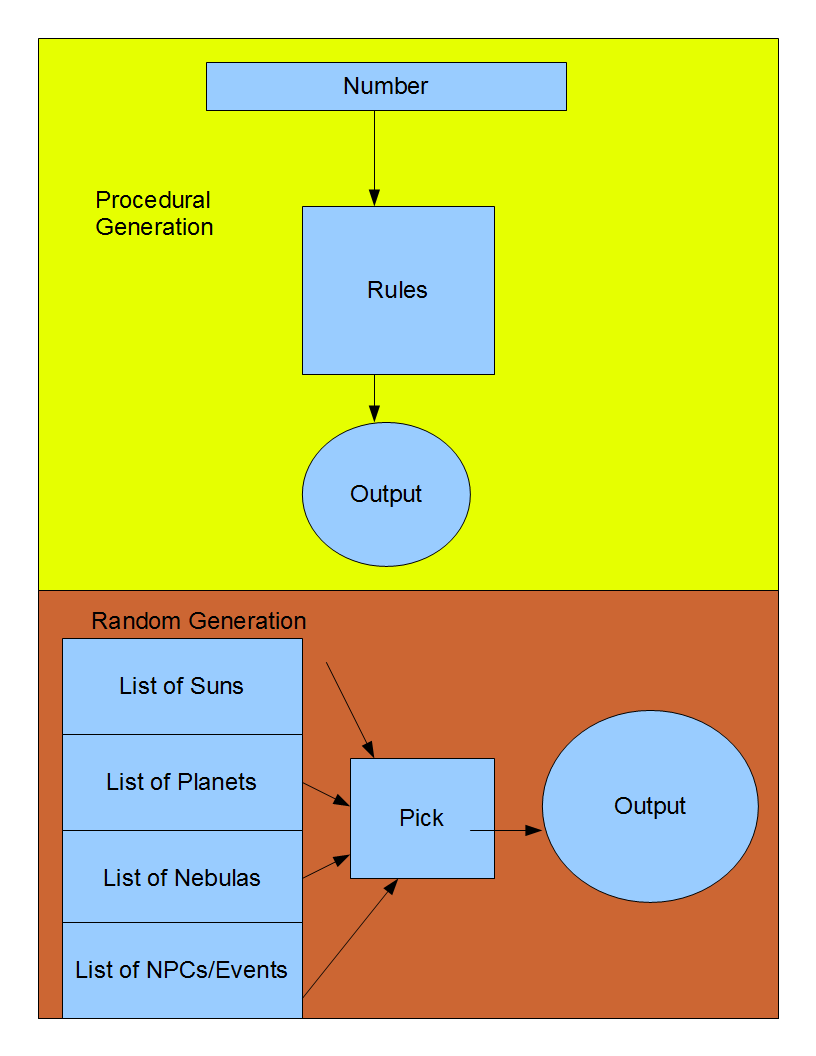 Procedural means a set of rules are created, and a number is fed into the system. That number is a seed to generate a universe, and as long as the same seed is fed into it, it will return the same result.
Random means that things are tossed together in a possibly one-time combination.
The advantage of having an engine support both is that I can temporarily make these random systems permanent, while having others still random simply by saving the seed. Or I can make totally random universes and not worry as much about repeats.
The game play this will create will be exploration oriented. Combined with dynamic jump holes, these systems will be unique adventures that may allow you to find some rare technology, rare resource, or maybe just connect 2 even more useful systems together.
4. Sov. System
The non-random, static, part of GreenDuck is based on our local universe, mainly G-type stars within 150ly of the sun. However, these systems will be the center of pvp in OLG. Every system except Zeta Tucanae (the starting system) will be enthralled into a clan-vs-clan battle for dominance.
Originally, it was going to be a point based system, in which people scurried about collecting points by blowing up structures. However, it will be more realistic. Basically, ownership will go to the clan with the most kills in that system (that don't involve your clan destroying itself to pad this) per day.
The rules will be as follows:
If clan kills more than defendingclan then ownership goes to clan.
If clan kills less than defendingclan then ownership goes to clan.
If clan kills nothing then defendingclan keeps.
*Note these rules are per-system, not universe wide.
This means that it will be a very pvp oriented mod. Clans who own a system can buy improvements on their systems such as research stations or jump gates between systems they own. These improvements are inherited by a conquering clan.
5. Dynamic Economy
A slightly dynamic economy will be added that adjusts prices by between -30% and +30%. This can create temporary powertrading routes that will attract even more pvp.
Feedback
Thanks for reading, please send me feedback and ideas by commenting here or by emailing me at masternerdguy@yahoo.com . Also, if you want to use GreenDuck, feel free to contact me and I will set your mod up with it.