Greedy Guns launch date announced!

We are so proud to announce that Greedy Guns is coming to Steam on September 1st, 2017.
You can wish list Greedy Guns on Steam here!
For those who didn't follow these last 4 years of development here's a big WTF is Greedy Guns!
How do I explain Greedy Guns to my mom
– "It's a Mario with a gun. Bang bang. Ok?"
– "Who will want to play a game with a plumber and a pistol? That's dumb. Can't you get your old job back?"
How I explain Greedy Guns to the world:

Metroidvania + dual stick shooter + 2p local co-op + too many enemies at once. :D
Or if I have a bit more time I usually go for:
Greedy Guns is a colorful, joyful, platformer that sprinkles elements of exploration on top of excruciating challenges. Taste the tears flowing down your face, while being crushed by its arcady dual stick shooter Apocalypse!!! :D
Inspired by classic shooters like Gunstar Heroes, Metal Slug, and Contra, Greedy Guns takes the Run and Gun formula to the 21st Century!
Its main features:
2 player local co-op
2D sprawling world. Go explore!
360º aiming and shooting
Metroidvania inspired gameplay!
Big Bosses and overwhelming odds
Story
It's not just shooting. Greedy Guns has a narrative worthy of the Nobel prize! Ok, maybe not… You'll be the judge of that.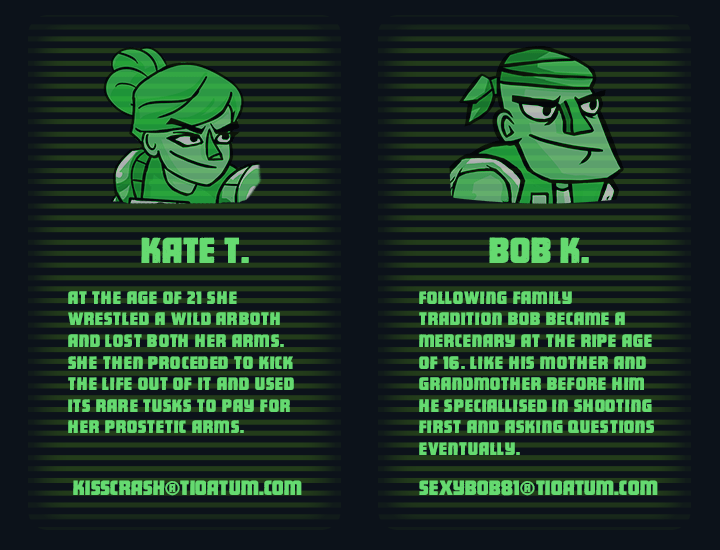 You control the mercenaries known as Greedy Guns, Bob and Kate. They are on a mission to plunder alien D.N.A for Holocorp. Holocorp pays well but also sells them their guns. Dammed capitalists! What starts off as just another mission gets a bit more complicated as a gilded masked stranger starts following them and collecting hidden artifacts.
This will take a turn for the worse, and our greedy mercenaries are going to have to fix it if they want to ever leave the planet. But fix what, and how? You'll have to play to find out;)
I'll give you a hint, it involves carefully placing a ton of bullets in alien baddies, big and small.
Development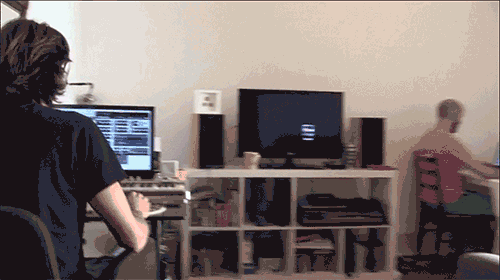 4 years ago a revolution began in Tio Atum. I (Miguel Rafael) was getting out of a 7-year relationship, a horrible break up. Another member of the team was doing the same. So heartbreak everywhere! We wanted to make a bigger game, maybe to forget our woes. At that point, Tio Atum had only shipped mobile games. We decided we wanted to make a hectic action game, with plenty of shooting, exploring and dodging enemy bullets. Why? Well, we like hard games and we never made a shooter. Seemed like a fun challenge. Was it ever!
One year into development we started living under the same roof and there we stayed for 2 years. Working away on Greedy Guns and partying every other day. Eventually, we found new relationships and had to leave the bachelors' game dev bunker.
After that, in 2016, a successful Kickstarter helped us develop the game further and here we are today. 3 high powered mutants, game dev warriors, lovers of pew pew.
I <3 it!
Well you can wishlist Greedy Guns on Steam here! Be the first one to play it