If you happen to be at PAX East this year, Team17 have erected a wall of avatars and tweets from indie developers across the world, which they have aptly called the Wall of Indie Love. If you cannot make PAX East fear not, IndieDB have you covered and are showing off a digital wall right here!
#IndieTeam
@team17ltd" data-count="vertical" data-via="moddb">Tweet
All developers are encouraged to participate, and doing so is easy, all you need is a Twitter account. Just tweet at @Team17Ltd using the #IndieTeam tag (by clicking here or the button above) and tell us what you love most about developing games. You'll need to be 18 or over, and you'll need to either be developing a game already or have plans to develop one in the near future. As well as having your tweet shown and avatar immortalized on the wall, Unity Pro Licenses will be given out daily and one lucky team will win the Grand Prize; a trip to Team17's offices in the UK for a development consultation on your game.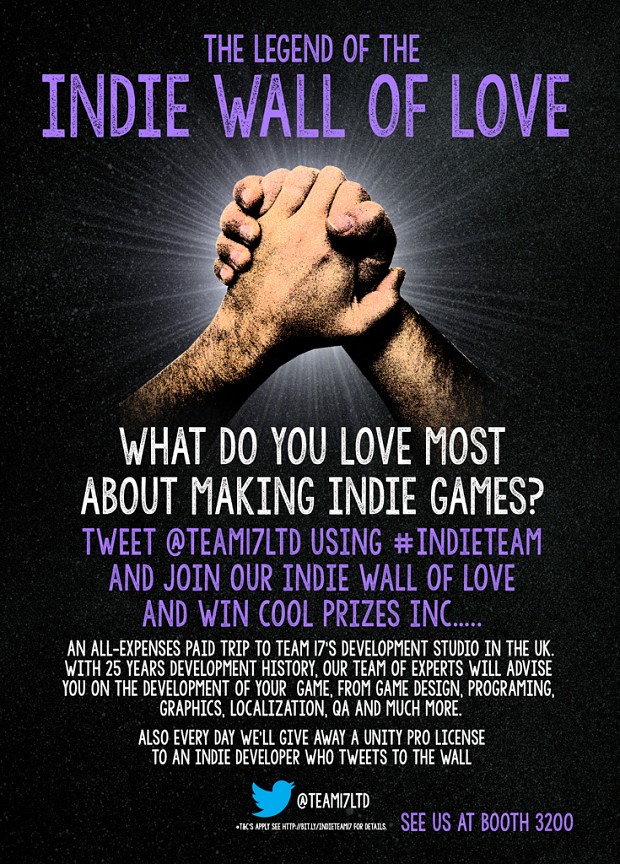 At the completion of the event a pixel art representation of all avatars will be made and sent to participants. Finally, be sure to read the full terms and conditions before entering. The competition opens on 6th March at 9AM EST (2PM GMT) and closes on 8th March at 20:00 EDT (12AM GMT), so the clock is ticking!
Good luck, get your tweet on the wall and keep making amazing games!