Mine Laying Drone
I have now completed the mine laying drone, I have made a model for the drone, made the animations for the drone and created the models for the mines. I also had to do some work on the AI of the drone and mines to get them to work aesthetically because in the last update I only made the AI and a temporary body for them until I developed the final design for it.
This is a picture of the mine drone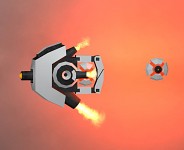 I Also made the level where you first meet the mine drones and made changes to the mine and missile explosions so that they blast you less far but do more damage. I decreased the force so the explosions to reduce the chance of the payer getting blasted into low gravity areas where it takes ages to float back, reducing the periods of helpless floating which sometimes happened. I increased the damage of explosions because it took about 6-8 mines to kill you which was too week to make it a challenge so I have set the damage so it usually takes 4-6 mines to kill you.
Thanks for reading and enjoy the mines!