Hey everyone! As you may know, GraviNULL is going to release very soon! In case you missed it, click here to check out the release newspost. The server files have released as well although only a humble non front page post was made, much to my distress and probably some of the team members as well if they've noticed... is that these received much less attention!
So in this newspost I'm going lay forth some of the plans for the future of GravINULL to gather some more interest in the mod. But first here's the current places the Dedicated server files can be downloaded:
We've seen the release of GraviNULL getting quite a bit of attention already! More than 2000 views on just the ModDB page and with many more views on other sites. This means alot of players can be expected that will be wanting to take the mod for a spin.
However currently the outlook is grim, with only 1 australian dedicated server currently succesfully up and running and only about 5-7 more possibly ready before release... this newspost is hopefully going to grab the needed attention from server hosters as well get everyone excited for what more will be coming to GraviNULL in the future.
So ... what to expect in the open beta that is going to start development after release of the open alpha
Possibly new player models, I believe Wills said Izanagi from Jailbreak:Source had some ideas for them and was gonna try and make them
Possibly and tied to player models: Classes, or something like it, these would be fairly basic in the form of a light, medium and heavy weight class, with light obtaining faster speeds when grappling and being able to utilise the pushback when launching mines more, up to the heavy weight which will be slower when grappling but capable of withstanding more damage and brought less of course when launching mines.
New mine models: Definitely going to be there!
Several new maps, among which a map which was still in early development but playable just before release... gn_iscariot: A map set inside a wrecked spaceship which is going to be pretty sweet!
New "gravity gun" model, fairly likely but it's in a.... secret way depending on what happens with the player models. Regardless the new gravity gun would support the current different gravity gun functions with animations as well instead of just some glow effects.
New mapper entity: trigger_minecharger: This was originally going to be in the alpha, but was cut out due to certain problems with it, beta version should hopefully have it working correctly and available for mappers. It would have been an invisble trigger brush type entity that recharges mines inside it. This could have been especially cool for the map gn_core with the core area being able to recharge mines. But alas! Open Beta should be featuring this new entity.
Last but not least... New game modes. Two that may not see the open beta will be Race and Puzzle mode, Race would be a race where you try to utilize the grapple beams functions to the maximum. Puzzle mode would probably be co-op where you would solve puzzles in zero gravity. Both aren't on the highest priority so early yet, but the mode that will be is gonna be Time Trial, which... already has a suitable map created by Bekey.
Read below for more info about Time Trial and screenshots!
Time Trial gamemode planned for open beta(not alpha):
Time Trial can be seen as a hazard/obstacle course in which you and other players are going to be competing in to get to the end of the course as fast as possible, meanwhile dodging all kinds of dangers.
There are a variety of ways this mode could be executed, one I have in mind is pitting a minimum of 1 and a maximum of 4 players in the map at once with the rest spectating, since there's not a lot of room to have alot of players all do it at once. The spectators can get to watch as some try and die or watch in awe as some set new records!
To give you a better example of what this could be like, here's some screenshots of the first Time Trial map: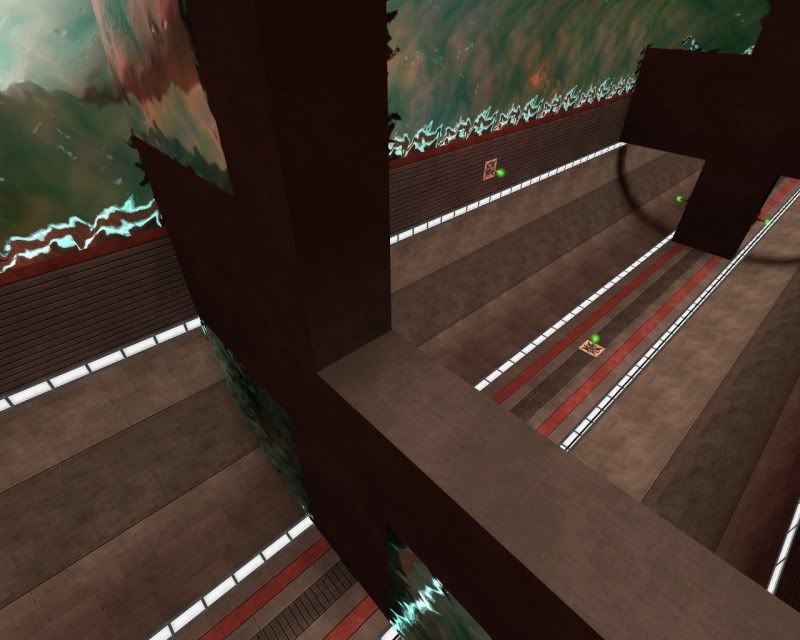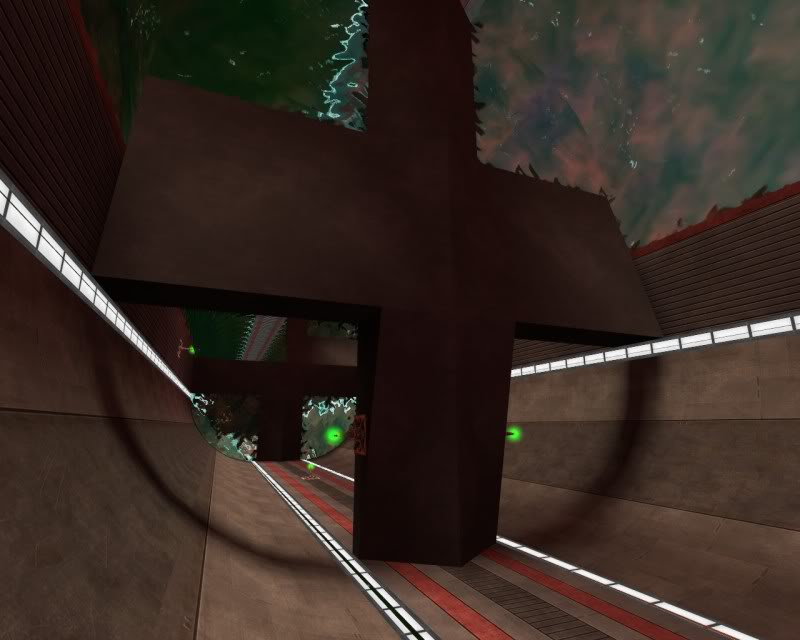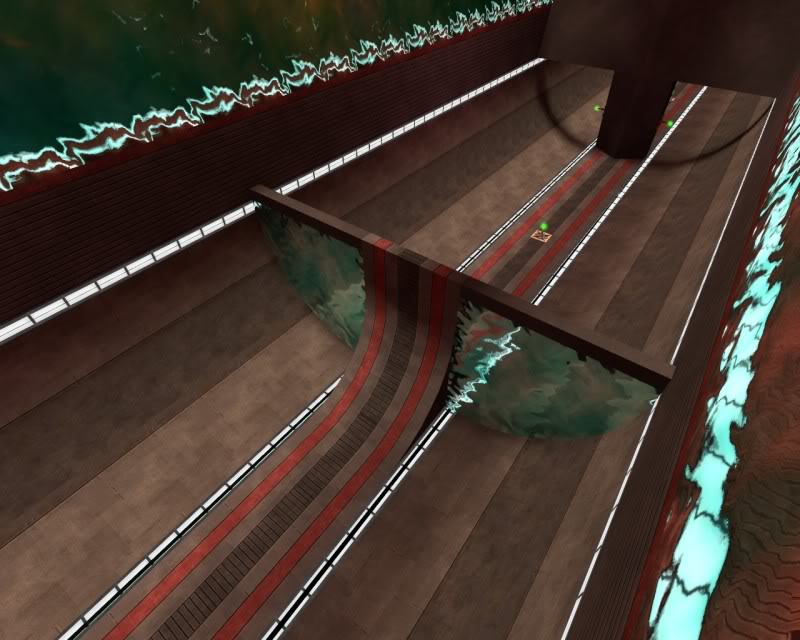 That's about 3/4th of the map, it looks deceptively easy, but the "forcewalls" are very deadly and manuevering yourself to not touch them can be quite a challenge, but with training the track can be done very fast nonetheless... practice makes perfect as they say!
Now here a screenshot of the ending part of the map: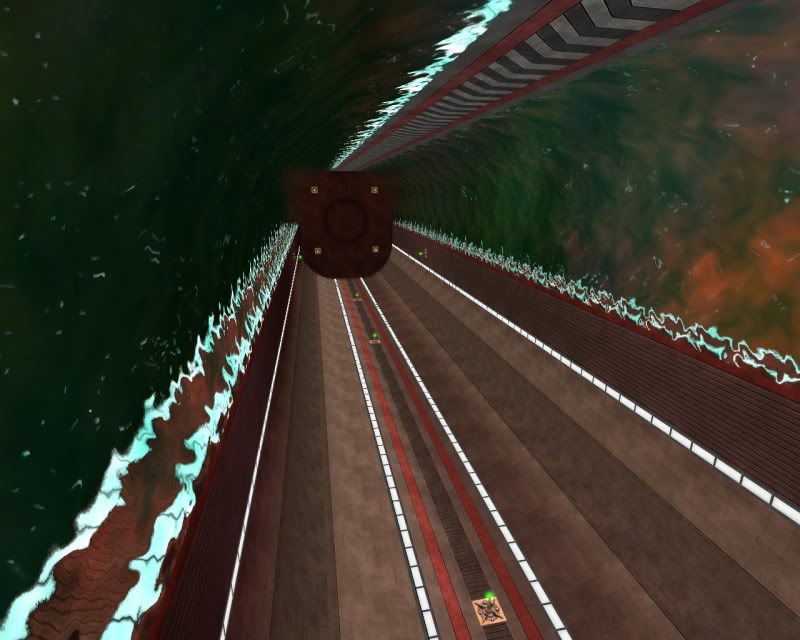 Personally I like that part the most, you try to get through the circle at the end, there's little actual hazard but it's a fun little challenge to plan your approach in such a way you'll get through in one go.
I hope this newspost will help to spur on dedicated server owners to set up a GraviNULL server and that way help ensure everyone will have a chance to play the mod upon release.
Remember people, Friday 26th at 6 PM GMT+1 is when the client files are gonna be released.
A warning for you all... Mind the puns for there shall flow forth many!