The Grasshoppers are here!
Music track "The Grasshopper's Song", an OST made for Drunk On Nectar
In the run up to DoN's survival-themed "Lifecycles Act 2" release, the game's Survival mode has been rebooted with Grasshoppers, Longer gameplay (5 days from Spring to Summer), a reworked food chain (Dragonflies beware), Saving and Loading support and more.
Let's take a closer look!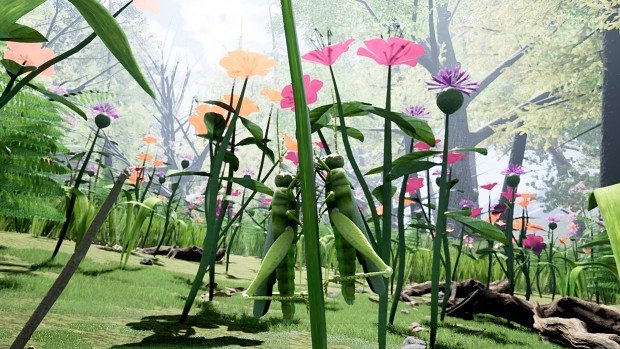 Grasshoppers are the latest creature released into Drunk On Nectar's world!
Survival Mode Rebooted
Survival now occurs over 5 days from Spring to Summer and you need to survive till the first dawn of Summer to win. To sate the voracious appetite of our resident predators (and to celebrate one beautiful grass hopping friend!), Grasshoppers have been added to the game and the food chain has been reworked. Adult Grasshoppers are often too big to handle for smaller predators, but if you're playing on Easy mode it is quite achievable. In the next release Grasshoppers nymphs will be also available (earlier life stage, smaller, easier to hunt) for Jumping Spiders and even Dragonflies.
Speaking of Jumping Spiders and Dragonflies, the latter's long dominance as the game's apex predator has now been challenged. Jumping Spiders can now takedown perched Dragonflies (that are resting or feeding) and with quite dramatic results as you'll see: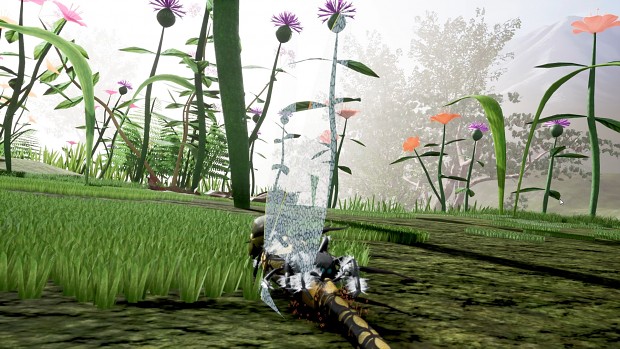 Never underestimate a Jumping Spider's speed and agility!
Grasshopper Gameplay
The Grasshopper is fully playable both in Survival or in the Sandbox mode (where you can amass a troop of Grasshoppers for your amusement!) - Browse on grass and leaves, use your strong legs and wings to hop and fly (if your'e an adult; nymphs can only hop) and thwart predators with your size and strength advantage.
Speaking of grass, Drunk On Nectar now features full-3D collidable grass! Climb atop it, munch on it, use it as a launching pad if you're a wily Jumping Spider, anything you like!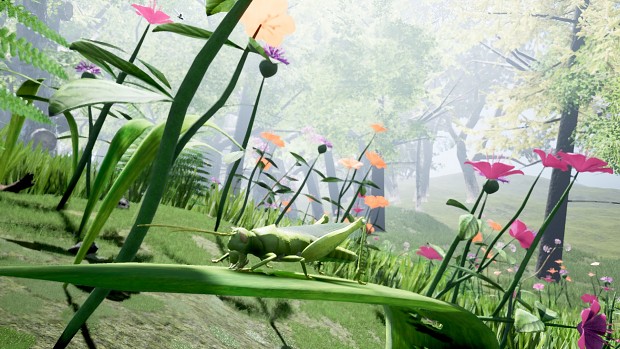 Our resident Grasshoppers demanded that their grassy abodes be made fully 3D and collidable. Their wish has been granted!
Saving & Loading supported
DoN finally supports saving and loading of games and Sandbox creations! Use this to your advantage while trying your luck with the new survival mode, you just might need it! Saving & Loading is still in early phases so please do report any issues you run into during your invertebrate escapades :)
The road to Lifecycles Act 2
For the benefit of those who missed out on DoN's Lifecycles Act 1 - "The Silken Egg Sac" release, here's a quick video roundup of what the fuss is all about!
"Act 2 -The Great Outdoors" is the next installment of DoN's Lifecycles saga. As Act 2 focuses on Survival, getting this Grasshopper and Survival reboot release out first was deemed an essential stepping stone towards unleashing twenty five curious third-instar Jumping Spiders into the game's great outdoors.
Act 2 is being earnestly developed with new species (Tiger Beetles, Parasitic Wasps, etc), new mechanics (build your own silken egg sac) and more. Given the game's growing size and expansion with multiple modes, multiple species, etc, the QA effort needed for a big release like Act 2 is quite sizable, so your patience in waiting for Act 2 is appreciated :) Taking the time to carefully build and test this release is essential for your maximum enjoyment, so when it does arrive, the wait will be worth it!
Thank You!
A huge thanks to everyone for supporting the game all these years on IndieDB and for the past year on Steam Early Access. Your support is deeply appreciated and now thanks to the game's growing player base and supporters, DoN will continue its rapid growth and expansion for 2018 with Lifecycles, New Species, Multiplayer support and so much more! DoN's green glades eagerly await your pleasure, so come on over and join the action!
Thank you for reading! Check out DoN's Grasshoppers with this latest Steam release, but do keep an eye on the Great Outdoors while you're at it, for 25 adolescent Jumping Spiders with an enchanting lifestory to tell are spiritedly headed your way!
Enjoy playing Drunk On Nectar and let me know your feedback in the comments below!
With ❤,
Venugopalan Sreedharan
(Developer of Drunk On Nectar)