English:
After several months of silence and some other projects I have been working on, I learned enough to remake this game into a 2D experience with all new graphics. Almost the entire look has changed and only some few icons and pictures remain. No more bland 3D default structures and ugly textures.
Some time later I will surely have some gameplay footage up but until then, have some screenshots. The new version ist already uploaded on my website. After some delay, it will be available here, too.
Deutsch:
Endlich, nach vielen Monaten und einigen anderen Projekten, habe ich einige Erfahrungen gesammelt um meine eigenen Grafiken zu erstellen. Dieses Wissen habe ich jetzt umgesetzt und auch wenn es von Perfektion noch entfernt ist, so sieht es dennoch komplett anders aus als vorher, da ich mich nun auf 2D konzentriere. Die alten 3D-Objekte und schrecklichen Texturen habe ich abgeschafft und werde mich auch weiterhin um eine Verbesserung bemühen.
Ich werde versuchen so schnell es mir möglich ist, ein vernünftiges Gameplay-Video hochzuladen aber bis dahin gibt es schon ein paar Screenshots. Die neue Version gibt es schon zum herunterladen auf meiner Internetseite. Die Möglichkeit es hier herunterzuladen wird in nächster Zeit kommen.

New Main Menu, translated into german at the moment. Just hit the word "Deutsch" and it is back to english. // Das neue Hauptmenü auf deutsch. Ist man dann doch lieber ein Freund vom Englischen, einfach auf das Wort "Deutsch" klicken und alles wird übersetzt.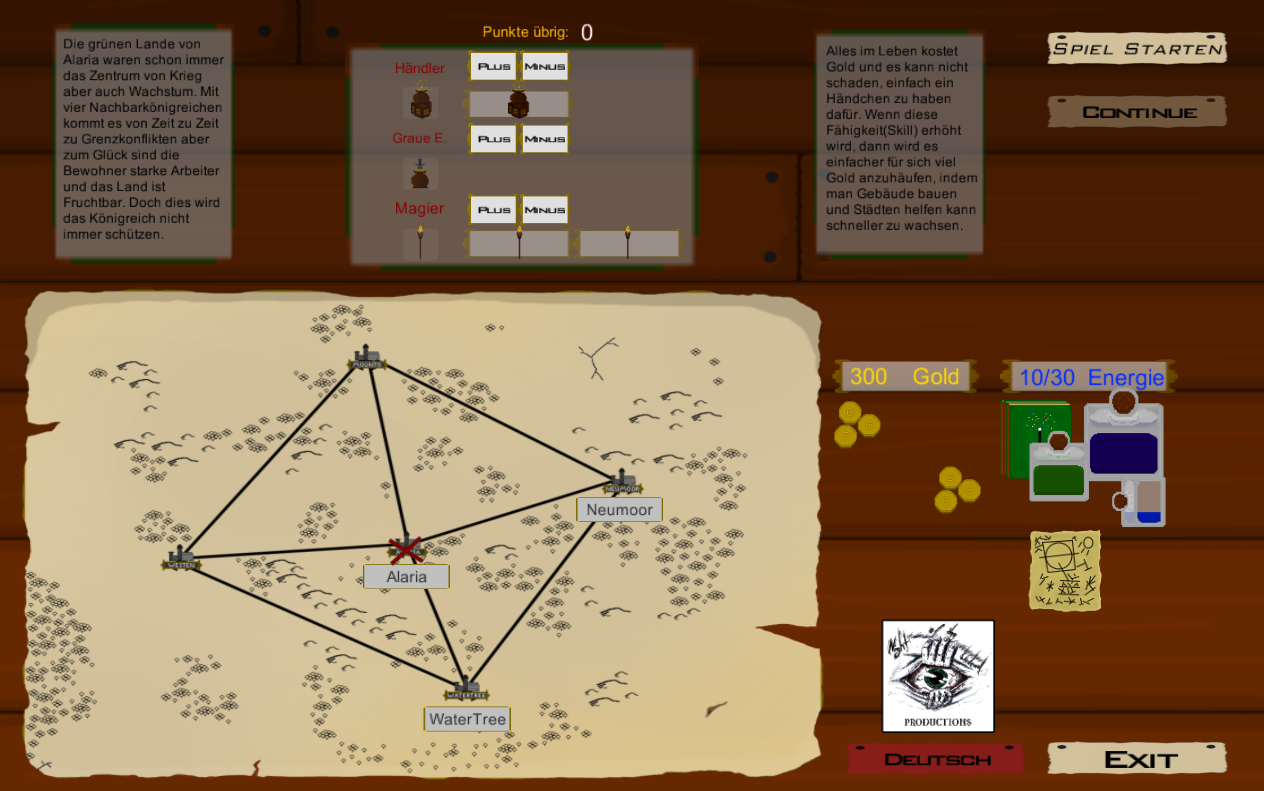 New look, same extras. Hitting one of the speakers will start playing some background information about the game. // Neuer Aufbau aber immer noch gleich hilfreich. Einfach die Lautsprecher anklicken und ein paar Informationen über das Spiel erhalten.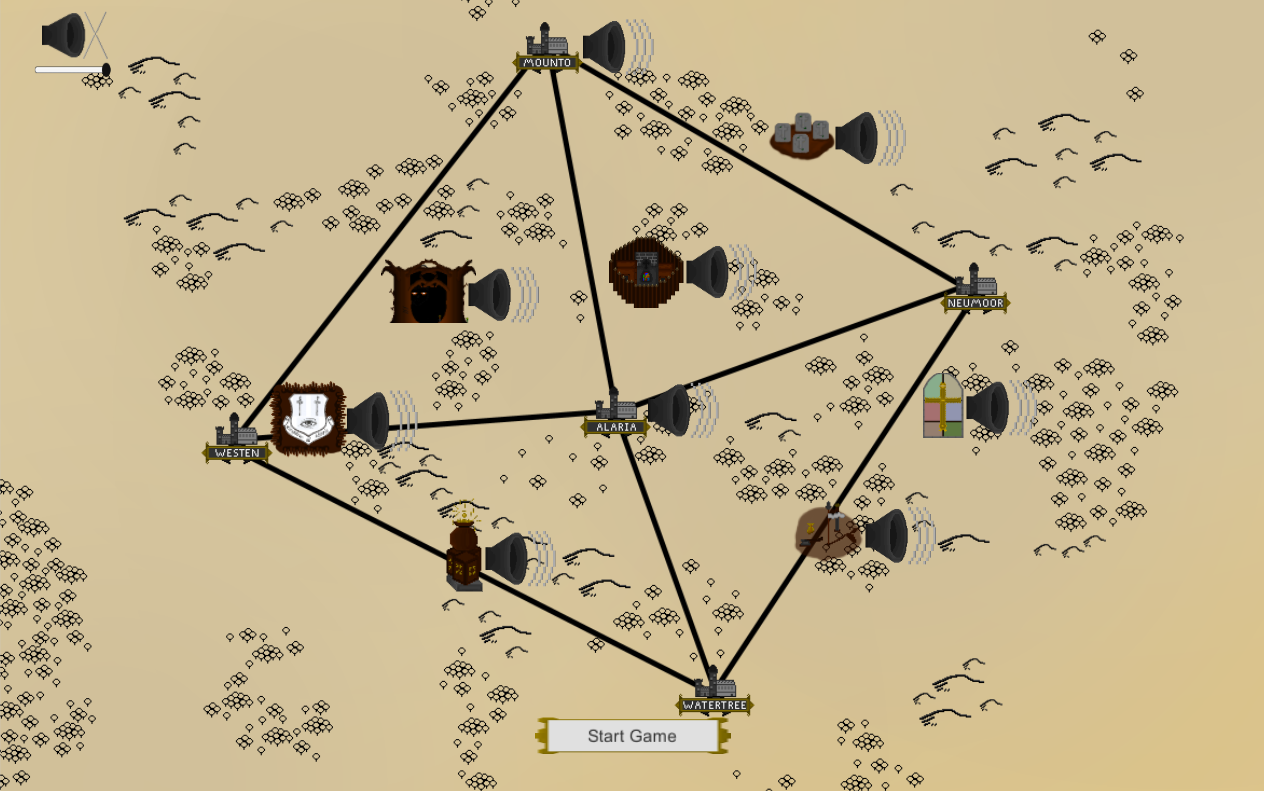 In this screen we have some of the new icons (not all of them), showcasing the new stile. // In diesem Bild kann man einige der neuen Icons sehen die ich für das Spiel erstellt habe. Es gibt aber noch viele mehr zu entdecken.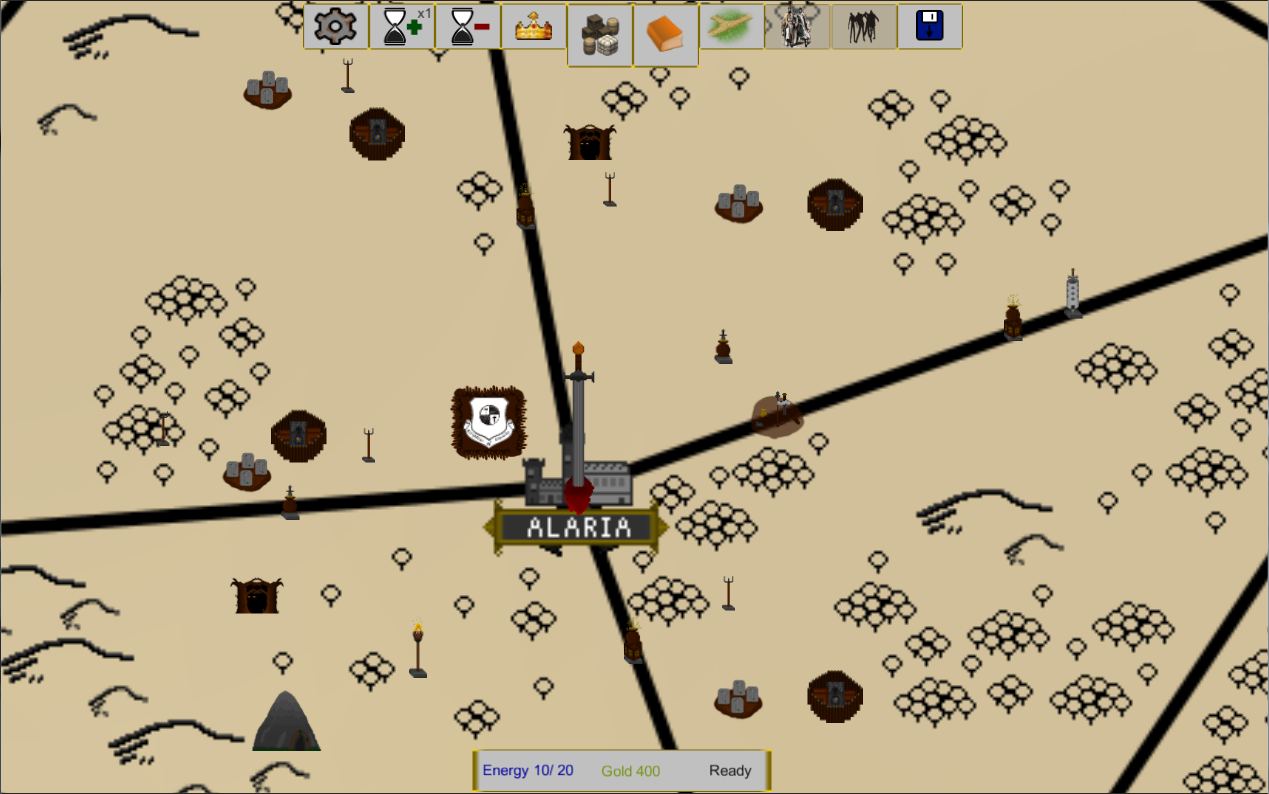 A normal start into the game with some of the peasants already running around. In case you wonder: The player is represented by the torch. // Hier ein normaler Start, wenige Sekunden im Spiel. Ein paar Bauern arbeiten schon in den Wäldern und der Spieler, die große Fackel, steht noch rum und schaut sich alles an.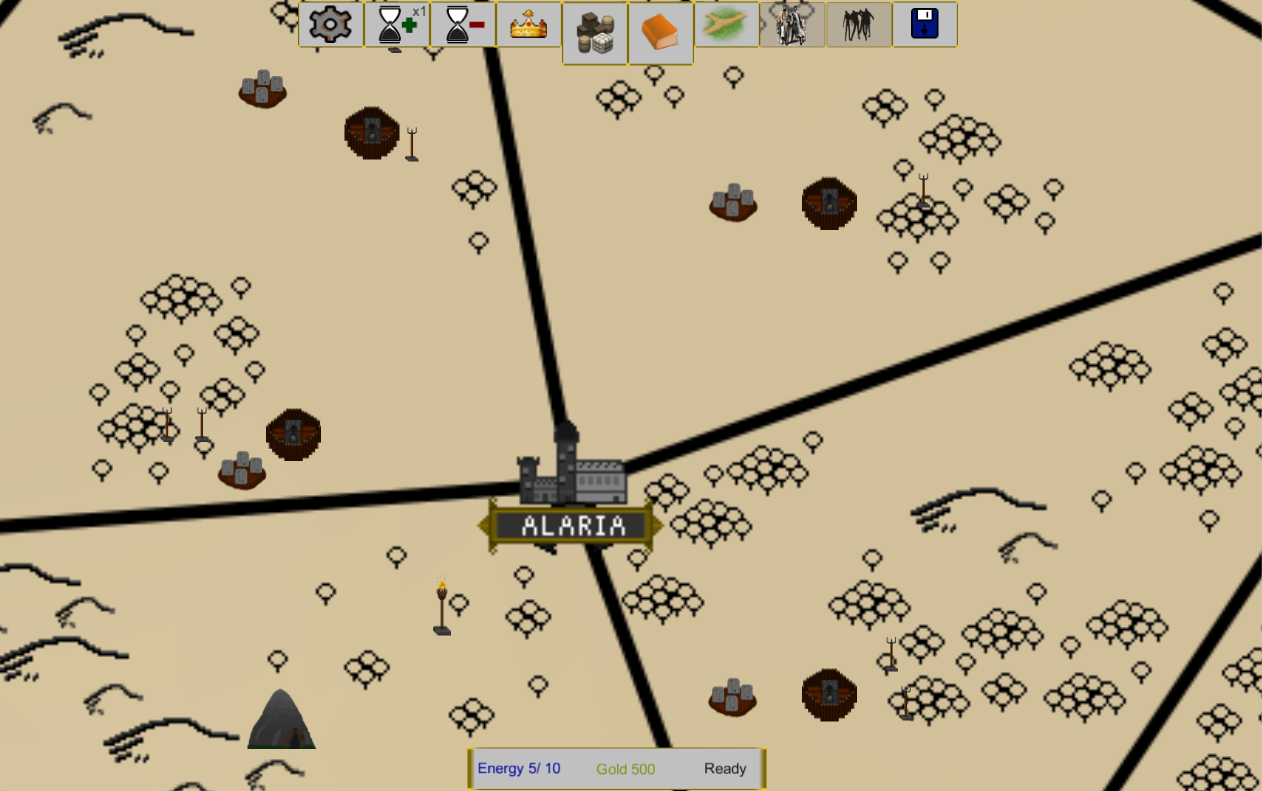 A small collection used as a header for my profile with some icons not shown on the other screens. // Hier noch eine kleine Sammlung von Icons als Banner für mein Profil. Eine kleine und damit nicht komplette Liste von den Icons die ich erstellt habe.

I hope you give my project another try after seeing such progress and maybe I will be able to smooth out the gameplay as I have with the graphics. // Nach diesen schönen, neuen Bildern hoffe ich mal, dass einige von euch meinem Projekt noch eine Chance geben und mir damit dabei helfen die Balance im Spiel zu verbessern, so wie ich auch die Grafik verbessert habe.
With regards,
Rackhim