I know it has been quite a while since I last posted an update here. Even though Grain War's development was slow (due to my Kickstarter Project and my GameMaker Course) I haven't ever given up on it.
So, I'm here to post a new update!
I've started live-streaming development of Grain War. If you are interested in watching you can check out my twitch channel for a stream schedule. It has been lots of fun. I have 12 days of development so far. I rewrote the engine which was a good idea because it removed some of the old bugs I was having and added new game elements that I hadn't originally planned. Enemies can now attack each other which is rather funny. They always aim for you but if you play your dodges right you can get them to hit each other instead.
Here are a few animated gifs and sprites of the work I've done the last while. I hope you enjoy these.
Gameplay:
Imp Run Cycle:

Wolf Run Cycle: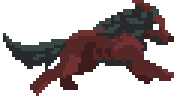 Character Counter Attack:

Enemy Concepts: