Contrary to popular beliefs, RR development goes at full speed like artillery shell flying over the horizon. This update deals with some little, yet not last graphic details.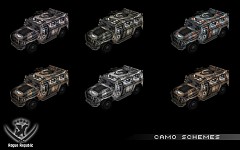 In Rogue Republic you can create your own army as selecting its units, buildings and what which matters, as selecting style features namely paint schemes, unit voices and even some details of the vehicles, such as flags, barrels and additional extras. Though this is hardly going to be as detailed as Need for Speed Underground, it will be clearly seen on the screen that the battle is taking place between two DIFFERENT armies, even if they both use the same Russian or American vehicles.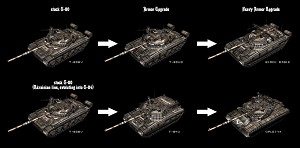 Upgrades applied to vehicles which affect their look, such as the more fat-skin armor you put on a tank, the more armored it comes visually as well. Of course, the situation is not only with the armor, so you may see bigger L55 cannons appearing on your tanks, slat armor protecting against RPG, stealth surface on your jeeps and etc.
And a few words about our upcoming storyline.



It can't be unraveled at the very moment, because it was totally changed to a new semi-sci-fi one, so it may take some time to draw new concept arts and simply arts, to deliver you the Beginning of the Great Wars of XXI century on your screens in the most immersing way. The storyline shall begin with one former Soviet Republic aggressively invading and completely devastating to ground another one with unconventional instruments of war left by the Soviet decades ago and the events following immediately after that.
Tired or disappointed by Resident Evil 4? Watch and play Rogue Republic instead :P
So don't hesitate to watch us if you didn't do it already and write us opinions if you have some ;)