Gondor Faction gameplay
Gondor is basicaly a defensive faction, because of it's strong buildings and slow training units. So it will take some time to train and fully upgrade your army for an assalut agains enemy base.Early game is very important for Gondor, as they dont have any weak and fast training units, so you have to be very careful.In order to make the gameplay as good as possible, many changes were made in Gondor gameplay system and Spellbook.
Gondor Spell Book
- Regular "Heal" power is replaced with more accurate power for Gondor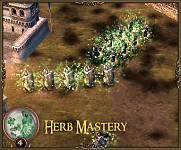 "Herb Mastery" will heal your units up to 80% of their health
"Rallying Call" is replaced with "Silver Trumpets"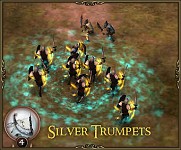 Silver Trumpets gives your units 80% Armor and 500% Experience for one minute, an exellent power for early game.
- "Hobbit Allies" is replaced with "At Arms" power


This power allows you to train your Infantry with double speed for 2 minutes, exellent power of you want some quick defense
- "Arrow Volley" is replaced with "Numenor Statues"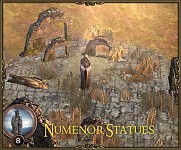 This power summons the remnant of the statues that ancient Numenoreans have built in the earlier times of Gondors glory, they seve as the places of hope for desperate soldiers in the times of war. This power is very important because units gain armor bonus and gets camouflaget when standing near the statues.
- "Tom Bombadil" summon has been replaced with "Valor of Gondor"


This is the most important power for Gondor faction. This power insipres Boromir and Faramir to become the leader of your army. It allows Boromir to gain his armor and his leadership power, Faramir to gain his mount and leadership power, and Aragorn to transform into Heir of Gondor, which unlocks his strongest abilities.
"Valor of Gondor" also unlocks the most important upgrade of Gondor, the White Tree.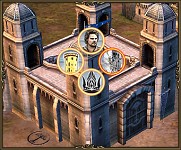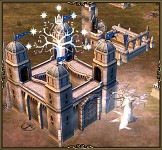 When you upgrade it, the White Tree appears near you Fortress. The White Tree unlocks Numenor Stonework and Houses of Healing upgrades. It also gives various bonuses.- Abilities of the Heroes that are standing near the White Tree will recharge 15% faster- Units recieve 25% Armor and Damage - All Buildings around Fortress will produce Units 20% faster (this is very important since Gondor units train slow)
White Tree also allows Tower Guard to be built

Main advantage for Gondor is Experience. This faction has more "Train" abilities than any other faction, allowing Gondor Units to level up more quickly than any other units in any Faction
- Boromir and Faramir with "Captain of Gondor" can level up Gondor Infantry and Rangers
- Theoden with "Kings Favor" can level up any unit in large radius
- Eomer with "Oath to Rohan" can give large amount of experience points to Rohirrim
- and Aragorn with "Hour of Wolves" can level up units to level 10 - although this power is unlocked only when Aragorn becomes the Heir of Gondor and this power can be use only one time
Gondor units can also upgrade its Banner Carriers with lower price This is possible only when you upgrade "Banners of Minas Tirith" in the Fortress


- "Banners of Minas Tirith" can be available once White Tree is upgraded, they reduce the cost of Banners upgarde for battalions
Gondor Heroes
Along with new textures, Gondor heroes have recieved number of new abilities, in order to help them in their role in the gameplay and bring them closer to the book lore
Gandalf the Grey
- Besides Gandalf can cast various magical powers, he is a gifted swordsman on his own. In the mod, he has been compleetely rebalanced and his system of becoming the White has been changed.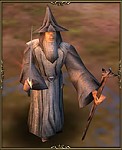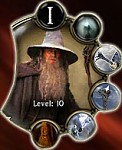 First, when you recruit Gandalf the Grey from the Fortress, he will fight for you for some time. Then, after 15-20 minutes of the game (if he doesnt get killed by then), the Balrog will appear near Gandalf for a few seconds. Then the Balrog dies, crushes on Gandalf and kills him.
Then you can revive him as Gandalf the White who is more stronger and powerfull.
Aragorn- Aragorn is the main Gondor Hero. He starts as Strider, stealthed warrior who can fight both with sword or a bow, heal wounded Heroes with "Athelas" and has leadersip for Dunedain Rangers only.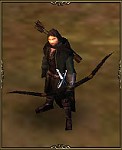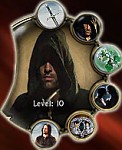 On level 4 he reveals his true identity as Aragorn, the Leader of the Free people. In this stadium, he is a true fighter and give leadership to all units, but dont have "Athelas".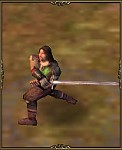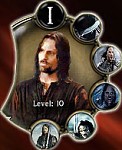 On level 7 he becomes the Heir of Gondor. This is his final stadium and he gives leadership to all units with higher values, he can level up units to level 10. summon Oathbreakers and gains "Hands of the King" instead of "Athelas", which heals Heroes by a higher amount. He also gains "Anduril", which increases his damage, and gives him special bonus against Sauron and Ringwraiths.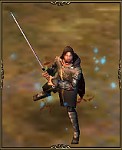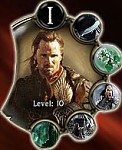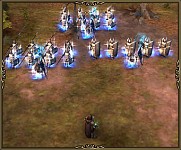 Aragorn casting "Hour of Wolves" on Units
He can become Heir only if you have "Valor of Gondor" spell.
BoromirBoromir is one of the strongest Heroes in the mod. He can knockback enemy units, stun enemies with fear with his well known "Horn of Gondor" or get enraged with "Boromir's Madness" and kill any stronger foe that is on his way. When you purchase "Valor of Gondor", Boromir then becomes the leader of Gondor Infantry and he gains his armor.He also gains his last ability "For Gondor" which summons few battalions of Gondor army. This ability is good both for defence or offence, as battalions are fully upgraded and last for 2 minutes.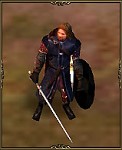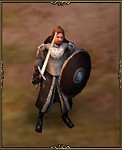 Faramir
Faramir is your support Hero and usualy the first when you play with Gondor. He is quite good against Monsters and single units because of his "Wounding Arrow". He can also level up Gondor infantry with his ability or summon his Rangers to his aid.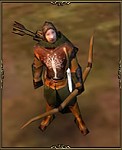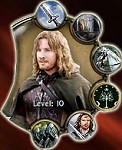 When you purchase "Valor of Gondor" he can mount his horse and gains his leadership power. When Faramir is unmounted he provdides leadership to his Rangers but when he is mounted, he provides leadership to Gondor Knights, making him very versatile Hero.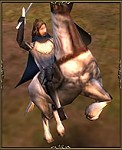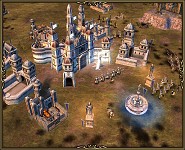 Gondor camp fully upgraded
Rohan Minifaction
Rohan has always been in alliance with Gondor and was always ready to come in aid whenever Gondor needed. Rohan can field good infantry but Rohan's real strenght is in cavalry. Rohan is available once you capture Signal Fire. Then, a upgrade button appears in your Fortress called "Red Arrow".



Once you upgrade it, Rohan Citadel is available for construction (located in builders Palanir commandset).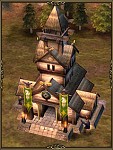 From Rohan Citadel you can recruit Rohan Heroes, train Rohan Units and purchase Rohan upgrades.
All Rohan Heroes, besides new textures, recieved new abilities.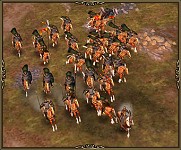 Theoden charging with his Rohirrim
This has been an update for this week, stay tuned for more updates.