The Goldeneye Doom: Reloaded mod... yes, it's still WIP (Mostly the Singleplayer, and it difficult to say something so...).
So, here the update reports:
Firstly, Weapons Pack are almost complete: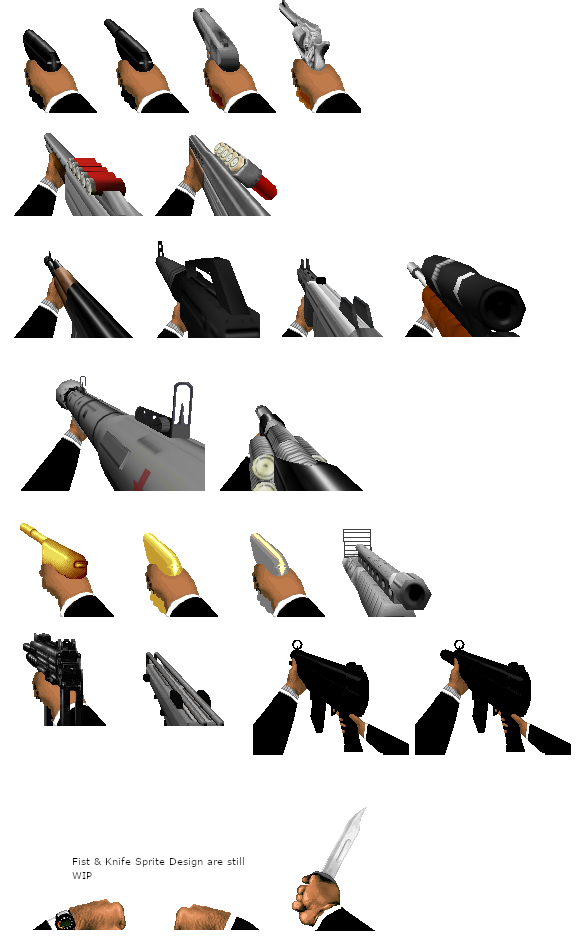 Also, feature new Weapon: The Brown PP7
It's the exact same as the KF7 ROF & Damage but badly in Ammos, it's use PP7 Ammo Type
NOTE:This Weapon does not exist in Goldeneye 007, It's a custom weapon add to the first Weapons Pack mod.

Secondly, 3 Singleplayer Maps (a.k.a Demo Version) can take a month to finish:
I sometimes too lazy to making maps because all maps were made by my own hands, and it's difficult to make a perfect maps with out to complex maps. But don't worry... It's half-complete :)
Finally, the first Weapons Pack will release after I complete some incomplete stuff (Fist & Knife Sprite Design will mostly put to the second Weapons Pack mod)


That all of it...
(Im not hurry at this stage so... yeah. I pretty half-stupid at writing because I really need to think before write this post, forgive me...)