After played through Goldeneye and Goldeneye Doom2. I wish there will more updates in the futures. But I realize that it so long that there no reports in 2018. As for the Multiplayer is not the problem. The problem here is about the Single Player, and the experience of the mods.
But in 2019, I took the sprite design from Goldeneye Doom2 Edge Standalone - Beta 4 (2006) and going to redesign the weapons and the maps for it. The mod was redesign to work with modern source ports (I already try Zandronum but GZDoom is not). The name Goldeneye Doom: Reloaded was from my idea
Goldeneye Doom: Reloaded has changed a lot from the original, but I will keep it familiar thing. About more features and changes in the mod, here the list:
Every objects (Computer, Desk, Table, Box,...) will no longer explode (But I will make a add-on for it)
Shotgun and Grenade Launcher will now add to the mod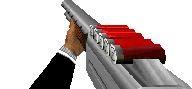 The Difficulties Choice will now make it familiar like original Goldeneye:
Agent (Easy) - I'm Too Young To Die
Secret Agent (Normal)- Hey, not too rough
00 Agent (Hard) - Hurt me plenty
007 (Nightmare) - Ultra-Violence (Select Nightmare does same thing)
(I write this to make the Multiplayer setup easy. For example if you choose Ultra-Violence in Multiplayer setup, the mod will choose 007. Similiar to the other.)
The enemy will drop key in the mod (Singleplayer Maps Only)
The weapon is redesign to make balanced (Include insta-kill weapon). The Phantom ,The Sliver PP7, The Golden PP7 (This one is already appear in Goldeneye Doom2 but anyway...) and more weapons will be add to the mod.
Goldeneye Doom: Reloaded still need to be WIP. And everything still unfinished, I will release the Weapon Mods Pack first in the futures and later 3 First Singleplayer Maps.