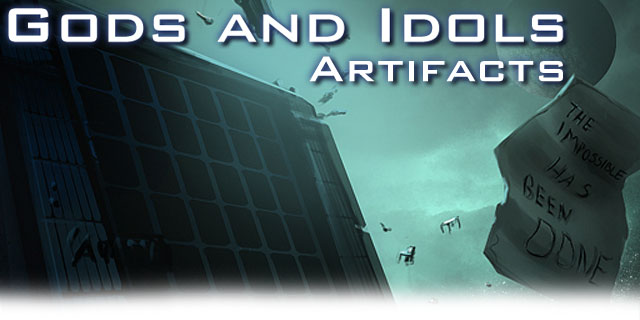 APIStudios' Gods and Idols Announce Artifacts
Gods and Idols, an MMORTS under development by APIStudios, is set in a far future where gods wage war and seek to dominate the universe with a variety of weapons drawn both from science fiction as well as mythological inspirations. Now players will have access to a new arsenal to slaughter, conquer and destroy their enemies as never before: Artifacts.
Ancient relics dating back from a time when mortal humans were still the major power in the universe, these items represent everything from technological devices left in the ashes of the Golden Empire to the legendary weapons of the gods in their endless war with Chaos. Their benefits vary in power and expense, from the discovery of a small ark containing the sleeping survivors of a fallen star, to very alien creations of self-replicating factories.
Players may accrue these artifacts from the new online store, which allows for the exchange of essence purchased from the store or accumulated in-game for these items. Each of them beautifully illustrated by the artist Espen Sætervik, they provide both a named benefit as well as potentially more cryptic advantages as the ongoing universal storyline unfolds.
All of this is just the prelude to the ramping up to version 2.0 of Gods and Idols, which promises a radical revamp of the game with the addition of fleets, devas, and space monsters. Keep your pants on, you ain't seen nothing yet!
For more information visit www.GodsAndIdols.com