Out of the crop of Student Showcase winners at this year's Independent Games Festival, all were playable with one exception. GLiD from British developer noVer is still a work in progress, but the submitted entry was so impressive that it was named among the best entries of this year's IGF student competition.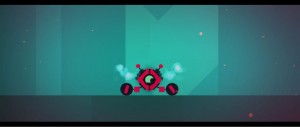 GLiD has gotten a good amount of attention and exposure over the past year, thanks in large part to its lush environments and the main robot's spider-like abilities. There are still some unanswered questions about the game such as when the game will be released to the general public. I reached out to noVer's two masterminds, Marco and Matt, and we discussed GLiD, the future of noVer, and when players will be able to try the game out for themselves.

IGC: Tell us a little bit about GLiD. How long has the game been in development and what will players be in for when they play the game for the first time?
Marco: You play as a sort of cyclops spider-fly-robot that can make webs. It's heavily based around the idea of exploring the environment and collecting things. You can make cobwebs to suspend objects and creatures, leading to lots of puzzles involving things like catapults and bridges.

Matt : It has been in development since around August last year, it's gone through a load of different stages, at the start it was a bike game similar to Trials, then it went through a sort of Samurai Jack phase and now it's here.

IGC: I love the exploration element and setting of the game. Where did the inspiration for GLiD come from?
Marco: Knytt was one of the games that really inspired us — the exploration and emphasis on atmosphere — it's got such a nice feel to it. We really wanted to make a game with a strong ambiance. As for the actual design of the environment and characters, we didn't really plan anything, it just kind of happened over time. We're still changing it now actually. It's a pretty organic process.

IGC: What were the major pitfalls that the team has encountered during the development cycle? Have there been any unexpected obstacles that the team may have run into?
Matt: There haven't really been any major pitfalls. We've just steadily plodded along at a fairly consistent rate. The thing we are having a bit of trouble with at the moment is getting all the other creatures to interact with your web in a convincing way. Because the web is so springy and versatile the other creatures have to stand up to being bashed about and webbed up, to all sorts of things.

IGC: One of the tougher aspects of indie game development is marketing and creating an awareness of the game. Have you have had trouble spreading the word about GLiD and what do you feel is the most effective way to create awareness for an indie game like GLiD?
Matt: The first thing we did was make a page on Moddb. It's a brilliant place to put stuff. Almost as soon as we put it on there we were getting feedback. It was really great to hear what people thought that early on. It's also a great place to talk to other developers. Everyone really wants to help you.

Marco: Yeah, when looking at our website stats most of our hits were people coming over from Moddb and Indiedb. We also saw that some other sites had picked our game up and written about it which wouldn't have happened without Moddb.

IGC: What advice would you offer to aspiring student developers, like yourselves, in regards to developing an indie game?
Marco: I know it's often said, but keeping things small is probably the best advice we can give. We tried a couple of larger projects before GLiD, but they failed pretty quickly as they were just too much work. Being an indie developer often means having to be good at a lot of things, storytelling, coding, sound design, art, animation etc. Any one of those things can be a massive task, so if you're just one guy trying to do all this, then even the simplest of games can be incredibly hard to get finished.

IGC: What's been the most enjoyable part of developing GLiD?
Marco: It's nice when all the little things start to pull everything together, like a footstep sound effect or a blinking animation. I find that if you put all these nice little things in early and get the visuals fairly decent it really helps keep you motivated when doing all the horrible tedious bits.

IGC: What are the future plans for the development team? Will you all stick together or go your separate ways? Are there future projects potentially in the works?
Marco: If GLiD goes well we both hope to stick together and to continue developing games for a living, that would be amazing.

Matt: Yeah, it's exciting to think that making games as a job is a real possibility for us. Yeah we have quite a few ideas for future games, we haven't started work on them yet though. Well we've kind of started on one but it's way too early to talk about that.

IGC: When will the general public be able to play through the full-version GLiD?
Matt : It's hard to say, the process of making it has been so unpredictable that we're just as unsure of when it will be released as everyone else. I suppose if I had to say anything, a vague estimate would be about August, give or take a few months.

IGC: Thank you, Matt and Marco, for taking the time to talk about GLiD!